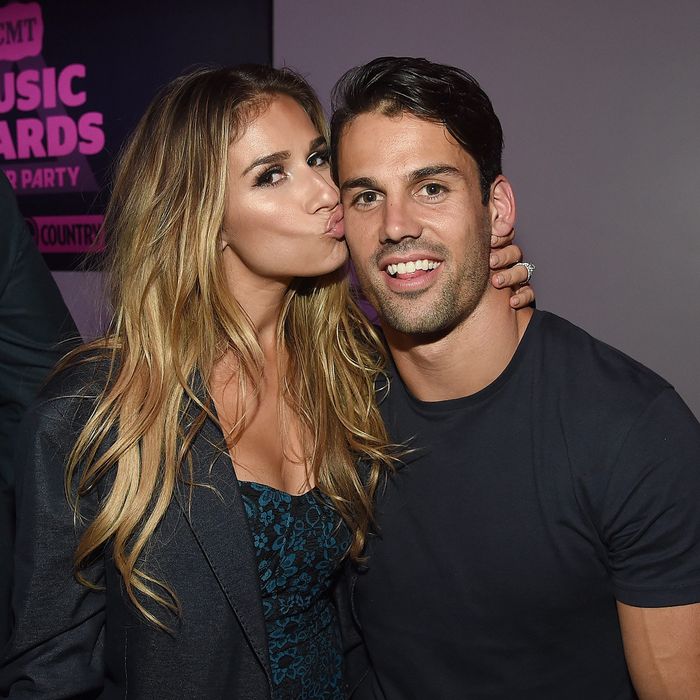 Eric & Jessie.
Photo: 2016 Getty Images
On Tuesday morning, E! announced the news tens of people have been waiting to hear: After three long years, the network is finally bringing back Eric & Jessie: Game On for a third season. What is Eric & Jessie: Game On? Only the best, most boring reality program ever to air on cable television. Following a wide receiver in the NFL (Eric) and a moderately successful pop-country singer (Jessie), the show is sort of like Newlyweds, except there is no drama whatsoever. Eric & Jessie is a show about two hot people loving each other unconditionally. And I love it!
According to E!, the third season will premiere on September 6 at 10 p.m., which is not as soon as I'd like, but I'll take it. The show will follow the couple's move to Nashville for Eric's football career and their parenting journey. (Since the second season ended in 2014, Eric & Jessie have had two children, Vivianne and Eric Jr.) "Eric and I are very excited to be back for a third season of our show," Jessie said in statement released by E!. "We are all about family, fun and sharing the love. I know our fans are going to enjoy watching this new chapter of our lives."
Jessie is correct. Most of the time, I like to watch reality shows where marriages fall apart and people go to parties to scream at each other, but Eric & Jessie scratches the opposite itch. It simply shows two partners going about their lives and respecting each other. In the first two seasons, most of the action takes place in Eric & Jessie's gigantic kitchen, where Eric & Jessie cook together and play with their dogs. Some episodes feature big events like the couple's wedding or Eric's trip to the Super Bowl, but for the most part, nothing happens. Here is a representative clip of Eric making Jessie gluten-free chocolate-chip cookies:
So soothing. In a 2016 interview with Momtastic.com, Jessie revealed that she purposely made what was a pleasant but ultimately boring show. "There were a few different producers who were looking for ways to create more drama in our relationship, so they had to go," she said. "Eric and I just don't have drama. We're very happy. So I remember having a little bit of a struggle in the beginning and having a conversation with the network, like, 'Hey, you're digging for something that does not exist and you're going to make us not want to do this real quick.' So we got rid of those people and brought in the people who really did understand us. I wanted to keep it fun! I felt like drama wasn't necessary for us to create an entertaining show."
I don't know that I would call Eric & Jessie "entertaining," but it is the best thing I have ever watched while folding laundry or doing arm circles with two-pound weights. While the Real Housewives are thrilling and dramatic, they always leave me feeling anxious. Eric & Jessie provides the perfect balance; watching it is like taking a Klonopin. I can't wait to see what doesn't happen this season.