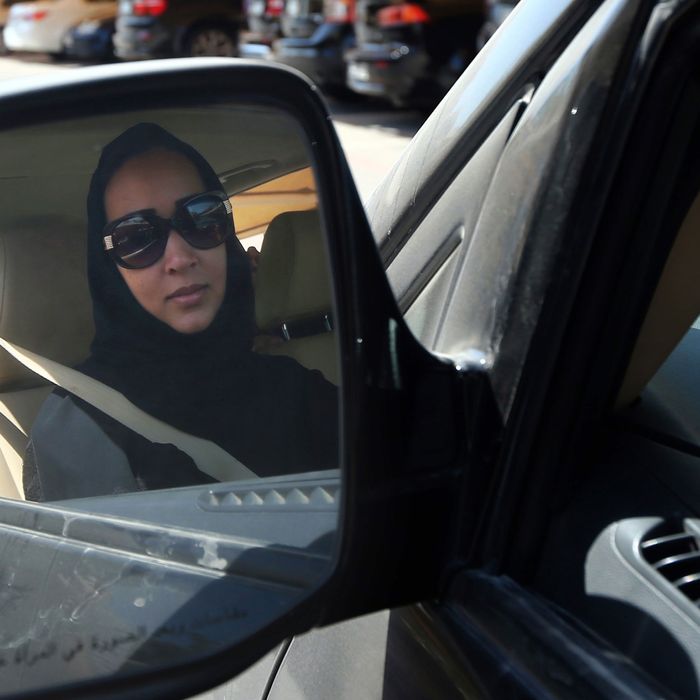 Manal al-Sharif driving in 2013.
Photo: MARWAN NAAMANI/AFP/Getty Images
In the midst of the Arab Spring in 2011, I found myself in Khobar City, Saudi Arabia, leaving a doctor's appointment at dusk, with no driver to take me home.
So, I did a very risky thing: I began to walk down the street alone. In my country, not only are women forbidden to drive, but society does not approve of women traveling on our own or using public transport. The Saudi ideal of a woman is a religious mother who rarely ventures out: She shouldn't work with men; she should be completely covered; and she shouldn't go out alone to run errands. Saudi sheikhs have even argued that women who drive damage their ovaries and thus bear children with medical problems. Just last week, a women's-rights activist who protested the country's restrictive driving code was detained by government officials.
As I walked, men who passed me rolled down their windows, shouting curses and calling me a "whore" or a "prostitute." Then came the man in the white Corolla. He didn't just insult me, he followed me in his car. I turned away from the main route, and as I passed a pile of construction materials, I bent down and picked up a rock. I hurled it toward his half-open window, but the rock fell short and he sped off.
The next day at work, I told one of my male co-workers what happened. "I am so tired of this," I said. "How long must we suffer this humiliation?" He was a Saudi, so I expected only perhaps a bit of sympathy, maybe some advice. Instead, he said "Manal, you know, it really isn't illegal for women to drive." At first I thought he was mocking me, but then I realized he was serious. "What do you mean, it isn't really illegal?"
"Technically, there is no rule saying that women cannot drive. Nothing in the traffic code actually states that it is illegal. It's just the custom. I'll show you." He left my office and a few minutes later, he sent me a link to the Saudi traffic code. In his email message, he said, "Read page 50, part V, act 36: Driver's License requirements."
That night, I fed my son dinner and put him to bed, and I sat down at my computer. I read the entire traffic code. There was not one reference to the gender of the driver. Nothing, absolutely nothing, in the official Saudi traffic code indicated it was illegal for women to drive. In five pages listing all possible traffic violations and offenses, none included "driving while female." Now I was truly angry. I wanted to tell someone, but who? Instead, I went back to my computer and started typing. I searched three simple words — Saudi, women, and driving — and started reading.
The first formal protest of the ban on women driving occurred on November 6, 1990 during the run-up to the Gulf War, about four months after Iraq invaded Kuwait. For 30 minutes, 47 Saudi women lined up their cars in a convoy and drove around the capital city, Riyadh, until the religious police caught up with them and all 47 were arrested. Their goal had been to demonstrate to Saudi society that while they were women, they were competent enough to sit behind the wheel of a car.
I read about this protest that night in my house, and I remembered hearing about these women when I was a child. They were depicted as sexually loose, un-Islamic, pro-Western women who danced in the streets with the American soldiers without any regard for covering their hair with hijabs. But there was another side to the story. For these 47 women, known as the "women drivers," those 30 minutes have stalked them for the rest of their lives. Immediately following the incident, all the women and their husbands were banned from foreign travel for a year. Those who held government jobs were fired. And they became targets of religious condemnation: In Friday sermons at mosques around the country, their names were read aloud, and they were denounced as immoral vixens, boldly seeking to destroy Saudi society.
But that protest had happened a long time ago; I was just a schoolgirl then. The world was changing and I thought perhaps Saudi Arabia was, too. As I absorbed their stories, I decided that for my next birthday, I would do the unthinkable. I would get behind the wheel of a car and dare to drive. I had my license. I was determined.
Watch Manal al-Sharif defy Saudi Arabia's ban on women driving.
I was not the only Saudi woman growing desperate to drive. Only days after my humiliating walk along the side of the road, a friend invited me to join a Facebook event called "We are driving." I joined and became the online administrator. But while it was a great idea, it lacked an action plan.
Facebook is not big in Saudi Arabia — only about one-third of Facebook accounts in Saudi Arabia belong to women, and most cannot post using their own photos or use their real names online. If it is forbidden to show your face in public on a sidewalk, how can you show it in an electronic gathering place?
A friend explained to me that Twitter was the better way to get our message out. I registered my account under the handle @Women2Drive, uploaded a photo, and in the profile bio, I wrote, "We call on all Saudi women to drive on June 17." Our goal was this: We would encourage Saudi women to drive as part of their normal activities. This was not designed to be a mass public protest or demonstration, both of which are forbidden. Women would simply drive their children to school or themselves to the grocery store. We wanted to stand up to the official ban on driving and to show that good things happen when women can drive.
Within days, @Women2Drive had thousands of followers. Just like that, we created a movement.
Almost as soon as we started posting online, men and even some women responded with harsh criticism. They railed that we "would destroy Saudi society" and "destroy Saudi family life." Women driving "would lead to corruption and moral decay." Other men let us know how they'd use their iqal, the thick black cord men wrapped around their heads, to beat us. A Facebook page called "By Iqal" was founded to call on men to beat any women drivers they saw.
Huddled one night in my town house, we decided that the best response to the criticism was to post a video on YouTube, answering all these questions and mistaken assumptions one by one. The day I recorded it, I looked into the laptop camera and I explained what the June 17 campaign was about and exactly what would happen that day. I was careful not to call it a protest. I concentrated on speaking calmly and smiling continuously. I did not wear the full abaya; I made no effort to hide my face.
I posted the video to YouTube, and within days it had had more than 120,000 views. Using my real name drew more attention to the campaign, and it also made me the public face of Women2Drive. Threatening comments directed at me began pouring in over social media.
As the date of the drive got closer, it became clear that one of the most daunting aspects of our efforts would be logistics. Many women who wished to participate did not know how to drive. When we put out a poll on Twitter, only 11 percent of the women who said they wanted to participate had any kind of license. More than 2000 women said they wanted to learn how. We began trying to locate women who could drive and were willing to teach others, either in parking lots or other safe spaces like the desert.
We also had to find new ways to deal with the rising backlash to our plan. There was so much hate coming at us online. In the lead up to June 17, I thought that if someone posted a video of a woman driving, it might "normalize" the experience. I would not be deterred from the hateful comments that had come my way. And I wanted to prove that the Saudi authorities would not stop a woman driver. So I decided that before our big day, I'd get behind the wheel first and film myself.
One morning, I got up early after having slept very little. I made myself a strong cup of coffee, dressed in the most conservative outfit I owned, and laid my black hijab on the bed. I decided not to put on my usual kohl eyeliner. I knew I had to do everything to minimize my appearance so that people would focus only on the driving. I asked Ahmed, a friend, if he would accompany my friend Wajeha and me: We needed a male driver to clear the security gates at the Aramco compound exit.
Outside, we dropped Ahmed off at a café and I moved to the driver's seat. "Thank you, my friend," I said to Ahmed out of the rolled-down window. "We'll be all right, don't worry." As I fastened my seatbelt, I could feel my hands shake slightly. I placed the key in the ignition, adjusted the rearview mirror, and pulled my black hijab close around my face to make sure no hair was visible. I placed sunglasses on my uncovered face and looked over at Wajeha, who held an iPhone. "You ready?" I didn't wait for her reply.
I knew the stakes: I could be dragged from my car and beaten by the religious police who patrol the streets. I could be stopped by a policeman and arrested. I could be jailed. I could be fired from my job. I could lose my beloved son. And eventually, nearly every one of these things would in fact happen.
As the car glided down the street, I wanted to say in a loud voice, "This is my right, the right to drive." But instead, I turned the wheel of the car and gazed straight ahead, feeling the iPhone hovering close to my face. I said, "We are ignorant and illiterate when it comes to driving. You'll find a woman with a PhD, a professor at a college, and she doesn't know how to drive. We want change in the country."
Like other people of my generation, who had been gathering in city squares and on street corners across North Africa and the Middle East, who were raising their voices and their hands and using their cell phones and cameras to stand up to repression, authoritarianism, and tradition, we too were pushing back against one of Saudi Arabia's most enduring cultural taboos. We were taking a chance to express the basic aspirations of Saudi women.
Wajeha added into the camera, "Today there was a report in Al Riyadh newspaper that a sister took her brother to the hospital in her car. But a woman is not just for an emergency. A woman has the same right as a man to live her daily life — in dignity," she said. I nodded, keeping my eyes on the road.
We continued, speaking about women who pay as much as a third of their monthly salaries to hire a private driver. We talked about the hour-plus wait for a taxi during rush hour, about standing on the roadside as hired drivers humiliate us because they want more money than we are offering. We talked about mothers who cannot drop their children at school when their husbands are away, about mothers who put their ten-year-old sons behind the wheel so they can leave their homes.
As we spoke, I negotiated the traffic, obeyed the lights and signs, and rounded the roadway's curves. I felt I was driving for all Saudi women — and in a sense, I was. But I also knew that I did not yet have that freedom. I could feel myself looking at the familiar streets and buildings that I had never seen from a vantage point other than the passenger seat. I couldn't help glancing in the direction of the police station as we passed, wondering if any policemen would catch a glimpse of me. I couldn't have known it then, but it was the same police station where two days later I would be arrested and detained.
Adapted from Daring to Drive: A Saudi Woman's Awakening, by Manal al-Sharif. To be published June 13 by Simon & Schuster.