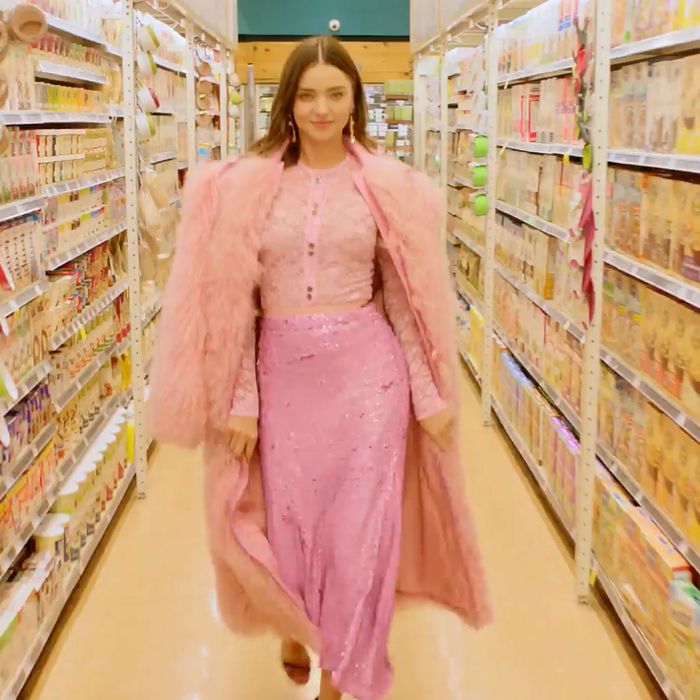 Miranda Kerr in Whole Foods.
Photo: Courtesy of Vogue
If there's one thing fashion magazines know about women, it's that we looove to grocery shop, preferably while wearing the latest high-end designs. Take, for instance, a new Vogue video of supermodel Miranda Kerr in Moschino as she shops at Whole Foods, or that memorable Harper's Bazaar spread of Gwyneth Paltrow in lingerie at a Greenpoint supermarket. And of course, there was also that Paper cover of GOAT Rihanna shopping for 40s at a New York bodega.
But while these shoots may seem aspirational, you could actually very easily grocery shop like you're in a fashion magazine from the safety of your own local store. Here are some handy tips for inserting some style into your next supermarket run.
THROW ON A GOWN TO SHOP FOR VEGETABLES. Next time you're searching for a ripe avocado or find yourself squeezing some questionable tomatoes at Whole Foods, merely throw on a Moschino gown like Miranda Kerr. With that high-fashion touch, you'll suddenly find the right vegetables for you — while looking super chic, that is.
SIT ON THE REGISTER IN YOUR LINGERIE. Waiting in line to check out at the grocery store is so boring, amirite? Spice up your next visit to the register by donning your finest lingerie like Gwyneth Paltrow and sitting on top of the conveyor belt to read some magazines that have your face on the cover.
POSE SEDUCTIVELY NEXT TO THE REFRIGERATOR THAT HOUSES THE SODA YOU MIGHT BUY. If you're thinking of grabbing some soda, be sure to take some time to stand next to the refrigerator housing your favorite carbonated beverages and look stoically into the distance. Magically, the sodas will teleport from behind their glass case and appear in front of you.
TWIRL AROUND IN THE AISLES TAKING SNAPCHATS OF YOURSELF. Grocery-store patrons love nothing more than an adult woman twirling around in circles in the middle of a busy and crowded aisle as she takes videos of herself and plays with Snapchat filters, like Miranda Kerr. It's a great way to make everyone's shopping trip more enjoyable.
HOLD CARTONS OF MILK IN ONE HAND WHILE STRIKING A POSE WITH THE OTHER. For some people, milk is made for purchasing and then drinking. But for fashion magazines, milk is actually a prop to help showcase your fabulousness. Grab that carton of whole milk and strike a pose.
SCREW IT, JUST GO BEHIND THE COUNTER. THIS STORE IS YOUR OYSTER. Like Rihanna at her bodega, all you really need to do on your next grocery adventure is take your rightful place at the store's throne: Yes, behind the counter. It's your fashion world and the store's managers, owners, employees, and customers are just living in it.