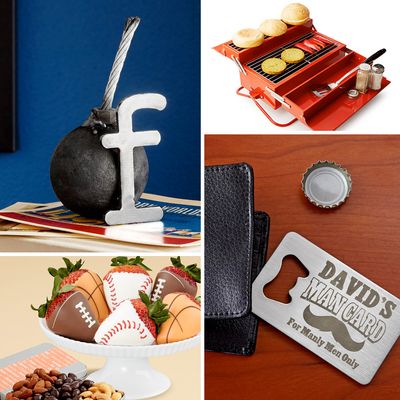 Because you definitely forgot, Father's Day is on Sunday. Damn, you messed up again. In your defense, though, this day presents a complicated problem for you: Your dad isn't some Jonathan Franzen nerd who watches Planet Earth on his iPad and wears glasses. He's a man. And real man gifts for real men are becoming harder and harder to find.
Your dad's not like other dads. He's stronger, bigger, tougher, hairier. He's got balls for brains and brains in his balls. He loves fishing, farting, and threatening teenage boys with his gun if they "get too close to my baby girl." Your dad has never cried in his entire life except for when he contracted a common cold and had to take sick leave for three weeks because Deb, you have no idea, my body aches and my nose is so stuffed up. Your dad once did donuts in his truck on your front lawn just to prove he could. He shit on the kitchen floor in protest after the series finale of Sons of Anarchy.
Your dad is the real dad of dads. If there was a TV show called So You Think You Can Dad? he'd be the unanimous winner. He'd spend the prize money on illegal fireworks and burger meat.
For a dad like yours, not just any old Father's Day gift will do. No ties with Garfield on them, no novelty socks embroidered with a jaunty dancing taco, not even an Amazon Echo (he already has five of them stationed throughout the house due to the sheer thrill of yelling a woman's name to get her to do things). Instead, you have to seek out gifts with the most masculine appeal. Like universal health care, which your dad hates, we've got you covered.
For the dad who says fruit is too girly
A well-known fact is that fruit is for girls. These sports fruit are the double whammy of gifts: Your dad gets to live out his lifelong dream of eating an entire football and you're helping him with his vitamin C deficiency.
For the dad who would take his grill to work if he could
If your dad isn't serious enough about grilling to cook a whole shank of beef on a grill designed to look like a toolbox, then he sounds like a real vegan "qui-NOAH" guy. Unless he's Tom Brady, in which case, all due respect, Mr. Sir TB12.
For the dad who is always saying Norman Reedus seems like "a really cool guy"
When Sons of Anarchy ended, your dad locked himself in his "mancave" and didn't come out for six days. Luckily, The Walking Dead is still alive and kicking (dad joke about zombies). And that Norman Reedus guy? He seems pretty all right — but not in a sexual way, okay? Though I wonder how much he can lift …
For manly men only
Your dad's wallet is full of cash, like full to the brim of cash, so many cash bills it's insane. Why? Because real men provide. But if his Kenneth Cole wallet can stand to fit one more thing, why not make it this MAN CARD? Just please pay attention to the disclaimer: This metal card with a bottle opener is for manly men only.
For the dad who loves his nuts
It's never been fully explained why nuts are considered "a man thing," but if you have any insight, this jar is a great gift. Nuts! As we all know, they are for men.
For the dad who "keeps it real"
When you were born, your dad responded to your tiny head pushing out of your mother's vagina with with a slew of crude remarks that cannot be reprinted here. He has the mouth of a sailor and he isn't ashamed of it. But he also has some papers that really need to be held down. Combine his two dearest loves: cursing and holding down papers. He'll f*cking love you for it.
For the dad who types with one finger at a time
Typing? What's that? Is that what you do for your indoors job? The one your dad spent a truckworth of cash on a college degree for? Waffles, on the other hand, are the currency of real dads nationwide. Who's typing now?
For the gross dad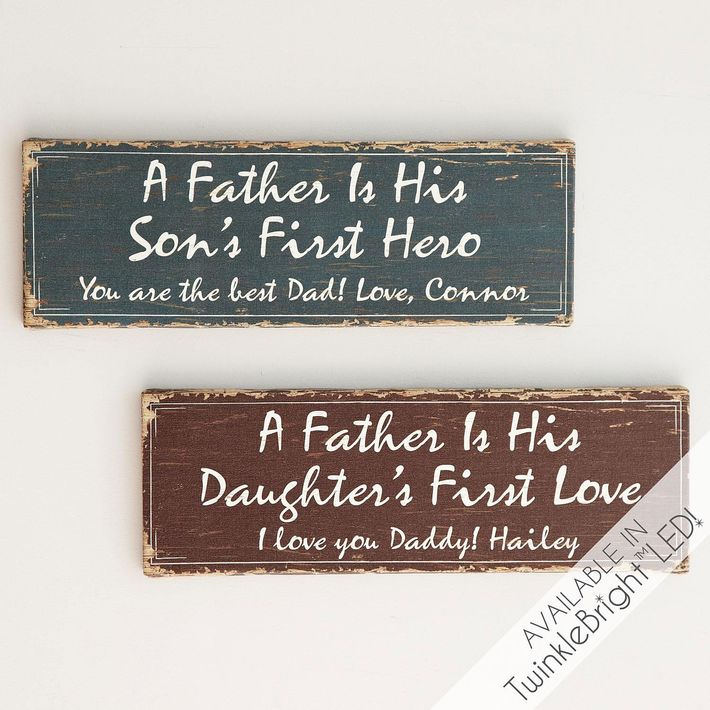 If your dad is into this, he's gross.
For the dad who cracks up at a good joke about testicles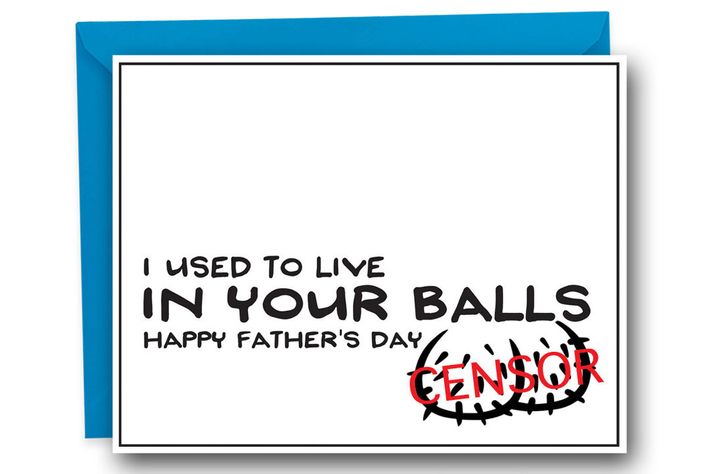 You and your dad are close. You fart together. You pump iron together. You crack jokes about balls together. Follow in the tradition of all those jokes you guys make by giving him this irreverent card about balls. At the Father's Day cookout, watch with pride as he shows it to all your uncles. "Heh, get it?" he'll say. "Balls."
For the dad who loves a good, old-fashioned novelty tee and also guns
Haha, the joke in your family has always been that your mom is a real ballbuster. (Haha, balls.) "Son, never get married," your dad often says, pulling you aside at the double-bolted entrance to his mancave before the nine-hour Sunday sports marathon, "or you lose all your freedoms." This shirt, which makes a good joke about loving one's wife, is the dog whistle for dads. I love my wife (eyeroll) … when she lets me buy ammo for my gun. Sweet. An M. Night Shyamalan–style twist.
For the dad who still uses Hotmail but can't stop talking about emails
He's gonna love this one, I can guarantee it.