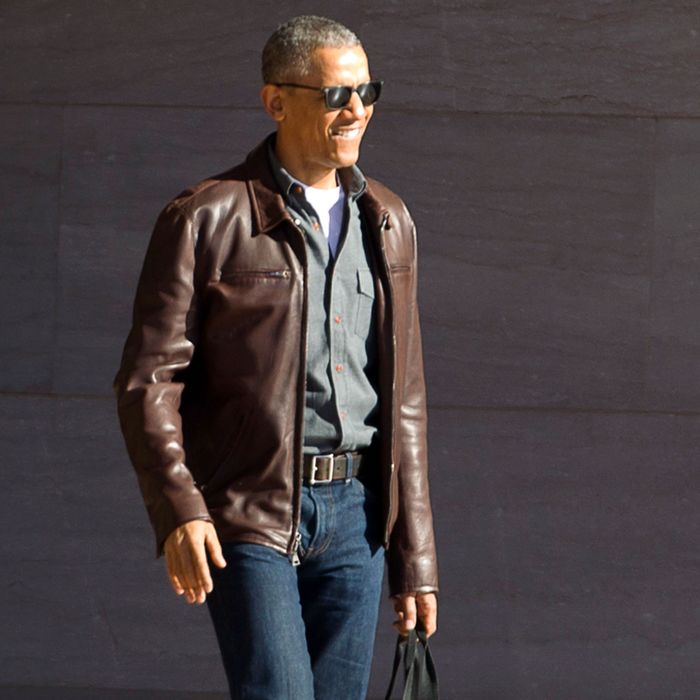 Obama wears his basics well.
Photo: Jose Luis Magana/AP
My grandfather knew it was time to purchase new socks when he could feel his heels poking through an old pair. Meanwhile, my dad has worn the same dirt-stained leather boots for more than 20 years. The men in my family rarely buy new clothes. Thankfully, there's Father's Day. If you want an easy gift that you know he'll use and appreciate, you can never go wrong with the basics. From J.Crew's stylish tees to a great pair of jeans to comfy pajama pants, check out our picks to spruce up his closet.
You may have a hard time convincing him to move on from cheap and convenient Hanes three-pack white tees, but once you make the switch to J.Crew's impeccably soft cotton he won't go back.

Photo: TIMBERLAND
A comfy-yet-cool sneaker he can wear out and about.

This jacket is ultralightweight, water-resistant, and can fold up into the tiniest bundle so you can stash it in any bag.
He might prefer to lounge around in old basketball shorts, but these pajama pants are a better way to watch television on the couch.

These boxers have sweat and moisture-wicking properties, feature a chafe-free waist band, and are made of comfy micro-mesh.

The key to making basics like this polo look expensive is to get them in flattering fits so they look tailored.

It's the little luxuries that can make the most difference — a plush robe will feel cozy when he gets out of the shower.

Everyone thinks you need to give your dad a tie but really, he needs a good, everyday belt more.

He probably has a sweater exactly like this one in his closet except with more holes, so why not get him a replacement?
Original Price: $145
Because not all dads are sports fans but all dads do need a hat to protect against the sun, this one features an unobtrusive logo.
When was the last time he bought new pants? Chances are it's been a while. You can't go wrong with classic blue jeans.

Just think of the time he could save by not ironing his button-up shirts every morning.

Is he into golf? Then he'll love these shorts when he's meeting his friends for their weekly game.
If you buy something through our links, New York may earn an affiliate commission.