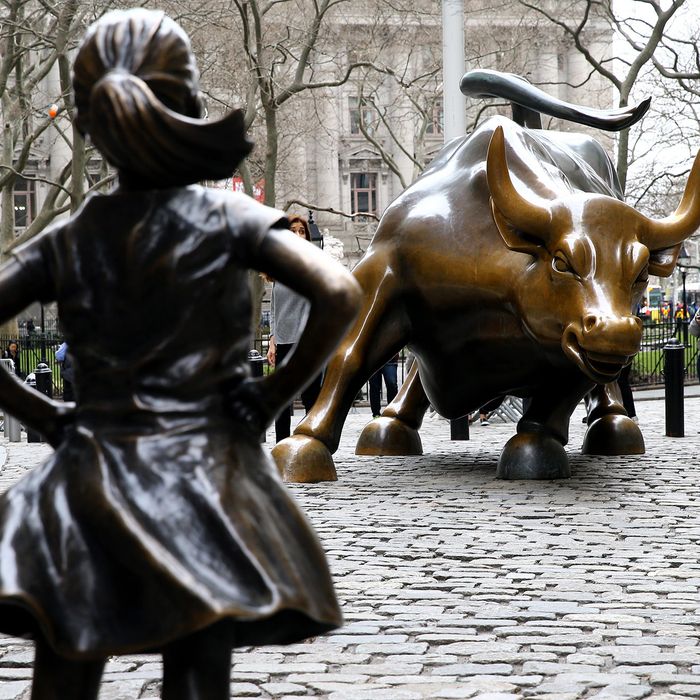 Fearless Girl and Wall Street Bull.
Photo: Getty Images
In March 2017, a bronze statue of a "Fearless Girl" staring down the Wall Street bull was installed in Lower Manhattan — and has hardly left the press cycle since. A finance bro humped it, Trump supporters decorated it, and another artist* got so mad at the piece that he added a urinating dog next to it. Critics rightfully pointed out that it was a shallow PR stunt by State Street Global Advisors that smacked of hollow corporate feminism, while Mayor Bill de Blasio liked it so much that he said it's sticking around until next year.
And now, here is the absolute best piece of news you will read about this statue: It was reportedly almost a cow.
The New York Post obtained emails between Stuart Weissman, an event consultant for State Street, and Dawn Tolson, the director of the NYC Street Activity Permit Office, in which they talk about the plans for the statue.
On April 29, 2016, one of the emails the Post published shows Weissman messaging Tolson with the concept:
A financial services company (as yet to be named to me) that has Mutual Funds is developing and looking to launch a fund that will be exclusively comprised of women-owned or women run companies. As a precursor to the announcement, they are looking to set up a statue of a cow to be set opposite the iconic Wall St bull at Bowling Green.

The event is more like an installation … on the last Friday of the event, they would put brand ambassadors around the cow to answer questions following the launch at NYSE.

The event itself will have no production besides the cow.
"The event itself will have no production besides the cow" is, incidentally, how I would describe the vision for my wedding. But I digress.
It then reportedly took State Street nearly eight (8) months to come to the conclusion that maybe putting up a cow statue for International Women's Day would not be very well received.
And so, on December 6, 2016, the Post says Weissman emailed Tolson back:
The client realized, after we had gone down the road a bit, that a cow sculpture could be conceived as demeaning to women.
And that is the story of the cow that could've been.
* The original version of this article stated that the artist behind the Wall Street Bull installed the urinating dog. It was actually created by artist Alex Gardega, though Arturo Di Modica, the bull sculptor, has criticized the Fearless Girl statue in the past.