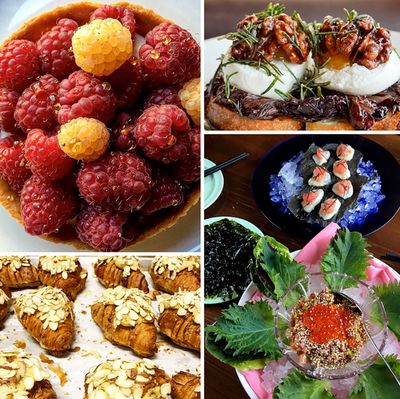 Women on Women is a series where we ask women in different industries to give a shoutout to women who inspire them. This month, we're featuring female chefs on their favorite female chefs.
Na Young Ma, Proof Bakery, Los Angeles
"Na Young Ma is not only a mentor, but a good friend that I have been able to work with. She opened Proof Bakery back in 2010 as a simple concept of delicious classic pastries and has turned it into a must-stop for her croissants. She's one of many hardworking women in this city that doesn't get enough praise.
Everyone raves about her croissants, chocolate chip cookies, and caneles. But my personal favorite dessert of hers is fromage blanc cheesecake. It's just so velvety and delicious, simply topped with season fruit from the local farmers' market. You can't go wrong with any of her pastries, she's got you covered from cookies to tarts, beautiful layered cakes to complicated canele."
–Morgan Bordenave, pastry chef at Animal, Son of a Gun, Jon & Vinny's, Trois Familia, Carmelized Productions
Missy Robbins, Lilia, Brooklyn
"I first went to Lilia during the one of the craziest New York snow storms. The lighting, the space, the vibe, and energy had a sophistication and approachability that made me feel right at home. I feel like I ordered almost everything on the menu, half for inspiration and the other half out of indecision because everything sounded so freaking good.
After eating plates of delicious vegetables and pastas I didn't think I could taste another bite. The black bass arrived and after one bite I just couldn't stop. The delicateness of the fish complemented by the bright salsa verde and perfectly roasted potatoes blew me away. I could see all of the finesse and restraint that Missy Robbins puts into her food. To keep it simple and super yummy. Anytime something reminds me of the way my Italian grandmother use to cook, it sticks with me forever."
–Courtney Storer, chef de cuisine at Jon & Vinny's
Nancy Silverton, Osteria Mozza, Los Angeles
"When I first started cooking in L.A., chef Nancy Silverton was the very first person I worked under. My journey into the food business began at Osteria Mozza as the 'bread girl.' I was stationed at the bread station to watch Nancy work with the various kinds of salumi and mozzarella — it was incredible to have a female chef to look up [to] at that time.
Nancy taught me food should always feel as though it fell from the sky and grew from the plate. What I took from that into my own cooking is that food shouldn't be too precious, but should show its connection to the earth. This remained with me throughout my career as a chef.
My favorite dish of Nancy's is her Tomato Bread (grilled bread rubbed with tomatoes, with thinly sliced speck and burrata finished with tomato vinaigrette). I grew up eating a much more traditional version during my summers on the Amalfi Coast. I found the enhanced version on her menu brought me back to childhood, but showed how altering a traditional dish can make the ingredients sing — sticking to the roots of the dish but giving it a new flair. This dish pulled me out of my comfort zone, and gave a new twist on a childhood favorite."
–Nina Clemente, chef at The Standard Plaza at The Standard, High Line and Chef/Partner at The Smile's di Alba
Angela Dimayuga, Mission Chinese Food, NYC
"Angela Dimayuga is always pushing boundaries and creating the most imaginative dishes around. She's full of energy and ideas and I feel incredibly inspired being in her sphere. My favorite dish of hers at Mission Chinese Food is Shiso Fried Rice."
–Alissa Wagner, chef at Dimes
Ashley Whitmore, Easy Tiger, Austin
"I first met Ashley Whitmore through a short stage at Marlow & Sons and Diner, where she was both restaurants' executive pastry chef. Of course I loved her aesthetic — streamlined, thoughtful desserts and luscious, classical French-inspired pastries — but it was her work ethic and generous personality that completely blew my mind. Meticulous, hyperorganized, no-nonsense and super tough, Ashley embodied the kind of pastry cook that I wanted to become.
We got along so well during my short stage that she offered me a job on the spot, even though I was already cooking at Lawrence, a small restaurant in Montreal. But I couldn't stop thinking about her offer, and on the train ride back up to Montreal, I emailed her and accepted. Two weeks later I moved to Brooklyn and she became my chef and mentor. Even though she moved to Paris a few years later and is now based in Austin at the bakery Easy Tiger, having her in my life is a gift. She is a profoundly skilled teacher, a compassionate friend, and a forever likemind."
My favorite dish of hers is wedge of Savarin, a yeasted cake soaked in a sweet rum syrup, served with a spoonful of macerated blackberries, barely sweetened whip cream, and a flurry of grated bittersweet chocolate."
–Natasha Pickowicz, pastry chef, Café Altro Paradiso + Flora Bar
Maya Gurley, Maya's, St. Barth
"I worked for Maya Gurley the chef/owner of Maya's and Maya's To Go when I was right out of cooking school — her style of cooking has hugely influenced the way I approach creating recipes. Her food is always perfectly clean and delicious. Nothing is overwrought and the ingredients always speak for themselves with delicately balanced flavors.
I love her tomato, mango, and avocado salad with citronette — slightly unexpected but the flavors and textures come together in the best way — I could eat it every day."
–Melia Marden, executive chef/partner at The Smile, Smile To Go
Alex Raij, Txikito, NYC
"Alex Raij and I went to school together and we graduated in the same class. She was older than me, and when you're 18 and you think you know everything, it's hard to notice a put-together woman ten years your senior. We reconnected at the farmers' market a few years ago and have been friends ever since. I admire Txikito, the family-run business that she operates with her husband, Eder, with whom she has two kids as well. Alex has always been that very strong, put-together woman who I'm always very happy to see and whose opinion I hold tremendously high.
I feel like I learned what a shishito pepper was from Alex. I love the tortilla española, the gambas al ajillo, and the uni panini at El Quinto Pino."
–Melissa Rodriguez, executive chef at Del Posto
Liz Prueitt, Tartine, San Francisco
"There are so many inspiring, talented female chefs around (including, but not limited to Margot Henderson, April Bloomfield, Anna Tobias, and of course Nigella), but my favorite pastry chef has to be Liz Prueitt of Tartine.
I've been to Tartine only once (on a trip to S.F., when I left them a copy of my book with an overly keen, extensive fan-girl letter inside the front cover — which I wonder if she ever got?), so my experience of her food is mostly through her books and from baking her recipes at home.
It's hard to name a favorite dish, as I have mostly been inspired by her approach and creativity to experiment and develop my own recipes and style, but a good example of that creativity is her perfectly balanced, simple but clever salted chocolate rye cookie. I have seen so many versions of this around (and admit to making one myself), but truthfully, all her recipes work perfectly and don't really need any tweaking or reinventing."
–Lily Jones, baker and owner of Lily Vanilli
Caroline Fidanza, Saltie, Brooklyn
"Caroline Fidanza has fed me for so many years. I went to Diner when she was the chef there during the early years and now I go to her sandwich shop Saltie all of the time. I love her aesthetic, the way she uses fresh ingredients, and admire how her dedication to local, seasonal ingredients brings forth an idiosyncratic creativity. I myself am inspired by how she approaches familiar ingredients in interesting ways, her work ethic, and by reading her columns in Diner journal.
The Scuttlebutt sandwich at Saltie (hard-boiled egg, feta, black olives, capers, pickles, pimenton aioli on focaccia) — this sandwich quenches every craving I have. The focaccia is so perfectly soft, the vegetables are crispy yet fresh, and the olives, capers, and pickles add a certain saltiness. Altogether these ingredients make for a messy, juicy delight."
–Camille Becerra, chef of De Maria