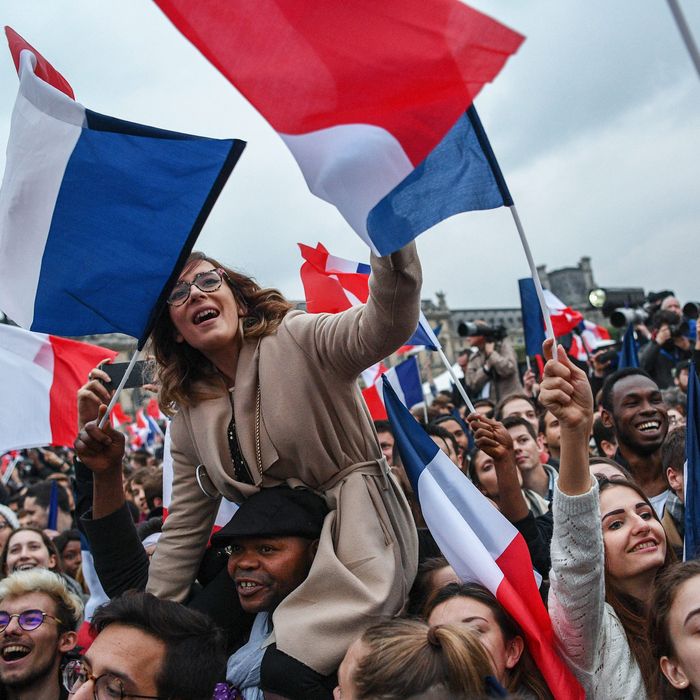 A record number of women were elected in France.
Photo: David Ramos/Getty Images
A record number of women were elected to France's Parliament during Sunday's second round of elections. Of the 577 seats in the National Assembly, 223 went to women — an increase from the previous record of 155 in the last election in 2012.
As Reuters reports, the number of women elected to the National Assembly, France's lower house of Parliament, has increased steadily over the past 15 years. During the 2002 election, only 12.3 percent of the parliamentary seats went to women — and this time, the figure has increased up to almost 39 percent.
President Emmanuel Macron's party, La République En Marche, won 350 seats in the election, and half of its candidates were women. Yet, Reuters notes that most of the other parties still had more male candidates than female, even though France has a system that restricts a party's funding if doesn't have at least 49 percent women candidates. Additionally, many female candidates are put in constituencies where they aren't expected to win, which keeps the number of female National Assembly members low.
"(Macron's) En Marche (party) … proactively decided to give winning seats to women," Brune Poirson, who was elected in the Vaucluse district in southeastern France, told Reuters. "This is a really bold move."
Frances Scott, the founder of 50:50 Parliament (a nonpartisan group in the U.K. campaigning for gender balance in politics), told Reuters that this could potentially lead parties in other countries to push for more female candidates as well. In Britain's last election, a record 30 percent of parliamentary seats went to women. By comparison, women currently only hold 104 of the 535 seats in Congress, according to the Center for American Women and Politics. That's 19.4 percent, or slightly less than half of the percentage of women in France's National Assembly.
"It looks like France is leading the way in terms of this democratic imperative," Scott told Reuters. "The evidence suggests that having more women in parliament leads to more informed and more responsive decision-making. It leads to a better parliament."