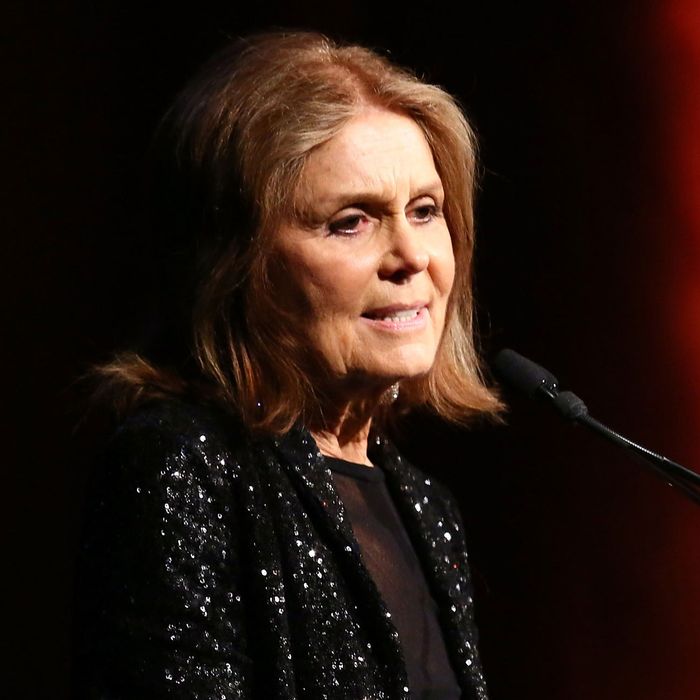 Gloria Steinem.
Photo: Astrid Stawiarz/Getty Images
As Donald Trump continues to push forward an anti-woman and anti-immigrant agenda, Gloria Steinem has noticed that only one potentially "good" thing has come from his presidency: His election has galvanized more political activists than the Vietnam war.
In an interview with the Guardian, the feminist activist and writer said that Trump's win was a symptom of a "dangerous" nationalist, anti-woman, and anti-immigration movement that seems to be happening all over the world. Yet, the "only good news, if there is good news" is that having Trump in the White House has inspired more political activists than ever before.
"The only good news of Trump is that the galvanizing of activism is like nothing I have ever seen in my life," Steinem told the Guardian before speaking at an anti-violence-against-women conference organized by the European Women's Lobby. "A thousand times more even than the Vietnam war, and how important that was — or of any other thing I've ever seen."
As the Guardian noted, the Women's March was likely the largest single-day demonstration in U.S. history, with estimated participants of between 3.2 and 5.2 million in the U.S. alone (with more than 260 marches across the world, as well). In contrast, the largest protests against the Vietnam war in 1969 and 1970 had up to 1 million participants in the U.S.
Steinem added that Trump is "as bad as he can possibly be" when it comes to women's reproductive rights, and that he also "believes in nothing." She told the Guardian, "I do not underestimate the danger of having a crazy person at the levers of power. The only other good outcome I can think of is maybe people will [be less accepting of] the U.S. as an intrusive presence in the world."