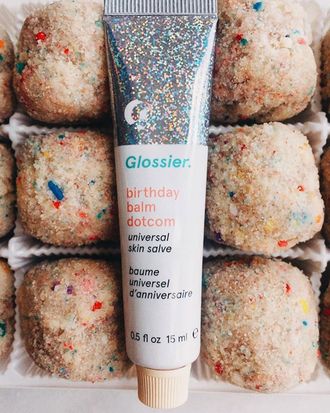 Photo: Courtesy of Glossier
Actress Sofia Vergara and Republican Arkansas senator Tom Cotton don't have much in common, but they do both know the best way to eat birthday cake. Too many of us take the name of the dessert literally, as something to be enjoyed only when someone celebrates getting a year older. But not Cotton, who told the New York Times, "Sometimes I just buy birthday cakes, and I eat them." Vergara does the same thing: "For me and my son, buying cake at the grocery store is like buying milk." Making it easier to take inspiration from both of them, Glossier just launched a new lip balm that actually smells like the most delicious vanilla-infused baked confection.
Birthday Balm DotCom is a new flavor in Glossier's existing line of Homeoplasmine-like lip-balm pastes. It's also the exact beauty product you dreamed of when you were 12. The tube's design features silver glitter, the balm itself is soft white and a little shimmery (but goes on mostly clear), and the scent is like a big whiff of $8.99 Pillsbury Funfetti Cake Mix.
Apart from being a novelty product, the balm really works. A slightly sweet-tasting, occlusive goop, it soothed the cracked patches on my lips without sliding off during a workout class. The smell is very accurate, thanks to a Glossier partnership with Momofuku Milkbar, but it's not so strong that other people can smell it on your mouth. Surely both Sofia Vergara and Tom Cotton would approve.
If you buy something through our links, New York may earn an affiliate commission.