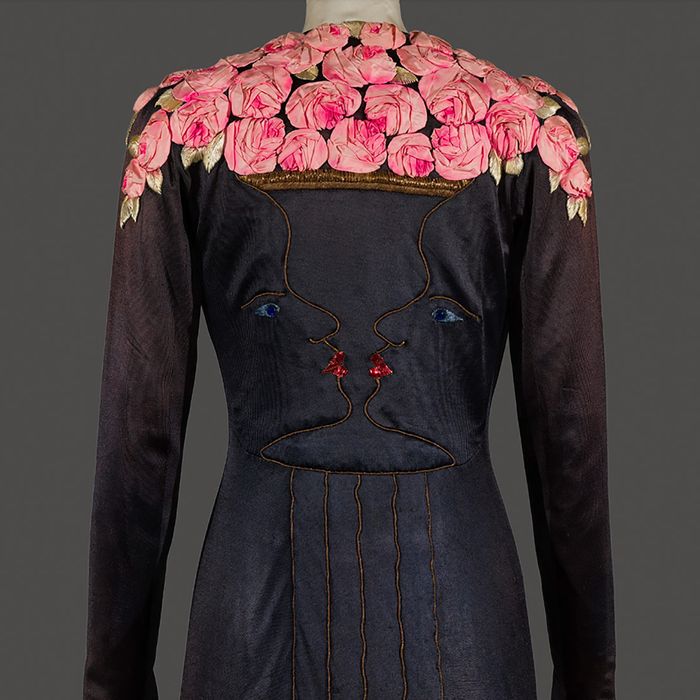 A Schiaparelli evening coat showcased in the project.
Photo: Courtesy of Victoria and Albert Museum
A Vivienne Westwood corset decorated with François Boucher's painting of Daphnis and Chloe. A lace-trimmed Chanel dress from the Musée des Arts Decoratifs in Paris. A pair of towering Ferragamo pumps that once belonged to Marilyn Monroe. These are just some of the covetable fashion objects that you'll now be able to get a little closer to, via a new project from Google called We Wear Culture.
At a press conference earlier this week, Amit Sood, the director of the Google Cultural Institute, walked reporters through the new, fashion-oriented initiative. Like the work the company has done with digitizing artwork, this project involved partnering with museums, schools, and cultural institutions — a total of 180 from 42 countries around the world — to open up the sometimes intimidating and elite industry.

Sood said that people would often ask him, "Why haven't you done anything on fashion? You've done art. You've done opera." He admits, "We didn't do fashion because we didn't understand fashion, to be very honest." The involvement with the Met — whose curator in charge, Andrew Bolton, was on hand for the presentation — helped Sood and his team realize the possibilities of the field. (Other institutions involved include the Victoria & Albert Museum and the Kyoto Costume Institute.)

For Bolton, getting to display the museum's holdings in hi-res photos that allow viewers to zoom in, or through virtual-reality platforms that let people experience them firsthand, helps extend the Met's mission of openness. Especially since at any given time, only a small portion of the Costume Institute's holdings are on display. "It allows even more democracy and more accessibility for the pieces that we have in the museum," he says.

And he's excited about the potential of a new medium. "I've always wanted to do a show on sound and dress, the rustle of the bustle, the creak of the crinoline, and the idea of how objects tell stories through their sounds," he says. "It's a really important sensorial aspect of fashion. The potential of the platform of to use and enhance those sensorial appreciations of fashion is something I found really compelling."
The project, which goes live today, encompasses everything from videos about fashion history by YouTuber Ingrid Nilsen, to articles about sustainable fashion, to Street View experiences inside stylish destinations like Versailles. There's even a widget that allows you to track the use of different colors, fabrics, and garments over time. Sood calls the project a "rabbit hole," and fashion-philes will surely be excited to fall down it.