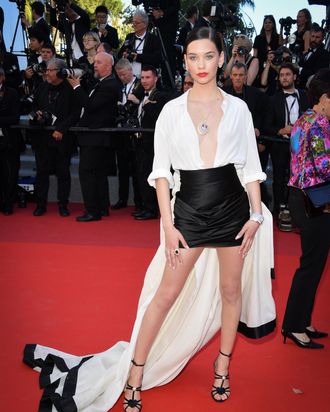 Amanda Steele at Cannes.
Photo: George Pimentel/WireImage
You wouldn't have known it, but 17-year-old Amanda Steele was having an anxiety attack alone on the Cannes red carpet. "Oh my gosh, what should I be doing? Uhhh, just pose?" Steele says, recounting her inner monologue as 200 photographers stared at her (Rihanna and Jessica Chastain appear on the carpet minutes after her). Posting the official photo later on her own Instagram account, which has 2.7 million followers, and tagging Dior Beauty, it quickly accumulated 50,000 likes in just 28 minutes.
Your little sister might know Steele, or more likely she's familiar with her old YouTube beauty vlogging handle @MakeupbyMandy24, started when Steele was 10. The unofficial, somewhat vague term to describe what Steele "does" is that she's an influencer. She's influential as a model signed to IMG, an actress (she starred in a scripted series on Hulu), vlogger (her breakout video was the "Back to School, 6th grade makeup tutorial"), and collaborator, with a full talent management team including a manager, publicist, stylist, and agent. But Steele is also a new breed of child star, not spun from a Nickelodeon show, but from uploading and starring in weekly YouTube videos consistently for almost a decade. Much like a Disney star, Steele has grown up in public, with 2.8 million YouTube subscribers tuning in to see how she shopped at the mall and what she put on her face.
Although she's been "influencing" for eight years, Steele is technically still a minor. Her mom, Eugenia Steele, a lawyer, accompanies her on brand trips. After her anxiety attack on the Cannes red carpet, induced by having to walk the high-stakes red carpet alone and by mean French security, it takes her mom (and Bella Hadid, who happened to be in the Dior red-carpet suite at the same time, and who recounted having a similar experience last year) to calm her down. But she's also buying her first house in L.A. and lives independently from her parents. The Cut talked to Steele and her mom about growing up in the digital public eye, her journey from YouTube to Cannes, and what life is like when your career and livelihood has been based on likes.
Why beauty? Why did you want to start making beauty videos at 10 years old?
Amanda Steele: I liked fashion, but as a young girl, none of the clothes would fit me. I was on YouTube looking up how to sew, and it pointed me in the direction of beauty and the beauty community online. My first video was for a brown smoky eye. I had an Ulta quad with four eye shadows that were brown, white, darker brown, and darkest brown. Over time, YouTube grew as a whole and so people went to me versus a 25-year-old. I knew the people I was talking to from the comments. Like, My mom doesn't let me wear makeup out either, but here's how I work things out with her. I wasn't trying to gain anything from it. I was just trying to make friends.
When was the moment when you were like, This is something?
AS: When I was 13, there was a mall boutique and they asked if I wanted to do a meet-up. So many people came – I think I had 25,000 subscribers at that point. I was comparing myself to other people on the internet so I never thought I was the biggest.
Then I got my first brand deal, which was from K-Mart. They had me make a Christmas video for them and they offered me an amount to which my mom was like, What is this? When I signed with Lisa [my manager] and Big Frame, I went in the office and they taught me all about the YouTube world and how to win at it. That's when I was like, This is my job now. I got it.
I didn't care a lot about the social aspect of school. YouTube came before hanging out with friends, always. I didn't want to hang out with people I didn't like or have anything in common with. One summer, I spent every single day and night on Tiny Chat. It's a group Skype and people could watch us hanging out and talk. There would be people down the street that would come over and try to hang out. I would hide and be like, No, I want to be on the computer. I have a vivid memory of being at the pool with my dad and him asking what I wanted to be when I grew up. Nothing really made sense. I realized that this was something I actually wanted to do.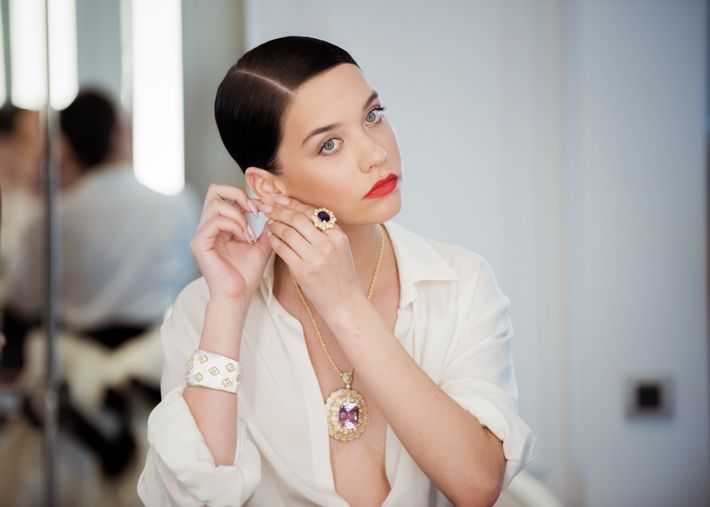 Eugenia, what did you think when you saw Amanda taking it so seriously?
Eugenia Steele: I thought it was a good hobby for her and a good outlet to let her be creative. She was learning incredible things with editing and filming, her skills in that were superior to anything she could take classes for. I always wished she would be more social one-on-one, but she was more comfortable with the camera. I wanted her to be out more.
One time, Amanda was with my husband and they had to go to a warehouse. A woman that ran a boutique in our local mall used to give her clothes in exchange for wanting her to post. He came back and said, "You should've heard her negotiate with this woman like an adult." She was 12, I think? She told her how it was going to be. When I would observe her in brand meetings, I didn't have to talk for her. Neither did her manager. There's a lot she's getting out of this.
Why do you think people keep following you?
AS: When I think about my fan base, I think about my Instagram, that's where I get more positivity. I get messages and DMs from people that tell me I've changed their lives. I think it's because I'm young and go after anything. I've had a lot of success for my age. Young girls who also have that kind of ambition look up to me and I think I show them that anything is possible. People that have been watching me since I was little know the steps I took to get there. I'm an independent woman growing up, working hard to get what I want.
I put myself out there. I break down. I still break down today. You work really hard on a project and spend a lot of time filming, editing, and you're like, I can't wait to post it. And the comments are like, You're ugly, you're a slut. I don't read YouTube comments because they're the meanest. Those commenters feel like they've been a part of you since the beginning. They'll say, "You're not like this. You're changing." They rip you apart and then watch all your videos.
What do you want to do next?
AS: More recently, my thing has been, "Do I get more likes and followers and money by making other people happy? Or do I make myself happy? Even though it is my job and is my entire life, you do have to focus on making yourself happy.
When I was 15, I had way more likes than I do now. I'm not really sure why. I guess at that time, I had platinum-blonde hair and that was when having it was the coolest thing ever. I was really obsessed with trying to give people what they wanted. Now since I've been doing it for so long, I'm just doing what I want. When you focus on yourself more than other people on Instagram, they are not going to be as in love with you, I guess.
When I hang out with my friends, it's funny to me because I am the social-media person, but I'm the one that is least on their phone. I'm more into having fun with my friends and hanging out with them and being in the moment. That makes me think I am not really that phone-obsessed. But then there are other times when I'm like, I love showing off my outfit, I want everyone to see my makeup. I go back and forth. I fall somewhere in between loving human interaction and showing the world things that I love. I'm somewhere in between. I don't know what to call it.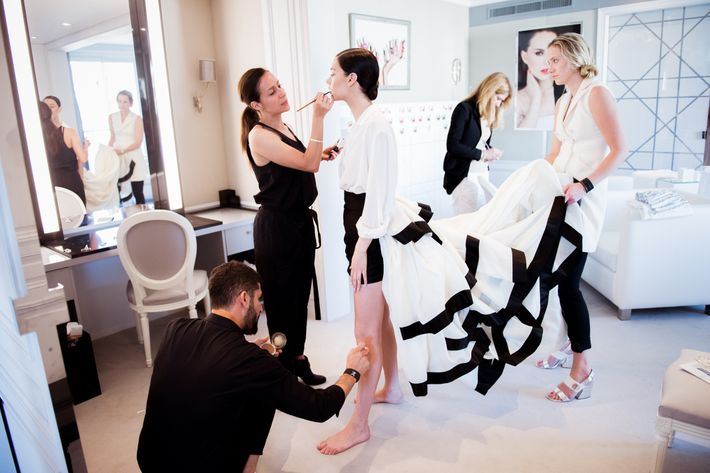 Are you currently planning to go to college?
AS: I'm getting older. This year, I will be almost a legal adult. So I've been thinking, What are you doing this for? Why are you doing this? Especially when it tears you down so much. And I remembered that since the beginning of this conversation, it was because I like clothes. Where I want to end up is designing clothes, owning my own brand, and working on my own collection. I'm thinking about taking classes that would take me further in what I want to do, but right now, I'm not planning on working toward a degree.
What has been the hardest part about doing what you do?
AS: Everyone has insecurities. Everyone day to day is trying to understand them, take care of themselves, and accept things that aren't perfect about themselves. You're always something you're working on to make you more comfortable with being yourself. When you put yourself out there, people will go in the opposite direction, make you feel bad about yourself, make you feel like you're the worst person ever, and try to make you think everything you're doing is wrong.
It's so hard to make yourself a confident, secure, happy person when hundreds of people are telling you to do otherwise.
ES: She's done amazing things, it's been a lot of sacrifice and hard work. Her entire adolescent and teenage years have been in front of millions of people. Yet, she's come out on top.
AS: There are things I think I missed out on. There's definitely high-school experiences that I missed out on [Editor's Note: Steele has been attending online school since the ninth grade]. But sometimes, I did way more interesting things. Like I'm 17 and did the red carpet at Cannes, which is more amazing than going to prom. Even though I was just asked the other week to prom for Mane Addicts so it's all okay.
This interview has been condensed and edited.