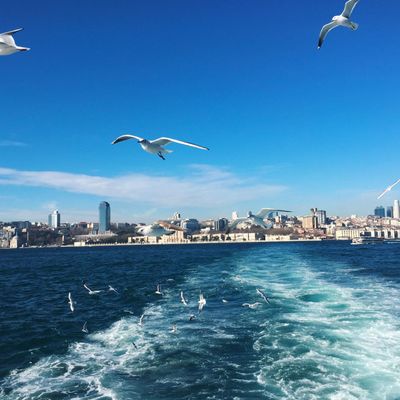 Cruising on the Bosphorus.
Photo: Cleo von Siebenthal
Weekend With is an ongoing Instagram series that features people we like photographing places we'd like to be. Follow @thecut on Instagram to join in, and tag your photos with #weekendwith when you travel somewhere new.
The single most difficult question you can ask Cleo von Siebenthal is, "Where are you from?" and the answer will depend on how much time you have.
"Short version: wherever Mom and Dad are (currently Osaka, Japan)," von Siebenthal tells the Cut. Long version? She was born in Puerto Vallarta, Mexico, before moving to Thailand, Indonesia, Malaysia, Saipan, Japan, Dubai, New York, and now Los Angeles.
She has three passports, speaks a handful of languages and is a mudblood — her mom grew up in the bustling city of Hong Kong and her dad on a farm in Switzerland. When she's not eating her heart out at Tastemade, where she's currently community manager, she's either on the hunt for culinary gems or tending to wanderlust.
"When looking for a family vacation spot that was easily accessible from Dubai, everyone in my family was quick to set their hearts on Istanbul, a city characterized by cultural influences of many empires that once ruled," von Siebenthal says of the family-trip decision. "Both my father and brother are hoteliers, and my mom is an excellent home cook, naturally resulting in an itinerary focused on one thing: food."