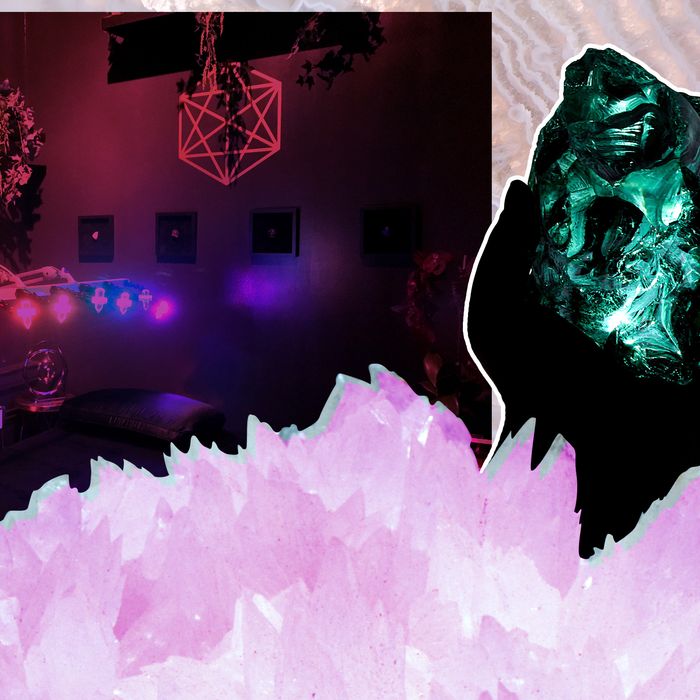 The crystal bed at Modrn Sanctuary.
I hate to do this, but I have to recommend a moderately expensive wellness practice that has no scientific basis or proven medical benefits whatsoever. Last week, I tried Crystal Bed Therapy at the recently opened alternative medicine studio Modrn Sanctuary, and I was changed. I don't think it did what it was supposed to do (realign my energy field?) but it did make me feel intensely relaxed and also sort of high.
Crystals, with their dubious healing capabilities and Instagram-friendly pastel colors, have fully infiltrated American wellness culture over the last decade: You can find them in head shops in crunchy college towns and in the uptown salons of celebrity facialists. Crystal Bed Therapy (sometimes called Crystal Light Therapy, which sounds like the vodka–pink lemonade concoction my sorority sisters used to make on Thursday nights) was first implemented years ago by the João de Deus healing community in Brazil. Modrn Sanctuary founder Alexandra Janelli started offering it at her Flatiron studio just a few weeks ago, to round out a lengthy roster of holistic practices including salt therapy, Rolfing, and acupuncture. Crystal Bed Therapy takes place, naturally, on a crystal bed, which Janelli said was "custom built with intention" by Quantum Resonance in Sedona. (Quantum Resonance is currently selling a similar bed on Etsy for $9,000.)

The crystal bed is not a pile of rocks; it is a flat massage table with several exciting elements. There are "healing" amethyst crystals embedded in the table itself, and there is an infrared heating mat on top of it, which feels nice and warm. There is also a small white machine attached to one side that plays binaural beats through plush headphones and vibrates the bed in time to the music. Most important, there are seven "extremely clear, highly polished precise Vogel quartz crystals, cut to a specific frequency" hanging over the bed (these align with your chakras). The whole thing is not unlike the Sassy Cuddle Bug Bouncer, which according to Amazon has "soothing lullabies," "soft vibrations," and "developmentally appropriate hanging toys." The crystal bed is a baby bouncer for adults.
So what does Crystal Bed Therapy actually do? The possibilities, Janelli explained, are endless. "The idea is you come in with an intention of 'I'd like to release this, to bring this in,'" she said, "so that the scalar energy that goes through you can actually help to release those blocks that are energetically happening in the body, and begin to re-vibrate it to the proper frequencies."
"It's pretty wild," she added.
When I arrived for my appointment, a soft-voiced practitioner named Edgar led me to the dark-gray crystal bed room, which is decorated with more crystals, and explained that I should pick a "healing frequency" for my 30-minute session. This frequency, measured in hertz, blasts through the Vogel crystals to create any number of desired effects. Edgar showed me a list of nine options, including "Return to Spiritual Order - 852 Hz," which "awakens you and allows you to see the truth and develop intuition" and "Reduce Pain - 174 Hz," which "give[s] your organs a sense of security, safety and love, encouraging them to do their best." I encourage my organs plenty in my own time, so I chose "Awaken Perfect State - 963 Hz," which "reconnects you to the oneness and light."
I swear to God it kind of worked. Once I was safely ensconced beneath the crystals, I put on the headphones and a pine-scented eye mask and instantly felt like I was floating in midair. After a few minutes of vibrating to the soundscape, which ranged from tinny beats to rushing water to baby-bird chirps, I took off the mask to make sure I was still in the room. Halfway through the session, I fell asleep and had a lucid dream about becoming a Keebler elf. It was the best nap of my life.
After what felt like either five hours or 30 seconds, Edgar awakened me to my perfect state by tapping my ankle. He lifted the Vogel crystals and offered me a cool glass of water, and I blinked at him a lot. Edgar explained that some people have strong emotional reactions to the crystal bed (sadness, euphoria), but I just felt pleasantly loopy. In my notebook, I recorded helpful observations like "crystals light up like rainbow" and "like drugs?" I sailed back to the R train on a puffy, pink cloud.
Unfortunately, one 30-minute Crystal Bed Therapy session costs $75. That is a lot of dollars to spend on a treatment that does not provide any measurable health benefits. (There is no evidence that humans emit energy fields or auras that need to be "aligned"; the only way crystals are going to affect your internal organs is if you swallow them.) Still, I found my perfect state! The perfect state of napping.