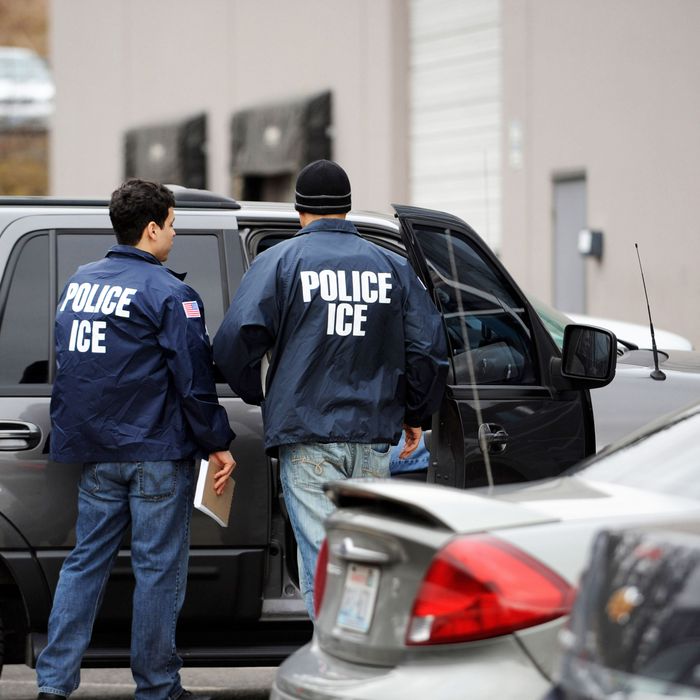 ICE agents.
Photo: Philip A. Dwyer/MCT via Getty Images
A 19-year-old high school student from Ossining, New York, was recently arrested and detained by Immigration and Customs Enforcement officers mere hours before his senior prom, the Washington Post reports.
Diego Ismael Puma Macancela turned himself in to ICE agents last Thursday, only one day after his mother — an undocumented immigrant from Ecuador who illegally entered the U.S. with her son two years ago — was arrested, according to the Post. Following his mother's arrest, Puma Macancela spent the night at his relatives' apartment, only to be awoken by his cousin the following morning with the news that ICE officers were outside waiting for him. Per the Post:
As his cousin hid under her parents' bed, the immigration officers called her and her father on their cellphones, telling them that if Puma Macancela didn't come outside they would be breaking down the doors. The teenager worried that if they gained access to the home, his undocumented relatives would also be arrested, [his cousin] Gabriela Macancela said. So he chose to turn himself in.
Puma Macancela was then arrested, taken into custody and sent to a New Jersey detention facility, where he has remained ever since. As a result, he missed not only his senior prom, but will also likely the opportunity to walk in his high school graduation ceremony this Saturday, as he faces imminent deportation to Ecuador. Carola Bracco, executive director of Neighbors Link, a nonprofit handling his case, told the Post, "He is petrified. He is scared to death he's going to be sent back to Ecuador."
The teenager's attorneys filed a request for a stay of removal on Monday, and asked that authorities allow Puma Macancela to stay in the U.S. for one more year so that he can finish high school and become a certified auto mechanic. As the Post notes, immigration activists say Puma Macancela's arrest is an example of how the Trump administration has increased arrests of undocumented immigrants, including those who don't have a a criminal record. If the ICE budget requested by Trump is approved, those arrests may intensify next year, according to the Post.