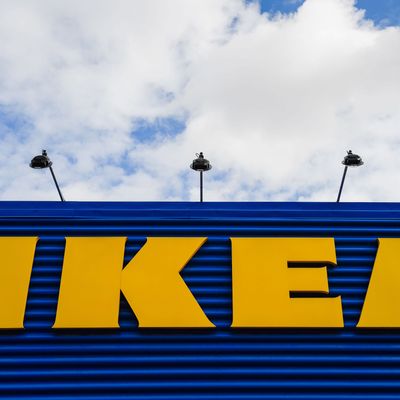 Ikea.
Photo: JONATHAN NACKSTRAND/AFP/Getty Images
The cheapest item in Byredo's home fragrance collection is a $62 air freshener dubbed "a textile perfume" by the brand, but one might suppose that's going to change fairly soon. Today Byredo announced that it's teaming up with fellow Swedish retailer Ikea to deliver a limited-edition collection poised to "explore new ways of adding scents in your home."
Set to hit stores in 2019, the mysterious collaboration weds the luxury fragrance house with the budget furniture retailer as they look into "both the role of scent in the home," "innovation in scent," and the best carriers and products to implement these fragrances. That's all Ikea and Byredo are willing to divulge now, however a sneak peak on Ikea's blog suggests that the company's famed cinnamon rolls might make an appearance in the lineup. Cost-friendly candles that smell like food? Sounds like Angela from Appleton might have a new obsession.