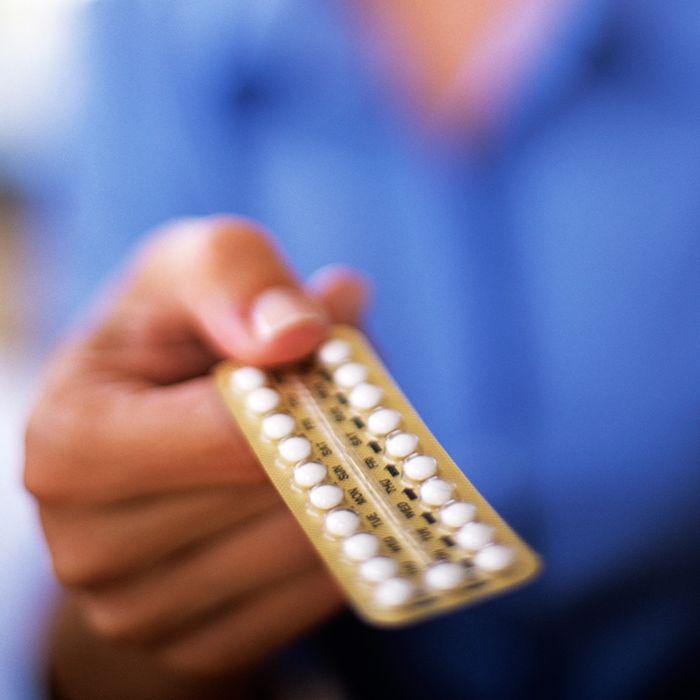 Many Texas teens never learn about things like oral contraception.
Photo: IAN HOOTON/SPL/Getty Images/Science Photo Libra
When President Trump's budget came out, it was noteworthy for the deep cuts it made across the board, including cutting Planned Parenthood out of all government programs. But it did call for investments in a few areas, one of which was abstinence-only education. The Trump administration wants to invest $277 million to "extend abstinence education and personal responsibility education program" between 2018 and 2027 — the very programs that, according to an NPR report, could be stalling the decline of the teen-pregnancy rate in Texas.
According to NPR, about 35,000 teens and young women in Texas get pregnant before they turn 20, and a June study showed that Dallas and San Antonio had teen-pregnancy rates 50 percent and 40 percent above the national average. And although the overall teen-pregnancy rate in Texas is in decline, rates of teen pregnancy are falling more slowly in Texas than in other states that have adopted progressive policies.
For example, from 1991 to 2012, California invested heavily in making contraception available and giving teenagers access to sex ed — as a result, the teen-pregnancy rate fell by 74 percent during that period. (It also fell in Texas, but only by 56 percent.) In South Carolina and parts of North Carolina, women on Medicaid are offered a long-lasting form of birth control after they have a baby, and Colorado is basically a birth-control utopia.
Jessica Chester, who got pregnant with her first son when she was 17, said her high school — like the majority of schools in Texas — taught abstinence-only sex ed, and even after her first pregnancy, she wasn't given the option to go on birth control. "It's like, 'Dude, what were you all thinking?'" she said. "I came in 17, pregnant, why weren't you all lining up the chart and showing me [my] options?"
"What we see is there are not supports in place," said Gwen Daverth, CEO of the Texas Campaign to Prevent Teen Pregnancy. "We're not connecting high-risk youth with contraception services. And we're not supporting youth in making decisions to be abstinent." Now someone break the news to the White House.