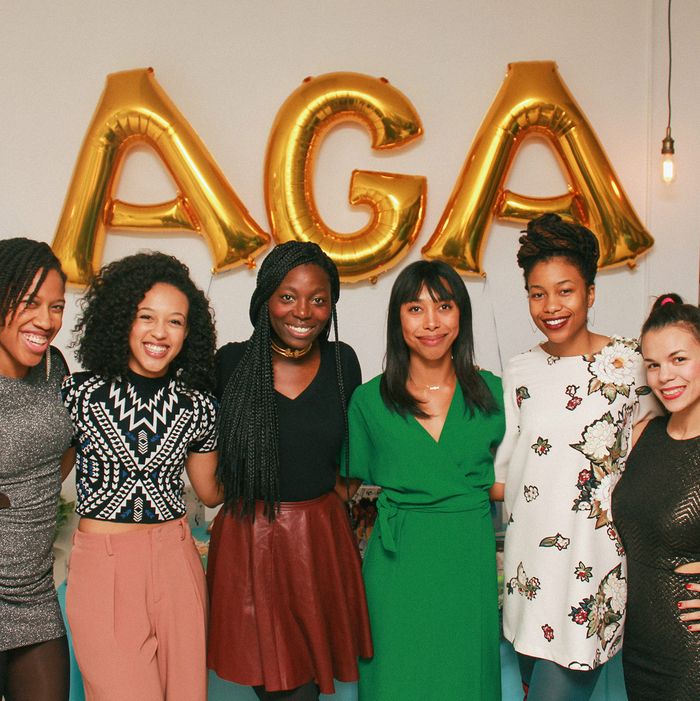 Art Girl Army board members.
Photo: @akbw
At the Brooklyn Museum last February, the New York chapter of the National Coalition of 100 Black Women honored Art Girl Army, an art collective with a secret Facebook group of more than 5,000 members, with the Phenomenal Woman Award. Just before the ceremony, Art Girl Army's board members — six women in their 20s — celebrated by staging a Solange-inspired impromptu photo shoot. "We had someone come back out to say 'Hey, we're starting in here,'" recalls 25-year-old Sydney Lowe, the group's founder.
Art Girl Army is a millennial, grassroots community that has joined the rise of female-driven art collectives, like Audrey Gelman's The Wing. The group started with about ten women who gathered for a potluck dinner at Lowe's Brooklyn studio in 2014. "Everyone would bring a dish, everyone would cram into my very small apartment and we would talk and share what we were working on," Lowe, a freelance producer and photographer, remembers.
They also shared their fears and insecurities as women in the art world, which inspired the group's main goal to support a diverse community of female artists. "I'm a women of color who works in the arts," Lowe explains. "In so many other creative fields, there are a lot of dudes, a lot of white dudes, and there are not as many of us. So it was really, really important to me that as we were building this, we were inclusive and making sure that other women of color knew about it, not that it's limited to women of color, but that they had a seat at the table too."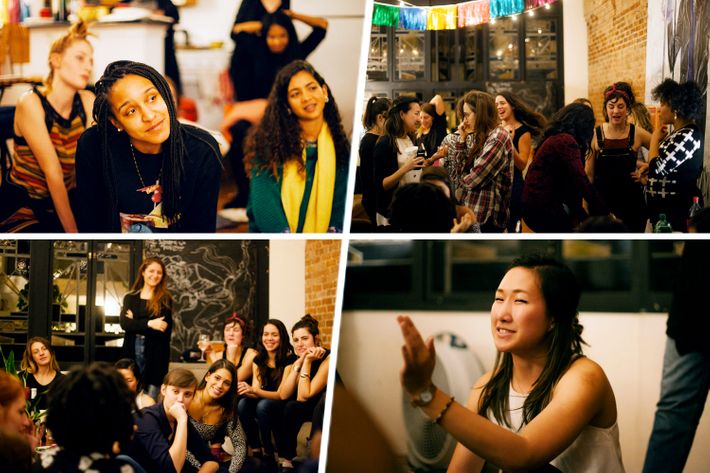 The potlucks grew from 10 to 20 people, "and then I couldn't fit people in my home anymore." The secret Facebook group has now grown to more than 5,000 members including cis, transgender, nonbinary, and gender-nonconforming creative professionals. Most are in their 20s and based in New York or Los Angeles; all work in creative fields including art, photography, film, music, writing, and graphic design.
On Facebook, women post listings for jobs, classes, and grants; ask for financial advice; and share their work, like newly released albums, art-show openings, and poetry readings. Lowe calls Art Girl Army's in-person events their "bread and butter": panels, workshops, and gatherings like a holiday party last December, hosted at the New Women Space in Williamsburg. Recent events included a music-production workshop collaboration with Gender Amplified, dedicated to empowering female musicians; an AGA Female Filmmakers meet-up with a panel of producers, writers, and creators from HBO, Showtime, and UnionDocs; and a Drink & Draw class in New York.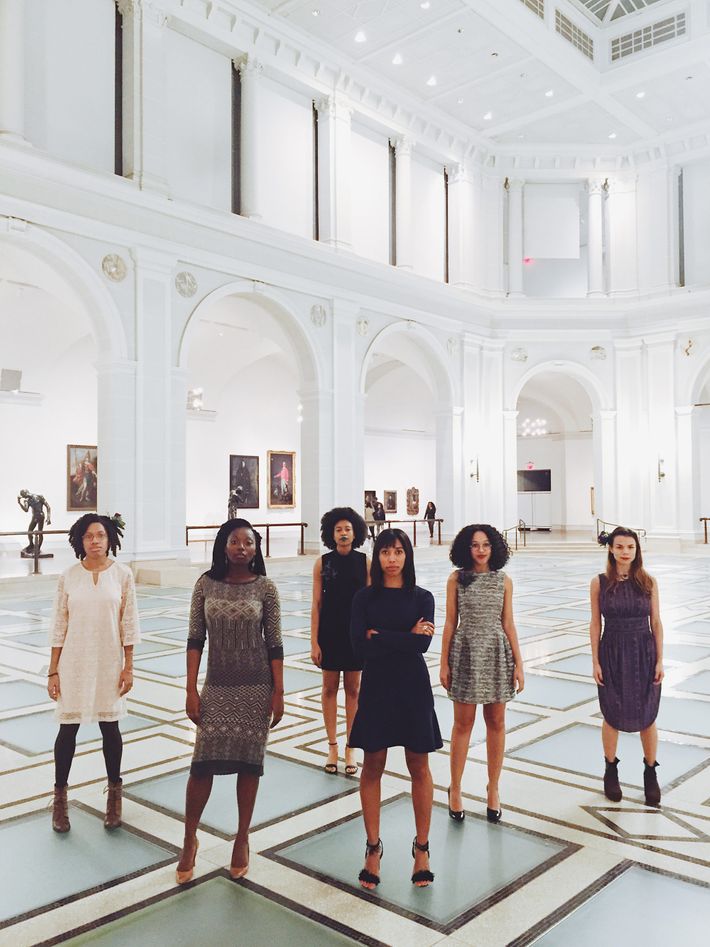 Board members — who include Sydney Lowe, Cindy Lozito, AhDream Smith, Olivia K. Harris, Ebony Hardin, Morgan Fletcher, and creative contributor Jessica Best — run Art Girl Army through group chat messages and monthly Google video phone calls. Lowe says the group's next challenge is creating a business model while remaining transparent and authentic. "We started having these events for free because they were in our homes and we brought food, but now that we are moving forward, we recognize those events cost money." They plan to keep all members involved as the collective grows.
Art Girl Army's name is inspired by a tweet by Mindy Kaling: "I wish I could stand on a cliff like Gandalf and shout 'Rise, Girl Army, Rise!' and 10,000 girls would materialize and we'd storm stuff," Kaling wrote. "I was like, 'yes, yes, that's literally exactly it,'" Lowe says. "It's the thing that I have wanted, not even as a founder of this but very much as an artist, an artist of color, an artist who's a woman, just an artist. It's very much the feeling of we rise together."
See artwork by Art Girl Army members in the slideshow ahead. To join Art Girl Army's Facebook group, go to the contact form on AGA's website.