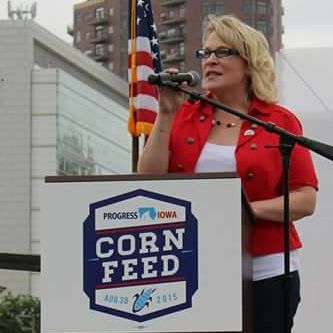 Photo: Kim Weaver/Facebook
Democrat Kim Weaver has dropped out of the race for a seat in Congress in Iowa's 4th Congressional District due to increasingly disturbing threats against her safety. Weaver was running against incumbent Republican Rep. Steve King, who is known for his conservative, anti-immigrant views.
Weaver wrote on Facebook:
Over the last several weeks, I have been evaluating personal circumstances along with the political climate regarding this campaign. After much deliberation, I have determined that the best decision for me is to withdraw my candidacy for the US House race in Iowa's 4th Congressional District.

One consideration has been raised again by recent events at my home. Beginning during my 2016 campaign, I have received very alarming acts of intimidation, including death threats. While some may say enduring threats are just a part of running for office, my personal safety has increasingly become a concern.
Weaver added that she was concerned about losing her health insurance since she'd need to quit her job and campaign full time, and that her mother in Des Moines has been experiencing health issues and needs her help.
King tweeted that he didn't believe Weaver had been threatened.