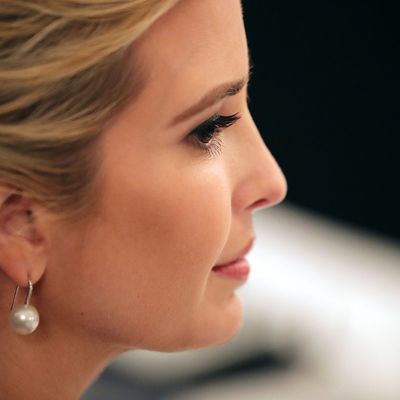 The First Daughter's line has requested three new trademarks in the U.S.
Photo: 2017 Getty Images
Ivanka Trump's company has filed for a slew of Chinese trademarks since the election, and several of its applications have already been approved. And although the company has claimed the filings are intended to keep other vendors from capitalizing on the First Daughter's insane popularity abroad, they still raise a number of ethical concerns. But according to Bloomberg, China isn't the only place Ivanka's brand is expanding — U.S. trademark officials recently granted initial approval for Ivanka Trump–brand intimate apparel, loungewear, and athletic clothing.
All three trademark requests were filed after the November election. So far, the company has been granted preliminary approval for ten trademarks this year, ending what Bloomberg says was a nine-month dry spell for the brand.
They include trademarks on a wide variety of goods: rain ponchos, scarves, bras, and hosiery. Given that sales of the First Daughter's clothes increased last year thanks to her dad's presidential run, Bloomberg notes that a foray into the world of lingerie could be "lucrative." If no one opposes the application, it could be approved in a matter of months.
Michelle Mancino Marsh, an intellectual-property attorney, said that, like the brand's trademark requests filed in China, these could be preemptive — Ivanka's company could have no plans to, say, launch an athleisure line. (The brand declined to comment.) But the requests could only have been filed if the brand showed "clear intent" to use them.
News of the new trademarks comes as the House Judiciary Committee raises concerns over Ivanka's involvement in her brand. Last week, members sent a letter to Abigail Klem — the new head of Ivanka's company — to clarify whether any of the First Daughter's recent diplomatic interactions affected the business decisions of her company, from which she still stands to benefit.