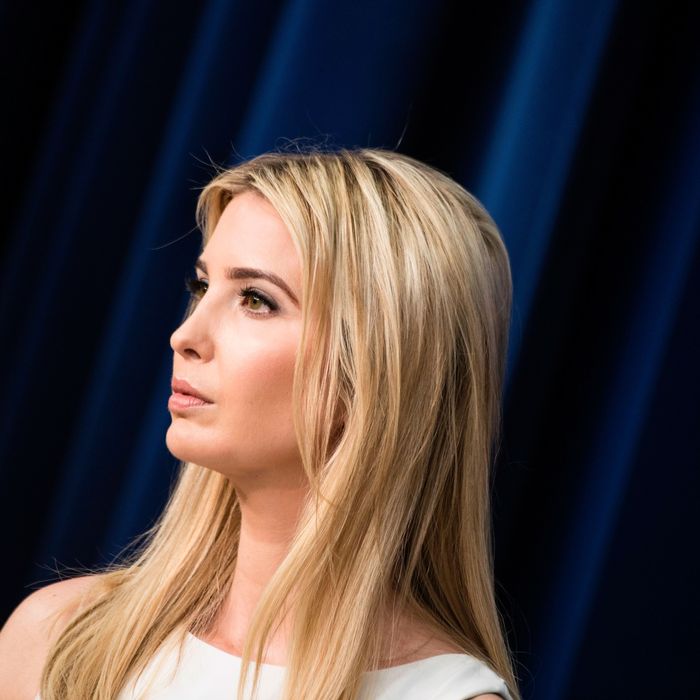 The Huajian factory produces 100,000 to 200,000 pairs of Ivanka Trump shoes a year.
Photo: BRENDAN SMIALOWSKI/AFP/Getty Images
Despite her dad's campaign promise to keep manufacturing jobs in the United States, almost all of Ivanka Trump's fashion line is produced overseas, and the majority is manufactured in China. But at least one Chinese factory that makes her clothes has come under fire for mistreating its workers, and on Thursday, the New York Times reported that another Chinese company that produces Ivanka Trump shoes — Huajian International — is seeking out even cheaper labor in Ethiopia.
Huajian is currently building a complex of factories and offices on the outskirts of Ethiopia's capitol, Addis Ababa. According to the Times, the African outpost already employs 5,000 workers — all because Chinese workers have begun to complain about low wages and long hours.
Numerous workers interviewed by the Times outside Huajian's complex complained about 14-hour workdays, which included unpaid breaks for lunch and dinner, and one employee's schedule for December showed the factory required "60 hours and ten minutes of paid work per week" (the legal limit is 44 hours, with an overtime limit of 36 hours per month).
The factory produces 8 million pairs of shoes annually; of those, 100,000 to 200,000 are Ivanka Trump. When asked by the Times for a comment about Huajian's labor conditions, the Ivanka Trump brand declined.
Incidentally, Huajian is the same factory where three China Labor Watch activists who were investigating company practices went missing — one was accused of illegal surveillance, and two others haven't been heard from since Monday. When told about the missing activists, a spokesperson for Marc Fisher Footwear (which manufactures Nine West and Ivanka Trump shoes) said the company would "look into [the allegations] immediately."