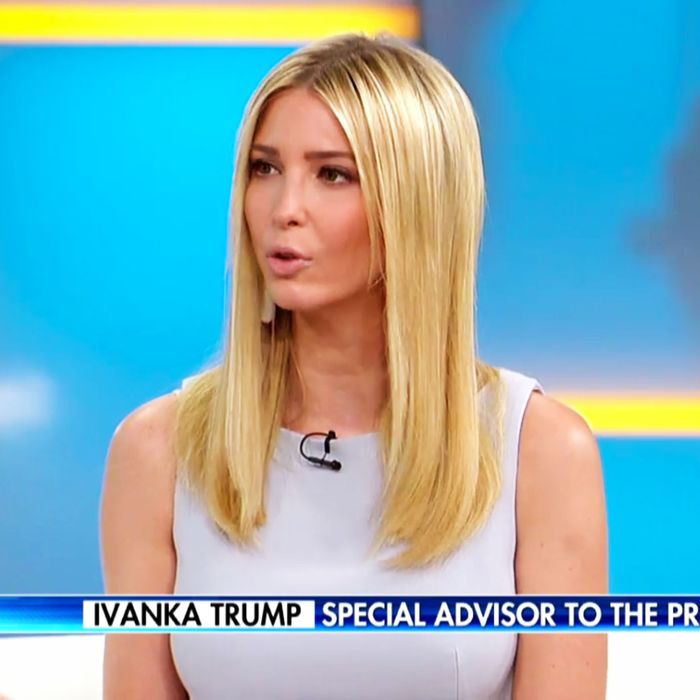 Ivanka Trump on Fox and Friends.
Photo: Fox
Ivanka Trump stopped by one of her father's favorite TV shows, Fox and Friends, on Monday morning — an appearance President Donald Trump promoted on his Twitter account — to talk about James Comey, her recent overseas trip, and how "hard" it's been to deal with the "viciousness" of the reaction to her father's presidency.
Ever on brand, Ivanka told "Fox and Friends" her father felt "vindicated" by Comey's recent Senate testimony. She went on to say she believes people remain unemployed in the U.S. not because there aren't enough jobs, but because many of them (especially women, she noted) aren't adequately trained to work in STEM positions and work multiple part-time jobs. "We're moving in the wrong direction in terms of our participation but that's something we'll ultimately need to change," Ivanka said.
The First Daughter (and special advisor to the president) was then asked whether it's been difficult to deal with "what keeps coming up," such as the ongoing investigation into alleged Russian interference with the presidential election. "It is hard. There's a level of viciousness that I was not expecting," Ivanka said. "I was not expecting the intensity of this experience. But this isn't supposed to be easy."
She explained that her father and his administration "intend to be transformative" and change the "status quo" through "big, bold things." Yet, Ivanka apparently didn't expect people to be so upset by some of the "big, bold things," nor did she expect people to take issue with her personally.
"I think some of the distractions and some of the verocity, I was a little blindsided by on a personal level," Ivanka said. "But for me, I try to keep my head down, not listen to the noise, and just work really hard to make a positive impact in the lives of many people."
However, Ivanka noted that although it's been "hard" for her, she still has it easier than most people. "At the end of the day, if you want to think about difficult, it's the factory worker who's been laid off," she said. "Difficult is the mother who's lost a child to opioid abuse. So those are the real challenges, and I think that does put it in perspective for me." With skillful PR maneuvering like that, maybe Ivanka should take over for Sean Spicer.