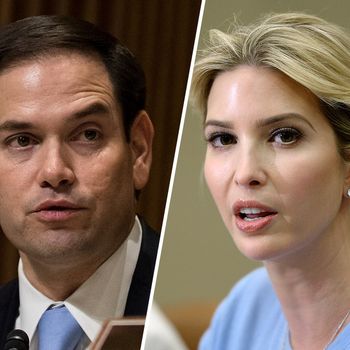 Ivanka and Marco Rubio are working together on paid leave.
Photo: Getty Images
Last month, the budget proposal President Trump released included several pretty expected components and one surprising one: a plan to implement paid family leave. The plan called for six weeks of paid leave for mothers and fathers after the birth or adoption of a child, financed by states' unemployment-insurance programs. If states still didn't have enough money to implement paid leave, they'd be "expected to adjust" their tax structures.
Naturally, Ivanka Trump championed the plan — Congress, on the other hand, seemed less enthusiastic. But last week the First Daughter signaled she was willing to overhaul her plan if a good alternative was introduced, and according to Politico, she's collaborating with none other than Senator Marco Rubio to come up with a new plan.
Rubio reportedly sent out an email to his colleagues inviting them to meet with him and Ivanka in the coming weeks to discuss "pro-family tax reform initiatives." "I think we're trying to help the same people," he told Politico. "I think there's different ways to try to get there." (He also recently tweeted in support of Ivanka's work on paid leave, which these days is key to any diplomatic strategy.)

In 2015, Rubio was the first Republican presidential candidate to come out in favor of paid family leave; his plan was financed through a tax credit for businesses that voluntarily offered at least 4 weeks of paid leave, "limited to 12 weeks of leave and $4,000 per employee each year."
He's also pushed for changes to the Child Tax Credit, legislation he proposed with Senator Mike Lee that would make a new credit worth $2,500 per child that would be partially refundable and provide large benefits to low-income Americans, according to the nonpartisan Tax Foundation. Meanwhile, the White House's plan to offer tax deductions for child-care expenses would largely benefit families earning $100,000 or more a year.
As the National Review points out, Rubio's involvement could be key to making both the White House's child-care and paid-leave plans palatable to Republicans, who are more likely to vote for an expanded CTC than they are a new subsidy. Of course, neither plan is likely to be progressive enough for Democrats, who've called for their own versions of paid leave and child-care plans. And the whole thing is subject to the approval of the president, who's lately been sort of ignoring Ivanka's priorities — not to mention it'll have to survive a congressional tax-bill process at a time when the GOP is struggling to deal with anything remotely complicated.