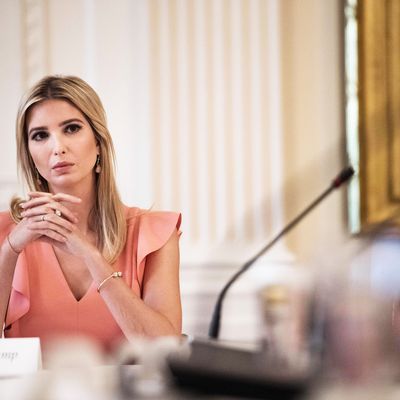 Ivanka Trump.
Photo: NICHOLAS KAMM/AFP/Getty Images
In the past two weeks, Ivanka Trump has been focusing in on her paid-leave plan, holding a series of meetings at the White House to try to figure out what exactly it should entail. So far the First Daughter has met with representatives from American Enterprise Institute and the Brookings Institution, as well as with a number of Republican senators whom she sees as potential allies. But according to Politico, despite all the meetings, the plan is going nowhere fast.
The two she took this week — one with Senators Marco Rubio, Deb Fischer, and a handful of other lawmakers, and one with Majority Leader Kevin McCarthy and other members of the House — reportedly "yielded little agreement other than to keep working."
Right now, the White House's (a.k.a. Ivanka's) plan calls for six weeks of paid leave for mothers and fathers after the birth or adoption of a child, to be financed by states' unemployment-insurance programs. But that plan is unappealing to Republicans, who object to any sort of federal mandate.
Instead, Fischer reportedly tried to sell Ivanka on her paid-leave bill, which — similar to the plan Rubio endorsed during his run for president — would give tax credits to companies that voluntarily offered paid leave. But as Politico points out, that plan is less generous than the White House's, and it didn't get far when Fischer proposed it previously.
Meanwhile, Democrats want a plan that includes paid leave for medical emergencies, as in the bill Senator Kirsten Gillibrand proposed. And Aparna Mathur, an AEI scholar who met with Ivanka this month, said she signaled she'd be down with a broader approach. "Ivanka's point was that we should consider leave for other reasons, for other kinds of illnesses or sick parents," Mathur said. "They would try to make it slightly more expansive and slightly more generous than what we have."
In short, the First Daughter seems about as talented at coordinating a paid-leave policy as she is at giving hugs.