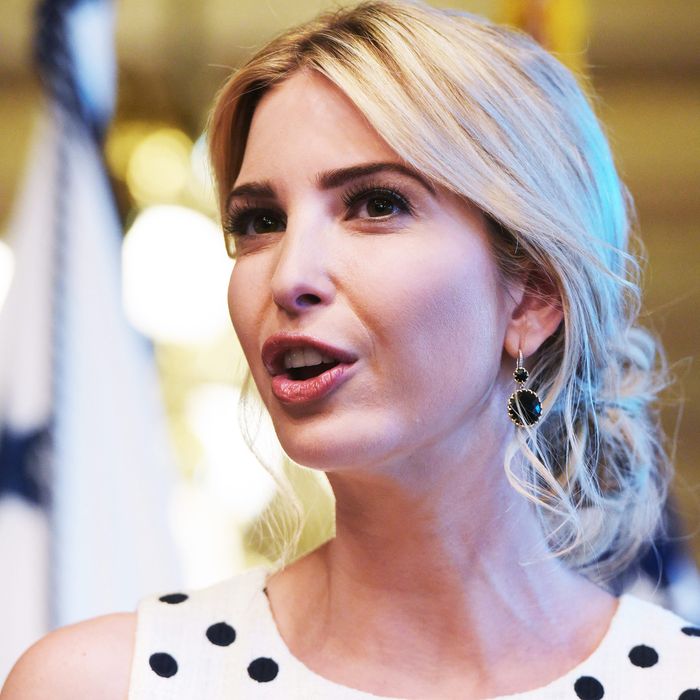 Most of the Ivanka Trump brand's clothes and shoes are manufactured in China.
Photo: MANDEL NGAN/AFP/Getty Images
Ivanka Trump has flagged human trafficking as one of those "certain issues" she's "very passionate" about; back in May she lead a bipartisan round table of lawmakers whose goal was to discuss legislation to combat human trafficking. So it makes some sense that, on Tuesday, she'll present the State Department's annual report on human trafficking alongside Secretary of State Rex Tillerson. But according to Reuters, that report places China — where almost all of Ivanka's brand's wares are manufactured — on its global list of worst offenders in human trafficking and forced labor.
The report divides countries up into three tiers based on their records: Tier 1 for nations that meet minimum U.S. standards; Tier 2 for those making significant efforts to meet those standards; Tier 2 "Watch List" for those in danger of falling below those standards; and Tier 3 for countries that fail to comply and are making no significant efforts to do so. Tillerson has reportedly decided to drop China to Tier 3 alongside countries like Iran, North Korea, and Syria. According to Reuters, it's "unclear" why Tillerson decided to downgrade China; a State Department official said the department "does not discuss details of internal deliberations." The news is one of a handful of hints that President Trump's feelings toward China may be souring, Axios reports.
It also comes as the president's daughter's company faces increased scrutiny about its labor practices in China. A Fair Labor Association investigation in April showed that a Chinese factory where Ivanka Trump–brand clothes were manufactured severely underpaid its workers, and three China Labor Watch activists were poised to release a damning report about conditions at a factory that makes Ivanka Trump shoes before they were detained by Chinese authorities.
Regarding the activists, the Ivanka Trump brand's new president — Abigail Klem — said only that G-III, the company that licenses Ivanka's name, "works with many footwear production factories and all factories are required to operate within strict social compliance regulations." She added that the factory in question hadn't produced Ivanka Trump–brand shoes since March, although China Labor Watch said an April production schedule called for nearly 1,000 pairs.
The First Daughter attempted to separate herself from her brand shortly before her dad was sworn in as president, stepping down from her leadership role there and rolling the company into a $50 million trust from which she receives fixed payouts. But given the hard line she's trying to drive on human trafficking, it would seem that — yet again — her eponymous company is in conflict with her professed political goals.