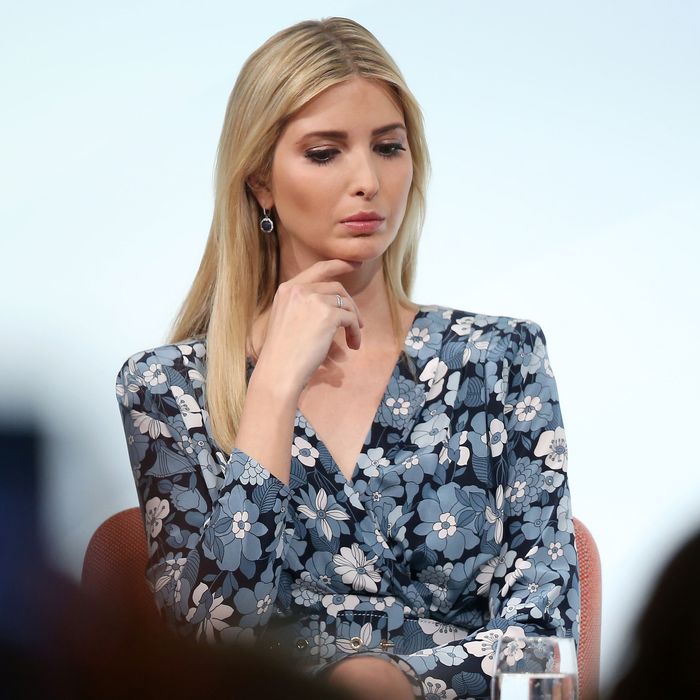 Photo: Sean Gallup/Getty Images
Ivanka Trump is headed to court. A judge ruled Friday that Trump must testify in a lawsuit brought by Aquazzura Italia S.r.l. against her eponymous shoe line.
New York Daily News reports, "Trump's lawyers argued that it would be inappropriate for Trump, who now serves as an adviser to her father, to testify because she had no involvement in the designing process." However, Judge Katherine Forrest ruled, "Ms. Trump's public statements regarding active and comprehensive brand management lead to a reasonable inference that the shoe at issue would not have been released without her approval."
According to the Associated Press, Trump referred to herself as "the former president of the company" in a declaration filed with the court. She stated:
I had no involvement in the conception, design, production or sale of the 'Hettie Shoe,'" she said, adding that those responsibilities belonged to the company's licensee, Marc Fisher, which was also sued.

 

My involvement was strictly limited to the final sign-off of each season's line after it was first reviewed and approved by the company's design team," Trump said.

 

In requesting Trump's testimony, Aquazzura's lawyers cited public statements by Trump, including one in which she was quoted saying: "There's not a shoe I'm not intimately involved in designing."
The lawsuit, which was filed in June 2016, alleges that her brand's "Hettie" sandal is a copy of their popular "Wild Thing" sandal.
Aquazzura's suit also claims "it previously complained to Trump about two other shoes that bear stark similarities to their 'Forever Marilyn' and 'Belgravia' designs, including photos of both versions."
This isn't the first time Trump's brand has tangled with trademark issues. Marc Fisher Footwear was taken to task by Derek Lam CEO Jan-Hendrik Schlottmann for the similarities between the Ayami wedge and the Trump brand Cadie wedges in a cease-and-desist letter. Marc Fisher Footwear refuted the claim.