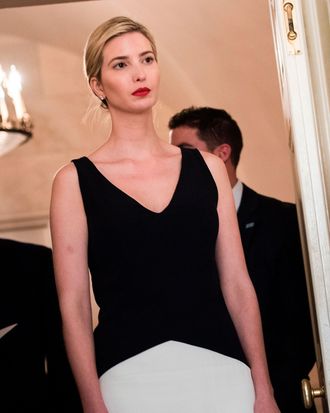 Ivanka Trump's brand sought more Chinese trademarks.
Photo: Getty Images
The name Ivanka Trump has a lot of clout in China — Chinese women reportedly refer to her as a "goddess," and Chinese companies are scrambling to brand their products based on her image. All of this has led to ethical concerns as the First Daughter's company (which she still receives payouts from, although she's technically stepped down as its head) seeks a slew of Chinese trademarks. China cleared the Ivanka Trump brand for several trademarks back in April — the same day she met with Chinese president Xi Jinping. And according to The Wall Street Journal, even more trademark requests were filed prior to that: on March 28, the day before she became a presidential adviser.
The 14 new trademark applications reportedly cover products from tapestries and video-game equipment to alcohol and legal services. The Journal notes that, if approved, the trademarks could let the company "widely expand its business" in China.
But the company told CNN Money that it doesn't intend to profit off the trademarks — instead, they're part of the "normal course of business" and intended to keep others from using Ivanka's name to sell stuff. Still, the fact that China presumably feels political pressure to approve the trademarks is a problem, said Larry Noble, general counsel for watchdog group Campaign Legal Center.
"China knows that to deny these applications would get a negative reaction from the president, and to expedite their approval would get a positive reaction from the president," he said. He added that the company could "stand to lose a lot if these applications are denied."
On the advice of her lawyers, Ivanka has tried to head off ethics concerns by doing things like canceling her book tour, and donating a part of the proceeds from her book to charity. But unless she divorces herself from the company completely, it's hard for her to deny that she's making money off her dad's presidency.