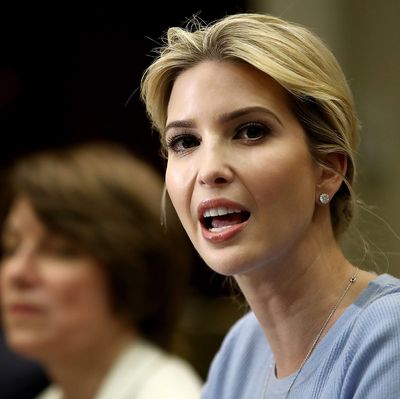 The First Daughter reportedly said her current plan is a "placeholder."
Photo: 2017 Getty Images
In mid-May, President Trump released a budget request that called for deep cuts across many departments. But the classically conservative plan also included something Democrats had long been lobbying for: paid family leave. Spearheaded by Ivanka Trump, the $25 billion plan allowed for six weeks of paid leave for mothers and fathers after the birth or adoption of a child (an update of a previous version that only included birth mothers). But a new report from the Associated Press suggests the First Daughter is "flexible" on both the contents and funding of the plan.
"She said that [the current plan] was just a placeholder or a stake in the ground and they're open to other ideas," Isabel Sawhill, a Brookings Institution scholar who presented an alternative plan to the White House alongside an American Enterprise Institute representative, told the AP. Sawhill was part of a bipartisan group of scholars the First Daughter reportedly met with this week.
One of the main differences between the two plans — the one the White House has put forward and the one the Brookings Institution proposed — is funding. The former would require states to finance the paid-leave benefit through unemployment insurance programs; they'd be "expected to adjust" their tax structures if they don't have enough money. According to the AP, that "adjustment" would likely lead to higher taxes for businesses. The White House argued that a state-based program lets states set benefits that make sense for them, but others have expressed concern: "We can't take any more unfunded mandates from the federal government," said Virginia governor Terry McAuliffe, a Democrat.
The AEI-Brookings plan, on the other hand, would be financed through a federal payroll tax on employees, as well as other budget savings. It also reportedly calls for "eight weeks of paid leave at 70 percent of a person's wages, capped at $600 a week."
Abby McCloskey, a Republican economist who worked on the AEI-Brookings plan, called Ivanka's initial proposal a "great start," but conceded that paid family leave was a tough sell for both sides. "It's not as generous as Democrats would like, and it's an unfunded program, which Republicans don't like," she said. But she added that Ivanka "seems very open to input and advice."
Of course, as the New York Times pointed out last month, even a revised paid-leave plan has to be approved by Congress, and both Democrats and Republicans seem skeptical. And in the end, as he's done with at least one of his daughter's priorities in recent weeks, Ivanka's dad might simply decide paid leave isn't that important.