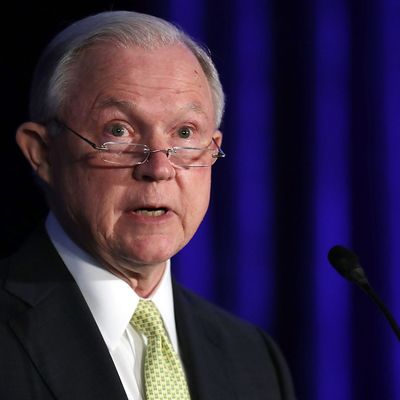 Attorney General Jeff Sessions doesn't exactly have the best record when it comes to LGBTQ rights — as a senator from Alabama, he supported a constitutional ban on same-sex marriage; voted against adding sexual orientation and gender identity to categories protected against hate crimes; and voted against repealing the military's "don't ask, don't tell" policy. Nevertheless, at a Justice Department summit in Washington on Thursday, he promised to crack down on hate crimes, in particular those committed against transgender women.
"We have a responsibility to protect people's freedom, their religious rights, their integrity, their ability to express themselves," he told assembled federal prosecutors, according to Politico. And he added, "We have and will continue to enforce hate crime laws aggressively and appropriately where transgendered [sic] individuals are victims." (It should be noted that the correct term is "transgender," sans the -ed suffix.)
Sessions added that the DOJ would review several murders of transgender women that have happened around the country in recent months, saying he "personally met with the department's senior leadership and the civil rights division" to discuss the killings. He added that he "specifically directed the files of these cases be reviewed to ensure there was … no single person or group behind these attacks, [and] to what extent hate crime motivation" applied.
According to Politico, he acknowledged his past voting record but stressed that he'd taken an oath to enforce the law despite his personal beliefs.
In fact, this isn't the first time Sessions has spoken out about transmisogyny — in May, he released a memo praising the sentencing of a Mississippi man to almost 50 years in prison for murdering his trans girlfriend. "Today's sentencing reflects the importance of holding individuals accountable when they commit violent acts against transgender individuals," he said at the time. "The Justice Department will continue its efforts to vindicate the rights of those individuals who are affected by bias-motivated crimes."
Of course, Sessions's commitment here doesn't excuse other actions of the Trump administration, which has essentially sidelined the LGBTQ-rights movement. And the true measure of Sessions's words will be in the actions that follow. But hey, it's a step up from empty tweeting.