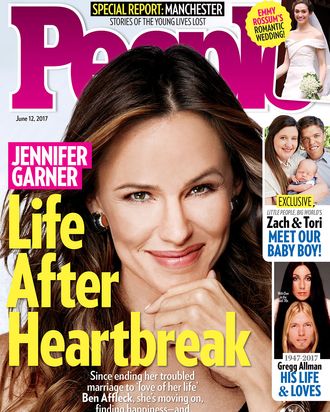 The People cover that may have ruined it all.
On Wednesday, People published a cover story about Jennifer Garner, who, as you may know, recently filed for divorce from Ben Affleck. People has been covering the Garner/Affleck breakup since the couple officially separated two years ago, and by keeping the stories positive (and boring), the tabloid has nabbed exclusive after exclusive along the way. When Garner and Affleck first announced their split, they went directly to People with a joint statement. This happy symbiotic relationship may be all over now, however, based on Garner's negative response to Wednesday's cover story.
The People cover has all the trappings of an exclusive. There's a big, smiling portrait of Garner and a juicy headline that suggests the subject will reveal all inside: "JENNIFER GARNER: Life After Heartbreak." The story itself, though, has no official quotes from the star. Instead, People went to "inside sources" for pretty mundane information about Garner: Affleck was the "love of her life," she will date eventually but not yet, she's focused on her children. It's nothing we haven't heard before. So why frame it like an exclusive interview? It's especially odd considering Garner and Affleck have happily provided exclusive interviews to People in the past.
The normally social-media averse Garner took to Facebook to express her displeasure with this apparent breach of protocol.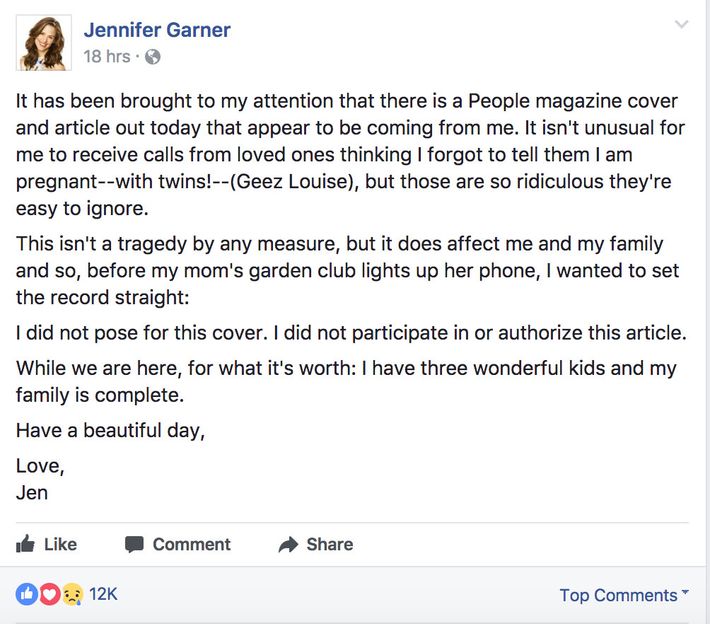 Her statement is charming and polite but crystal clear: "I did not pose for this cover. I did not participate in or authorize this article."
Oh shit! People! What do you have to say to that?
A People spokesperson released this semi-firm statement to E! News: "People covers Hollywood stars beloved by our audience, and our story on Jennifer Garner is fair and truthful. To be clear, it does not include rumors and does not say she's pregnant. We wish her well."
Tabloid accuracy fluctuates constantly, of course, but for the last few years, you could bet on the Bennifer-People accord. Garner and Affleck would give People exclusive statements and stories, and in return, People would find pleasant euphemisms for Affleck's bad behavior or ignore it completely. We have been operating under the assumption that any People story about the Bennifer divorce was at least tacitly approved by the couple, but after yesterday, all bets are off. Will Garner find a new tabloid for her exclusives? Will Affleck follow suit? Can you believe anything you read?
Garner has actually done some savvy work here. By disavowing this one story, she is casting doubt on the suggestion that she would ever work with a tabloid behind the scenes on any story. As Celebitchy put it this morning: "In a way it's genius because it makes [Garner and Affleck] seem like victims of the gossip press when they've been using it to their advantage for so long."
The remaining question: Now that Garner is walking away from People, what will People's editors do with all the information they surely have but have not published about Affleck and the divorce?