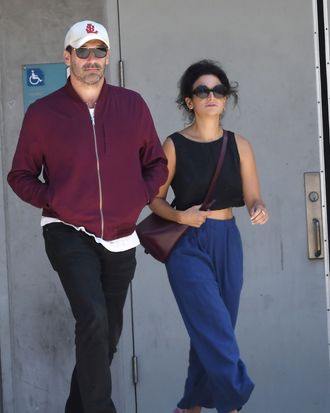 Jon Hamm and Jenny Slate.
Photo: Cousart/JFXimages/WENN.com
In February, eternally delightful person Jenny Slate broke up with your crush, Chris Evans. And now, she's been pictured at the movies with your other crush, Jon Hamm.
As Lainey Gossip reports, Slate and Hamm were photographed coming out of a movie theater together last week. Apparently they've been friends for a while (they are co-stars in the film Aardvark, which was featured in this year's Tribeca Film Festival) … buuuut they're both currently single and they're both attractive and one of them is on a sadness press tour and the other was wearing a really great outfit, so now would be the perfect time for a Hamm-Slate hookup, if that could happen.