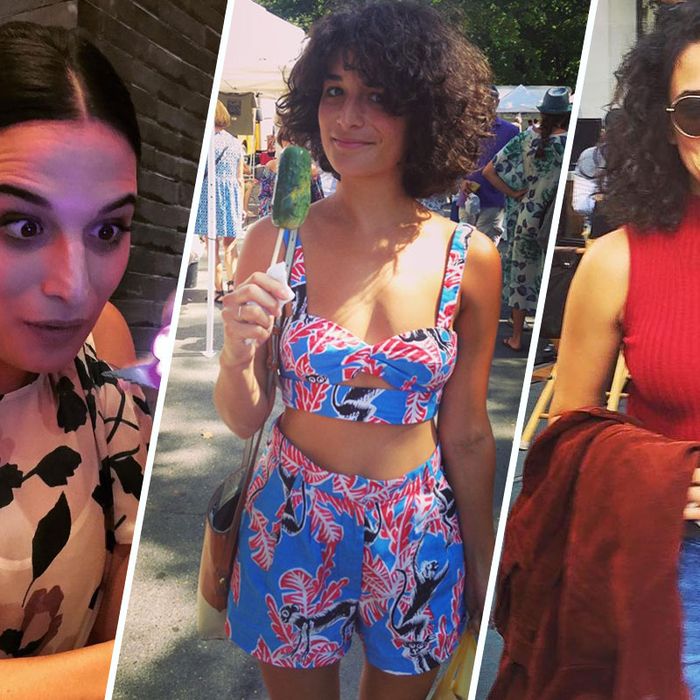 I started following Jenny Slate on Instagram a couple of years ago because I was a fan of her comedy, and found her online presence equally irreverent and charming. But in between scrolling through photos of her dog, family and friends, and screengrabs of Kate Bush songs on Spotify, I realized something else: She has excellent personal style.
Slate posts photos of her outfits fairly often, and they're usually bold, printed, and accompanied with joyfully appreciative captions — "I feel like an absolute bloom in your wonderful dress" or "Oh @aceandjig I love u so much. I love your soft fabrics& your pretty colors& please never stop making clothes, thank you, amen." She manages, above all else, to seem like she truly has fun getting dressed — making her the ideal inspiration for your summer. We scoured her Instagram to get you started.
The Dream of the '90s Is Alive
Ideal for looking put-together on the hottest summer days.
The Matching Crop-Top Separates
The grown-up version of your favorite childhood matching set, or, chic toddlercore.
The Sports-Bra-and-Overalls Combo
Even she can't resist a '90s-era Kate Moss outfit.
You heard it here first: This is the horny shirt.
If you buy something through our links, New York may earn an affiliate commission.