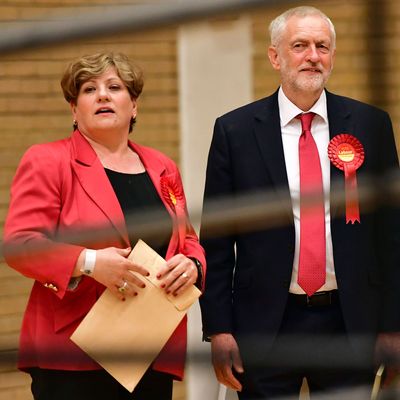 Emily Thornberry and Jeremy Corbyn.
Photo: Dominic Lipinski/PA Wire/PA Images
On Thursday night, Labour supporters all over the U.K. were celebrating the election results, including, of course, party leader Jeremy Corbyn. Over the course of the election, he became a potent symbol of what a potential alternative government could look like. He energized young voters. He stoked enthusiasm in the left across the world. And he is amazingly terrible at high fives.
While posing with fellow Labour politician Emily Thornberry, Jezza went in for a high five that she apparently didn't know was coming — and so his hand landed directly on her breast, which ultimately makes for a moment of quintessential British awkwardness.
That absolute madman.