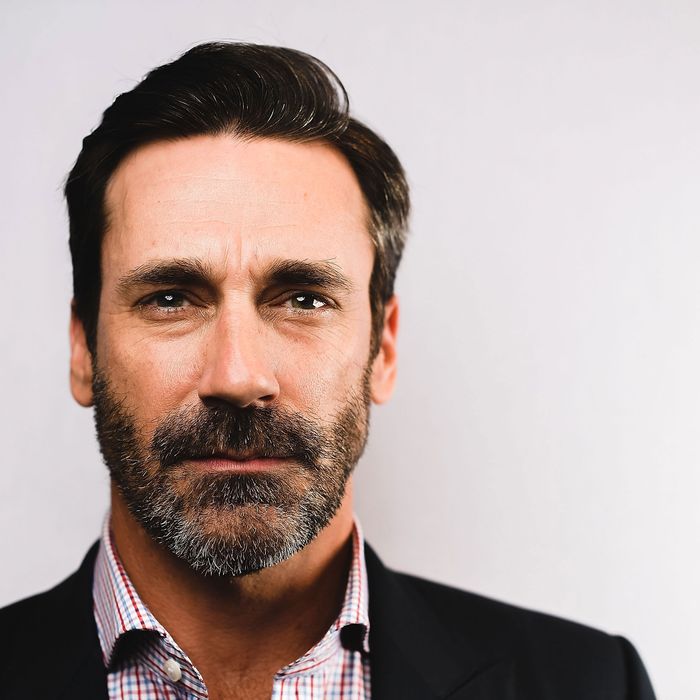 Jon Hamm.
Photo: Matt Winkelmeyer/Getty Imagesfor SXSW
In what might be the most depressing profile of a middle-aged male celebrity since GQ sent Brad Pitt to wander in the desert for 40 days, Jon Hamm sat down with InStyle to talk about life, work, and his recent breakup, and the poor guy comes off sounding pretty Don Draper–esque in his view of the world.
"It's fine. It's hard," he said of his split from longtime girlfriend Jennifer Westfeldt. "It's hard to be single after being together for a long time. It's really hard. It sucks."
Asked whether all actors are attempting to heal childhood wounds, the former Mad Men star seemed to agree, explaining he still carries scars from losing his parents at a young age. "I'm certainly damaged — there's no denying it," he continues. "I was talking to my therapist yesterday, and she was newly flabbergasted at something I told her. I think she'd just forgotten it. I was like, 'We've already gone through this!' But if you look at the history of my life, it's not great. When your mom dies when you're 9, and your dad dies when you're 20, and then you live on couches in other people's basements … I mean, there's certainly a version of that person who does not come out of it as successfully as I have."
Other things that bum him out: Anti-intellectualism ("Curiosity is under siege. It's a bummer."), the government ("a disaster — a real disaster."), and social media ("It's the visual equivalent of masturbating — there's no point other than immediate gratification.").
Still, Hamm says that despite his woes, he's a "believer in the human spirit" above all. "I may be a narcissist in the way that most actors are, but I think it's not to the detriment of those in my life," he said. Still — "the hope is to find the right balance so you can care about your own stuff enough to live your life and do your job well while also not being a monster."
Aww. Can someone please buy this man a Coke?