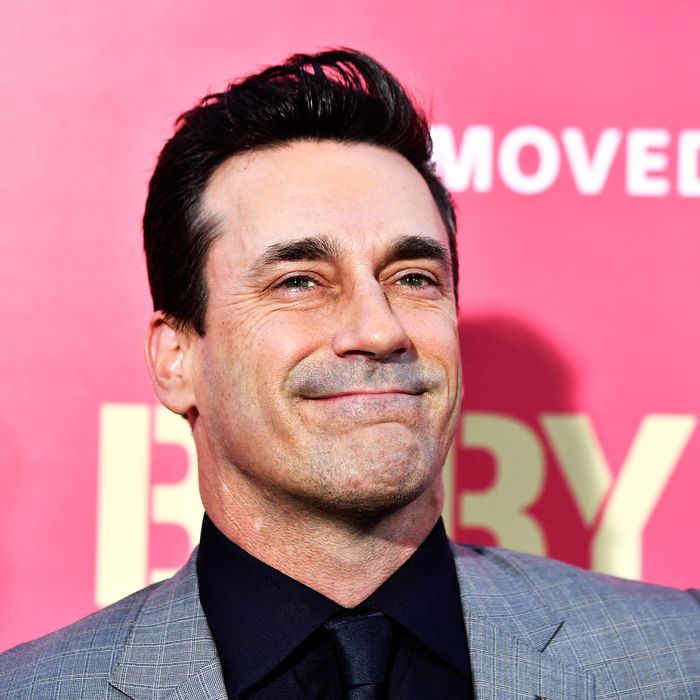 Jon Hamm.
Photo: Frazer Harrison/Getty Images
There are many things that make Jon Hamm sad these days: his recent breakup; the state of the U.S. government; social media; and, of course, the burden of being really ridiculously good-looking.
In an interview with the Guardian, the former Mad Men star — whom this magazine once dubbed "America's sexiest comedy nerd" — "bristles" at Baby Driver director Edgar Wright's suggestion that it's hard to find handsome actors who are funny too.
"That's certainly not been my experience," says Hamm, who name-checks Kristen Wiig, Tina Fey, Amy Poehler, Aziz Ansari, Tom Cruise, Matt Damon, and George Clooney as actors who manage to be both funny and attractive.
In his cameo on 30 Rock, Fey and Hamm poked fun at Hamm's cartoonish handsomeness by casting him as Drew, a man whose good looks insulated him from the hardship of daily life. But Hamm wants us to know that he doesn't actually live life in a Drew-like bubble.
"I bring more to the table than what I represent physically," he says. "And it's a daily struggle to prove that. Obviously it's a lovely thing for people to say … [I'm handsome], but sometimes it comes with a shitty dig underneath."