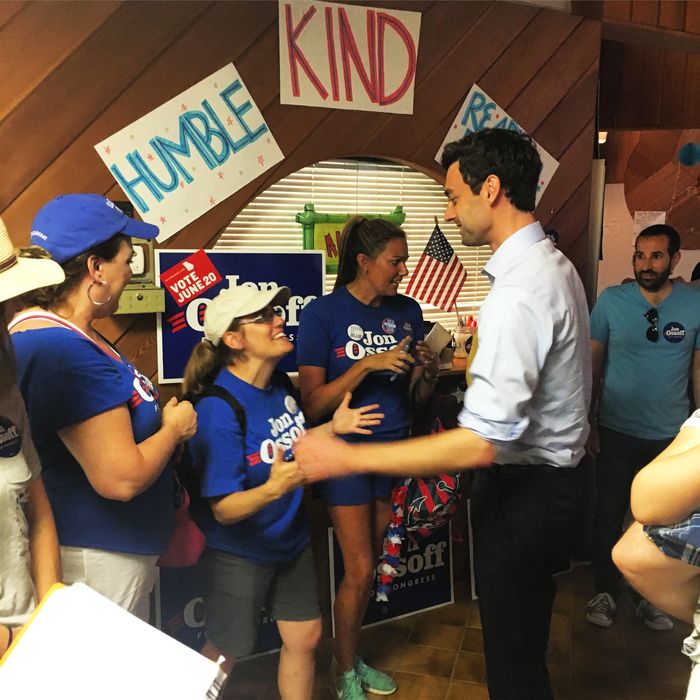 Candidate Jon Ossoff greets volunteers.
At Hearth, a restaurant in Sandy Springs, Georgia, about 30 people — most of them women, most of them white — are sitting at a long table on Saturday night, drinking white wine and beer, scarfing pizzas and salads and talking at a frenzied pitch. One woman is describing, with a tired smile on her face, the contours of her life these days: "If I'm not knocking doors, I'm making calls; if I'm not making calls, I'm writing postcards; if I'm not writing postcards, I'm replacing my lawn sign." Everyone laughs. "They can't believe we live here," says another woman, in reference to the local media and local Republican Party. "They think we must be shipped in from California, because we can't be their neighbors."
These women do live here, in Georgia's affluent, suburban, predominantly white sixth district, where a special election to replace Republican congressman Tom Price, whom Donald Trump tapped to run the Department of Health and Human Services, has drawn the attention of the nation. They are dedicating their time — in many cases, nearly all their time — to campaigning for Jon Ossoff, the 30-year-old Democrat who came within spitting distance of winning a majority in April, and is now facing Republican Karen Handel in the runoff, which will take place on Tuesday. That Ossoff has come as close as he has is a startling signal of liberal vigor in Trump's America: The sixth district is a longtime conservative stronghold that has sent Republicans to Congress since 1979; Price won his November reelection by 23 points. But in the days before the runoff, Ossoff is polling neck and neck with Handel; many on the ground don't even venture a prediction of what's going to happen, calling the outcome a "coin flip."
Especially surprising is that the closeness of the race can largely be attributed to the obsessive energies of the sixth district's women, an army of mostly white, suburban working mothers who had until now lived politically somnambulant lives. In the wake of Donald Trump's November defeat of Hillary Clinton, many of these Georgia women have remade their lives, transforming themselves and their communities through unceasing political engagement. To visit Georgia's sixth in the days before the runoff is to land on a planet populated by politically impassioned women, talking as if they have just walked off the set of Thelma & Louise, using a language of awakening, liberation, and political fury that should indeed discomfit their conservative neighbors, and — if it is a harbinger of what's to come — should shake conservative America more broadly.
"No matter the outcome on Tuesday, the real story of this campaign is the story of women organizing, standing up, fighting," Jon Ossoff tells me from his campaign's Chamblee office two days before the runoff.
"There's something of a renaissance of civic engagement and political activism afoot, and it's being led by women."
Ann White, 63, is a former speech pathologist, the mother of teenagers, and a Democrat married to a Republican; she's never been active in electoral politics before. "I just assumed that Hillary would win," she said of the 2016 election. As the realization that Clinton had not won began to sink in, she felt herself changing. "The profanity filter on my mouth totally went away," White said, describing a phone call days after the election with a like-minded friend from California. "I lost it, and my kids turned around and went 'Whoa!' Because they've never heard me say the F-word before." White began to weigh the responsibility of taking a stand, "for people of color, for those who cannot afford health insurance, who are lesbian, gay and transgender, for immigrants. I'm a white older woman. There's a lot of old white people that are [on the Republican] side right now. Well, I'm an old white person and I can be vocal too."
As soon as she started to be vocal, she realized she had company; when she attended the Atlanta Women's March in January, she said, "it was the very first time since the election that I felt empowered and like, wait a minute, there's a whole lot of people like me who are not going to take this lying down!" White discovered and became involved in Liberal Moms of Roswell and Cobb Counties, or LMRC, and then Pave It Blue, a liberal women's group that maintains a closed Facebook page to communicate and plan their activism. "My favorite slogan," she said, trying to keep from crying as she spoke, "is 'You are not alone.' I found my people." Like almost all of the Ossoff women I spoke to, White described her political awakening as a coming out. "I am no longer in the closet," she said. "I am out, I am out blue. Everybody knows now that I'm a Democrat, that I'm liberal. And they're kind of tired of it, but that's okay. I'm not done. I'm just getting started."
Woman after woman shared this sentiment. "I never even put a sign in my yard because I wasn't sure how it would be received if it wasn't a Republican sign," said Cherish Burnham, 43, of her life as a Democrat, growing up in the red sixth district. On the morning of November 9, she said, consumed by hopelessness, she went to volunteer at her triplet sons' elementary-school science class, where she saw two other mothers who also looked stricken. After tentative inquiries, the trio realized they were all upset about the same thing; they stood outside the school in conversation for an hour; they told her about LMRC. The expression of primal, agonizing anger that followed Trump's election meant that for the first time, some women — even those who'd been living in proximity to each other for years— could hear each other for the first time.
"Every time I see an Ossoff sign I feel like I have an ally," said Tamara Brooking, a 50-year-old research assistant to a novelist. Brooking explained that because she works from home and her daughter, who has cerebral palsy, is in a special-needs school, she hadn't had much contact with other mothers at soccer practices or dance classes, leaving her politically and socially "isolated." A lifelong Democrat who voted for Bernie Sanders before she voted for Clinton, Brooking said that after the election, "I was fucking furious. I was insanely mad." Now that she's become active in Democratic organizing, she said, "I'm feeling like I'm working toward something. After the anger and depression faded, the motivation kicked in."
Many women have put LMRC magnets on their cars; if they spot a magnet on the parked car, they turn it 180 degrees as a kind of greeting. "It's to let each other know, 'my sisters are here,'" said Jennifer Mosbacher, 42.
"It's this feeling of camaraderie in an area where you have often felt very isolated and disenfranchised. But now you can go to your neighborhood grocery store and get flipped, and you're like cool, someone else is here."
Women speak with the youthful fever of having found new friends, or new love — of politics and each other. At Hearth, several describe how they're not sleeping, instead staying up all night scrolling through Facebook and message boards, reading political posts and messaging each other. The sheer amount of time they are devoting to political organizing is staggering, especially given that most of them work full time and have children. Mosbacher, who has a 9-year-old daughter and runs her own business said, "My business [and] my family have suffered from the work we're doing. Our fridge is barren; my daughter is like 'Are we going out again?'" Recently, on her way to work, she got a group text alert through LMRC that MSNBC cameras were heading to the East Cobb County government service center and that they wanted a group of activists there. "I flipped my car around and headed there," she said. "All of sudden a hundred of us are there with our signs and our shirts that we keep in our cars."
"I tell people that I am fresh out of fucks," says Tamara Brooking. "Seriously. I'm done. I'm done pretending that your hateful rhetoric is okay. I'm done pretending that people like us must be quiet to make you feel comfortable."
In their nascent activism there are echoes of another American moment in which middle-class white women snapped to political consciousness. When describing their past inertia and isolation, these activists often sound more than a little bit like Betty Friedan, who wrote in the first paragraph of The Feminist Mystique, about the "strange stirring," and "sense of dissatisfaction [and] yearning" that "each suburban wife struggled with …alone." Then, as now, white middle-class women were following a path that had been first blazed by women of color, many of whom had been making the same arguments as Friedan decades in advance of her best seller, women who have been the activist, hard-working base of the Democratic party and progressive resistance well in advance of the 2016 election. But the activation of white middle-class women, in part because of the greater access to political, social, and economic power their race afforded them, helped to jump-start a national rebellion, what would become the flawed but revolutionary women's movement of the 1970s. And, of course, if white women had voted Democratic in 2016 …
"I believe this is the beginning of a new wave of feminism," said Mosbacher. "And I hope by the time my 9-year-old daughter is in college, she'll be reading books about this movement and how it changed the tide in this country."
Women, said Stacey Abrams, Georgia's House Minority Leader and a Democratic gubernatorial candidate, "understand that this has to be the beginning of something, regardless of what happens on Tuesday night. Because they've seen, for the first time, the real consequences of inaction. So you have women who are waking up and seeing that they don't have the luxury of going back to sleep." Abrams, who if elected in 2018 would be the nation's first African-American woman governor, continued, "Among African-American women there's been a long consistency of action, which has moved our communities closer and closer to political power over time. What you're seeing in the suburbs now is a version of that. It is louder and more vibrant [right now] because there's an election to circle around, but it's not unlike black women who fought for civil rights, and women throughout the South who have pushed back on narratives about who we are and what we're capable of accomplishing."
Mosbacher, who is white, described the internal explorations of racial inequity within the group of newly politicized women as part of the process of building progressive awareness. "There are groups meeting to [to learn more about] what white privilege is," she said. "A lot of women of color, who are minorities in these groups, are like, 'Hey, what about us? Our story's different! You all are just waking up, but we've been living this every day.'" After a critic of Israel spoke at a local rally, there was pushback from some activist women in the district, which has a large Jewish population. But Mosbacher said, "What came out of that is a group of Jewish and Muslim women who have been meeting and having dinners." This kind of dialogue, Mosbacher says, is unprecedented in her suburban white community. "I think a lot of people haven't dealt with what white privilege means. We're taking baby steps on that, honestly."
But if the activist women are getting speedy educations in politics, bias, and identity, they're also teaching political operatives something about community outreach and organizing. As Michelle Goldberg has described at Slate, the LMRC and Pave It Blue women, whose networks were built in part through parenting connections, are bringing PTA-honed skills to the job of campaigning.
Jessica Zeigler, a 32-year-old mother of three young children, works for a pharma research company and is a member of Indivisible, Pave it Blue, and LMRC. After the April election, frustrated by low turnout of young millennials, she began implementing a plan to reach older high-school students and recent graduates who were eligible to vote in the district. It was difficult to reach local young people through canvassing, said Zeigler, since many lived with their families and door-knockers "were almost guaranteed to be yelled at by Republican parents." The campaign had some college outreach plans, she said, but she felt they were impractical, since the pool of students who could vote in the sixth district on any given college campus was so small. Instead, she and an activist partner, an elementary-school teacher and mother of millennials, compiled a list of the 51 high schools that fed into the district. They reached out to seniors or recent graduates at every school, designating "captains" from each recent graduating class to be in charge of disseminating social-media messaging about extended voter registration, vote-by-mail, and absentee-voter options. Zeigler said that 1,800 additional voters between the ages of 18 and 23 have registered since the April election.
The creativity goes beyond recruitment models, extending to a vigilante intensity that occasionally recalls the theatrical exertions of some second-wave radicals: There's a group that stands on street corners in dinosaur costumes, calling themselves "Dinos for Democracy"; one woman brings garishly made-up mannequins out for Ossoff; there's an old Volkswagen van that's been decked out with flowers, flags, and "Vote Your Ossoff" slogans. In the days before the election, some volunteers, frustrated by the feeling that they had already canvassed everyone on the campaign's lists, went rogue; they began working to get into apartment complexes where the campaign wasn't sending people (because residents tend to be shorter term, and less likely to be registered) but where organizers felt they might find some voters who wouldn't otherwise yet have had contact with the campaign. As Ossoff signs have routinely, in recent weeks, been stolen from yards and even set on fire, the LMRC and Pave It Blue women have taken to attaching American flags to discourage arson, as well as smearing the signs with Vaseline and dusting them with clear glitter, making sign removal a slippery and messy process, and leaving sign-bandits' clothing marked by greasy, sparkly reminders of women's determination to elect a Democrat.
Of course, there is another very retro dynamic in play here: all of these energized women putting in the legwork and doing the labor on behalf of a young, white, male candidate. Activists see Ossoff as worlds better on issues that have a disproportionate impact on women than Handel, a woman who has been one of the most virulent opponents in the country of reproductive rights. But many of the Pave It Blue women, before turning their full attention to Ossoff's campaign, also worked on behalf of LMRC member Christine Triebsch, who ran in April's special election for the State Senate district 32 seat; she ultimately lost, but her supporters are already speaking excitedly about her next campaign. And they are anticipating Georgia's 2018 gubernatorial campaign, in which Abrams will be running for the Democratic nomination against fellow Georgia House member Stacey Evans. ("I'm excited for either one of them," said Brooking.)
Women activists are already looking beyond Ossoff's race in part because they understand that his chances remain long and they are desperate to affirm that their political commitments will not dissipate, even if he loses.
"There is no way that if he loses this is going to go away," said Burnham. "We need to make every Georgia representative work for their seats," Mosbacher told me. Jessica Zeigler said that she is optimistic but prepared for the possibility of an Ossoff loss — "I'm a realist; this is still the sixth district of Georgia" — but is also thinking about how to take her youth messaging strategy into the future. "We could replicate this model," she said. "We have a lot of districts to flip in 2018."
And many simply can't see ever returning to how life was before November 8.  "I can never go back," said Burnham. "I look at where I was even three or four months ago and I'm not the same person." As Tamara Brookings put it: "We're activists now. This is who we are."