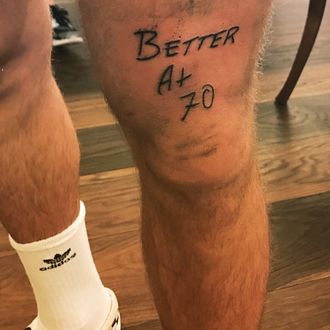 A long way away.
Photo: Courtesy of Instagram/justinbieber
Justin Bieber is decorated with upwards of 60 tattoos, some worse than others but none better than most. On Thursday, the self-proclaimed son of god with an Eminem haircut added another to the list: a handwritten thigh tattoo that reads "better at 70."
Speaketh Bieber about his new ink:
I look back at a lot of things in my life, mistakes, insecurities, and although I have felt I've wasted a lot of time it also makes me want to be better faster and longer! For me personally I want to work everyday to be BETTER AT 70
Better, faster, stronger, longer (?) … at 70. Only 47 more years to go.