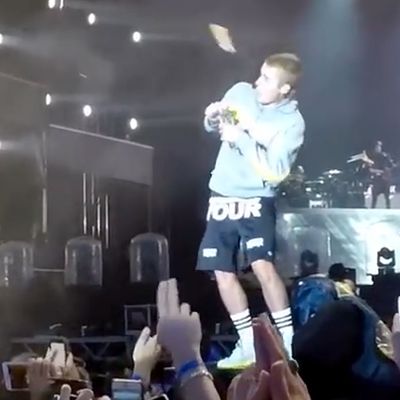 Bieber dodging water bottle.
Photo: Courtesy of YouTube/Anonymous Belieber
Last month, male-crop-top enthusiast Justin Bieber incoherently rambled through the lyrics of "Despacito" during an impromptu performance at 1 Oak in New York, at which point we learned that although he's prominently featured on the song's remix, he doesn't actually seem to know the lyrics. But over the weekend, Bieber finally came clean about his lack of "Despacito" knowledge at a Stockholm concert, when he responded to a fan's request for the song by saying, "I can't do 'Despacito.' I don't even know it," before promptly being pelted by a water bottle.
Luckily, the brains behind our favorite newly moody Instagram account doubles as an amateur athlete, and was therefore able to dodge the water bottle. "Whoa, don't throw things," he told the crowd.
Bieber's reaction to the water bottle demonstrates just how much he's grown since the last time a water bottle was thrown at him during a concert. As E! notes, he responded to a similar incident during a 2013 show in Brazil by cutting his show short and immediately exiting the building.
Justin … we're proud of you.