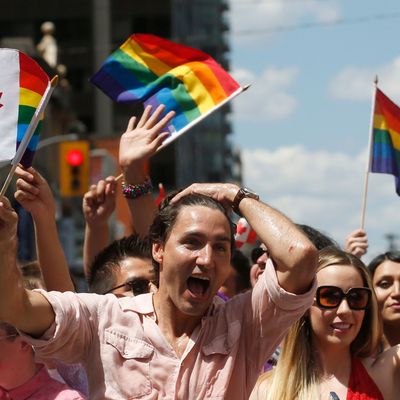 Justin Trudeau marches in the Toronto Pride parade.
Photo: Rick Madonik/Toronto Star via Getty Images
In the past three weeks alone President Trump has colorfully declared — by official decree — that the month of June shall hereby be known as "Great Outdoors Month," "National Caribbean-American Heritage Month," "African-American Music Appreciation Month," "National Ocean Month," and "National Homeownership Month." What is conspicuously, but perhaps unsurprisingly, missing from the Trump administration's June bucket list is, of course, Pride Month.
Pride did, however, get an administrative shout-out via a pair of innocuous tweets from Ivanka Trump. "I am proud to support my LGBTQ friends and the LGBTQ Americans who have made immense contributions to our society and economy," she wrote at the start of the month. Yasss Kween Yasss! Amirite? No, I'm not, according to Ty Cobb, who heads global advocacy efforts at the Human Rights Campaign Foundation. "It was a hollow and meaningless statement," Cobb said over the phone. "Given the actions coming out of the administration she works for and their silence when it comes to issues around LGBT folks, her words feel like hypocrisy more than anything else."
Indeed, contrasting 140 empty characters from Ivanka with the way the previous administration iconically lit up the White House in rainbow hues to honor the legalization of same-sex marriage evokes a stomach-turning, we're-not-in-Kansas-anymore malaise. And in the absence of American leadership on LGBTQ issues, many other world leaders have assumed the spotlight. "It's clear that, unlike any time that I've seen before, people are recognizing other leaders out on the world stage who are stepping beyond where the current American president is willing to go," Cobb said.
Last week, somewhere over the rainbow just north of the border, Canadian prime minister Justin Trudeau toasted Pride Month by erecting multiple flags symbolizing gay and transgender rights above Parliament Hill. As the United States Justice Department continues to make gender-nonbinary students feel ill at ease by restricting them from using the bathrooms of their choice, Canada's justice minister Jody Wilson-Raybould is helping pass landmark trans-rights bills that strengthen hate-crime laws "so that all Canadians should feel safe to be themselves."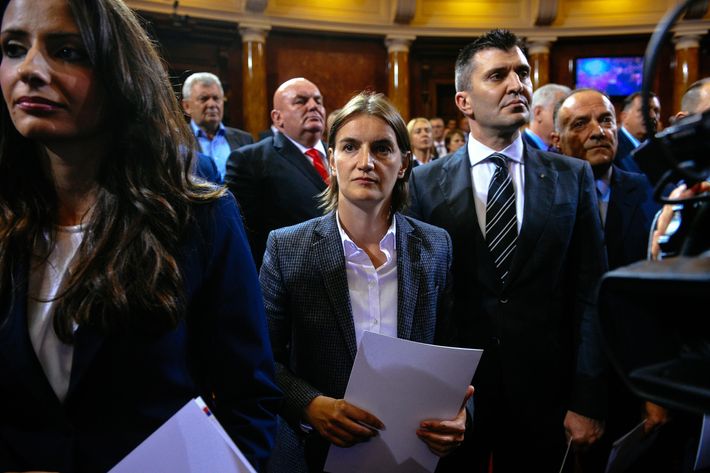 The same week, Ana Brnabić broke a global glass ceiling by becoming Serbia's first gay (and female) prime minister, and Leo Varadkar, a 38-year-old son of an Indian immigrant, was recently elected the Taoiseach of Ireland at a confirmation ceremony in Dublin, after claiming victory at the Fine Gael Party leadership earlier this month. Mr. Varadkar's partner, Dr. Matt Barrett, was an unmistakable presence during his historic swearing-in. And while his "dashing doctor boyfriend" receives fawning coverage in the Irish press, the White House nefariously neglected to credit the husband of Luxembourg's gay prime minister Xavier Bettel in a Facebook caption for an official portrait of NATO spouses.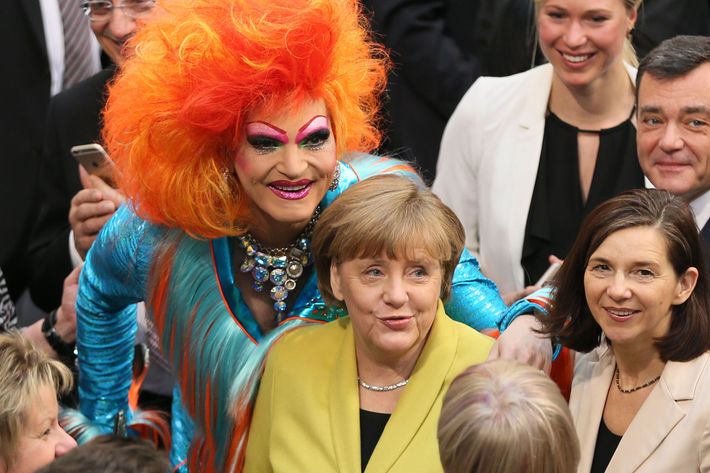 Together, Trudeau, France's Emmanuel Macron, and Germany's Angela Merkel — the oft-discussed new leaders of the free world — have joined forces to form something of a superstar gay task force to pressure Vladimir Putin on LGBTQ rights in Chechnya. Their appeal to gay Americans extends past policy as well. Merkel, Macron, and Trudeau have (to borrow a phrase from RuPaul) the "charisma, uniqueness, nerve, and talent" that Trump and his clumsy, ungoverned lackeys glaringly lack. On social media, Chancellor Merkel has been coronated a queen so many times on Twitter that she might as well have a cameo on Game of Thrones. She even has her own parody handle, @Queen_Europe, which has racked up over 100,000 followers. Last February, photos of her posing with actual royalty, a six-foot-five, flame-haired drag queen named Olivia Jones, exploded on the web.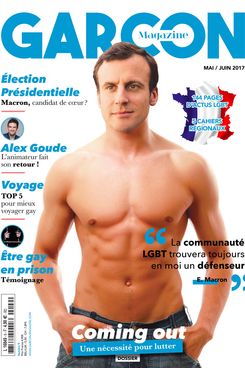 Macron, who is just 39 years old, breezily shrugs his shoulders at rumors that he had a gay affair by coyly suggesting it was his "hologram." The is-he-or-isn't-he rumors of his sexual orientation have spawned memes speculating about the size of his package and even landed him a shirtless cover (albeit photoshopped) on the French gay magazine Garçon. More like a modern-day Jonas Brother than a stuffy politician, Macron seems comfortable in his skin knowing he's fantasy fresh meat to his gay male fans.
Amidst the adulation, many LGBTQ-rights advocates recognize that this new crop of gay-friendly world leaders still has room to grow. Despite the overwhelming number of Germans in favor of same-sex marriage, Chancellor Merkel has repeatedly dismissed calls to push ahead with marriage equality. During last year's election, Macron tripped over his words trying to explain how he sympathized with French voters who opposed gay marriage. And human-rights activists in Serbia have expressed concern that the appointment of Brnabić is an empty gesture meant to conceal the widespread homophobia that is still rampant in the Balkans. Whether it's the Malaysian government encouraging young people to make videos on how to "prevent" homosexuality, or disturbing reports of anti-gay brutality in Chechnya, many LGBTQ citizens and asylum-seekers throughout the world still face violence and discrimination based on their sexual orientation or gender identity.
Blind spots such as these only further emphasize America's sorely missed presence on the global stage. "World leaders are taking the baton from where Obama and Hillary left it, but there's no substitute for American leadership on this issue," said Ty Cobb. "As much as it's exciting that Trudeau and others are stepping up, there still is a gap."
It appears as though there is some hope that the gap might be closing, if only by a hair. Asked by a White House intern yesterday morning about the the silence on Pride, Jeff Sessions coughed up a surprising answer. "We are going to have a pride group in this very room — I think next week, I believe it is," he said. We'll hold our breath for the Jeff Sessions Pride float.