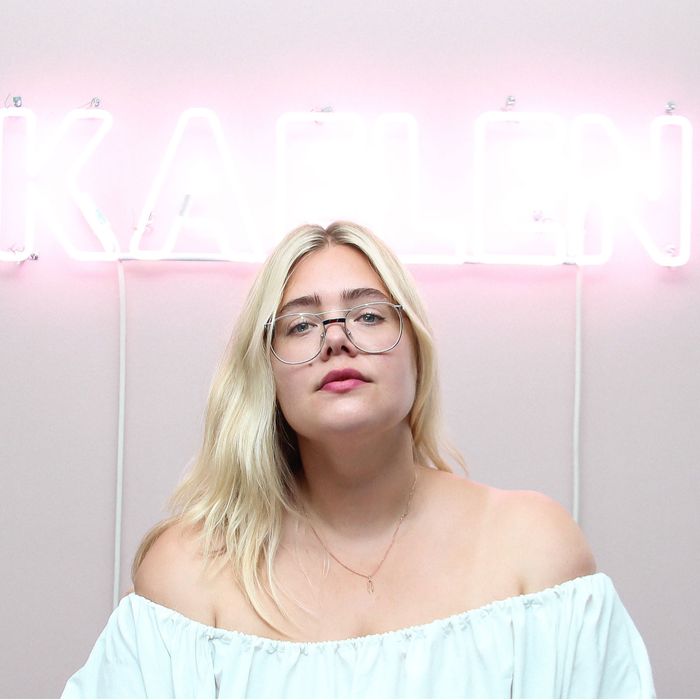 Photo: Courtesy of KAELEN
When Kaelen Haworth, the founder of the eponymous label KAELEN, came to New York by way of Canada in 2008 to attend Parsons School of Design, she actually had no idea she wanted to be a designer. Instead, Haworth studied marketing, where a fortuitous failure actually propelled her into what would become her enduring vocation. "I think it was when I failed retail math that I was like, 'This is not for me,'" Haworth remembers with a laugh. "I switched halfway through. I started working with a pattern-maker and trying to do my own thing."
Her own thing is exactly what she did. Haworth went on to launch her brand a year after graduating, which happened to coincide with the height of the recession. Warnings from friends and advisers did little to dissuade her. "At the time I was super naïve. Everyone was like, 'Yeah, it's not a great time to start a clothing line.' I was like, 'I don't know. I'm going to make some pretty things and I think people will buy them,'" Haworth remembers. The gamble paid off. KAELEN now retails everywhere from New York to L.A. to Japan to the Middle East, and the designer recently graduated from the CFDA's prestigious Incubator program, which is dedicated to supporting and cultivating emerging design talent. She's now moved to her own studio in Chinatown, where she oversees a team of four — and still manages to care for her 14-month-old son, Oliver, and three pets.
Below, Kaelen spoke to the Cut about design, her lip-balm obsession, her best New York celebrity sighting, and more. Read on for the full interview.
How would you describe your collection?
Modern, a little more minimal, and now I would probably say feminine, which I never said before, but it's sort of snuck up on me.
What was your big break?
I don't know if I've had it yet. I think showing during Fashion Week in fall of 2010 was kind of the pinnacle after I started; we had a lot of really great people there, and it was kind of a bit of a shock, but it was also my first foray into the actual industry of fashion. I've been working on it in a bubble for about a year, and then all the sudden I was like, 'Oh, this is fashion.'
You were later part of the CFDA Incubator program. Tell us about that:
We started in 2014 and we just finished up last year; we were the third class in the Incubator. It was awesome. I had a really good crew and everyone was pretty tight and very open, so there was a lot of support and a lot of sharing resources and stuff. I was right across the hallway from Yara of Nomia; Isa Tapia was my neighbor on the right side, and then I had Kara on the left, and Orley across again next to Yara.
Where in the city do you live? Where's your studio?
I live in the East Village, at 2nd Street and Bowery basically. My studio now is in Chinatown, so we moved from the Incubator into a space on East Broadway. It's awesome. It was a total shell shock coming from the Garment District, but I really didn't like being in the Garment District. It's convenient, but that's it. Being in Chinatown is just so interesting. It's like night and day.
Where are some of your favorite local spots?
On East Broadway, it's a lot of fruit and vegetable markets, which is kind of cool, but they also have these little stores and little stalls where you can get really cool slippers and interesting things that you're not going to find anywhere else. New Chinatown, we're right around the corner from Dimes; Kiki's I'm in love with, and Nom Wah is great. Near our house, they just opened a new restaurant called Fish Cheeks, which is Thai, and it's excellent. We're creatures of habit. We always go to Il Buco or the Smile; we also go to Lil Frankie's and Lucien. Though I can't go to Lucien between June and September because I get really hot in there and overwhelmed.
What's your work space like?
It's crazy. You get to walk through a market — it's super busy, super loud, and you have to go through a spice stall and some cell-phone and jewelry stores. The elevator takes you up to our studio on the sixth floor. We have the full floor, which is not massive, but feels massive to us because we came from a pretty small space before.
In the studio, I decided to be more of an adult and put myself in a little zone so I could actually do work without distraction because I find it really hard to sit down and be like, "Okay, now I have to be creative." I'm in the nook on the left, which is right by the windows. The windows look out over the bridge, which is super cool, and it's so nice to have a view.
What's on your desk?
A massive pad of paper, like a drawing pad. A couple candles — the Coqui Coqui coconut one, and in the winter I have Diptyque Feu de Bois. It smells like a fire, which is so elusive in New York. I'm not a big floral person. I also have piles of magazines and stuff, and then a giant pen-and-pencil holder. I have a glass desk and my dog Lola's little chaise is directly under it, so she sleeps under the desk in front of me. And I have a picture of my son and my dog.
Both are so cute.
Yeah. We've got a little zoo at home now. We got two cats, we got a dog, we got a baby — it's a full house.
What bag are you carrying right now?
My bag always changes, but right now it's a tote from the Get Go in Marfa, which is kind of by accident. I think I was carrying something that was vaguely messy, and so I used a tote bag instead. The Get Go is basically a convenience store — that's very Canadian of me — in Marfa that has really great stuff and it's pretty much the only game in town for that kind of thing. I also got that giant Balenciaga blue-and-white-striped shopper, which I really do love, but it doesn't have a strap. I forget who said it, but someone said a strap ruins the line of your clothes, but I'm like, it's kind of annoying that it doesn't have a strap. I have mixed emotions. There's a part of me that's like 'What lines?' We're the athleisure generation.
Inside I have a Ziploc bag full of baby puffs. They're like Cheerios, but they melt; a notepad, a couple of pens, and a bunch of lip balms. I'm a lip-balm fanatic. I love Terry Baume de Rose, fancy lip balm. There's always those little glass cleaner cloths because my glasses get dirty all the time, and usually jewelry because I take off and put on jewelry throughout the day. I'll be wearing a bracelet or some earrings and then I'll just go to the gym or I'll go boxing and I'll have to take it off. There's giant hoops in the bottom of my purse.
What jewelry are you liking right now?
I just bought some really amazing earrings from Annie Costello Brown. They're bright-blue, and I bought them because I just went to my friend's wedding in Morocco and they felt very Moroccan. I love Wendy Nichol and obviously Eva Fehren. She's one of my best friends, but also I'm obsessed with her stuff. I like Jennifer Fisher for the classics, and I love Sophie Buhai.
Tell us about your pets.
Oh, God. This is going to take all day. I'm so obsessed with them. I've started volunteering, too, and I'm afraid I'm going to end up with another one. I'm walking dogs and playing with cats at a shelter in New York and it's the most exciting part of my day. Lola is my original girl. She's a French bulldog; she just turned 9. She's so lazy. She's more like a cat than my cats.
The cats are funny because neither myself nor my husband has ever had cats, and I was not a cat person. I'm also allergic, and then I was driving my husband insane because I wanted to get another dog and I wouldn't shut up about it, so finally he was like, "Okay, we're going to get a cat because I just don't want to talk about it anymore and cats are easier." He got me an application for the Humane Society for Christmas, but we ended up going to Animal Haven and we found these two cats who were snuggling in a hammock together. They're brothers, Mr. Biscuits and Bruiser.
They're hilarious, but they were borderline feral when we got them. We couldn't touch them for a month. We had to keep them isolated in another room because they also were terrified of Lola. Now they're obsessed with her. They snuggle with her when she's sleeping. But they're like raccoons. These cats are especially brutal with fucking with things. Mr. Biscuits is an evil genius. If anything is on the counter, he's like, "I'm going to push it." He's pushed my phone into Lola's water bowl. He was making it rain wine glasses from the top of our wine-glass holder once. Everything we have is plastic now because of him. They don't scratch the furniture, but they push over a 20-pound cake stand. But they're equally hilarious. We're such cat people now.
How do they like the baby?
They're wary of him because he's like a Mack truck. He's a year and two months and he's a little bowling ball coming at them. We're trying to teach him to be gentle, but he's still a bit young to understand that, so they just kind of look at him like, "Oh, God."
How has it been balancing motherhood with work?
It's a little bit tough. I definitely pulled back my hours a bit; I feel really lucky that I can do that. I'm able to work from home if I have to. I cannot imagine having to work after 8 weeks, 12 weeks, whatever maternity leave is. It just made me feel so terrible that that's the reality for a lot of people. I think that in Canada, where I'm from, you get six months of paid and then six months of unpaid. Even after six months, you don't feel normal yet.
What can't you live without?
100 percent, coffee. For Mother's Day, Oliver by proxy gave me an espresso maker that you sit on the stove. It looks really cool, but doesn't make enough. By the end of it, I'm like, "I need to do that five more times." Also books, and Egyptian Magic. It's a salve, basically. It's super cheap. It's beeswax and a bunch of oils and it's like a cure-all. You can put it on anything. I use it as a moisturizer in the winter if my skin is insanely dry and I put it on my lips and around my cuticles. I asked my friend who's a makeup artist if this was cool or not, and she was on the fence, but I mix it with really matte dark eye shadow and then I put in on my eyelids so it looks kind of shiny. I put it on Oliver if he has dry skin. It's a dream.
What's on your reading list?
Zadie Smith's Swing Time; God Help the Child by Toni Morrison; and I just read A Little Life by Hanya Yanagihara. It's devastating, but it's great. There's also Odes by Sharon Olds, which is an interesting one. I never read poems, but I figured I should. This one won the Pulitzer Prize, so it felt like a good place to start. Then I have a giant Twin Peaks tome that I need to get back into. I've watched the series three times. I forced Simon, my husband, to get up to speed so we could watch the new one.
What inspires you?
I think one of the constants is being around other people who are doing interesting things and collaborating. I think if I get stuck or if I'm like 'Oh, I don't know,' I think being with creative people who are doing things that I like and admire and talking about ideas is constantly helpful, and it just pushes me out of a rut. I'm not the kind of person who's like, "This is my idea and I need to own it." I want to talk through things with people and hear opinions, thoughts. Otherwise I get stuck and I start second-guessing. I find it really challenging to pick something that I want to be inspired by and follow that path — for me, it doesn't really work that well. I'm better if I'm out talking to people and doing stuff and just letting it happen.
Who's your dream dinner companion?
I'm going to say Jeff Bridges, which I feel like some people might say is a waste of a dinner, but I am in love with him. I think he's so interesting and also I think he's the sexiest man on the planet. I saw him riding through the West Village one time and he was the Dude. The long hair, the cardigan, he was smoking — I think it was a J. I literally turned to a stranger and was like, "It's the Dude!" They didn't know what I was talking about. Then Tilda Swinton. I find her also really fascinating. I heard that she lives with her husband and her lover, which is fucking boss. She just seems to have a very strong sense of self. I also would probably put Zadie Smith on that list because I love, love, love her books and I think she's a pretty incredible writer and by association probably an incredible person. I think people get really in their heads about this question. Do you really want to sit down at dinner with Winston Churchill? Probably not.