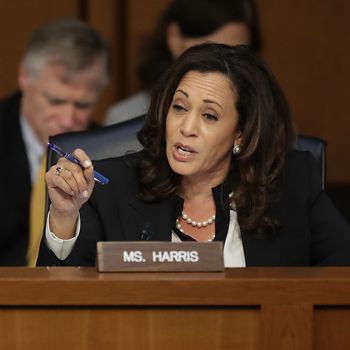 Senator Kamala Harris is one of three women on the Senate Intelligence Committee.
Photo: 2017 Getty Images
On Wednesday morning, members of the Senate Intelligence Committee convened to question White House officials about whether or not President Trump has interfered in investigations into Russia's involvement in the U.S. election. Former FBI director James Comey's testimony on Thursday is the hearing's much-anticipated centerpiece, but first the committee heard from Deputy Attorney General Rod Rosenstein.
According to Talking Points Memo, other senators were pretty aggressive in their lines of questioning, speaking up before the witnesses had finished talking. But only one was stopped and told to be "courteous" by the committee chairman: Senator Kamala Harris.
Harris — who's one of just three women on the committee, and the only woman of color — first pressed Rosenstein on his role in Comey's firing, as well as the investigation into Russia's election meddling. At one point, she asked him to give a firm "yes or no" answer about whether Robert Muller, who was named special counsel for the Russia investigation, has "full independence."
But before she could get an answer, Harris was derailed by committee chairman Richard Burr, a Republican from North Carolina. "The chair is going to exercise the right to allow the witnesses to answer the question," he said, adding, "The committee is on notice to provide the witnesses the courtesy, which has not been extended all the way across, for questions to be answered."
"Mr. Rosenstein, would you like to fully answer the question?" Burr offered. Rosenstein replied that he had "a lot of experience with these issues, and I could speak for a very long time about it," but declined to do so. Shortly afterward, Harris's time for asking questions was up.