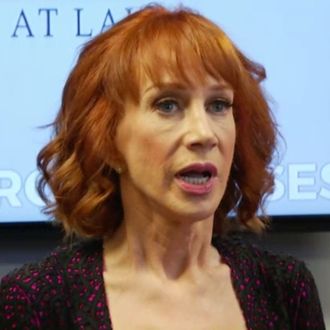 Griffin.
Photo: NBC/nbclosangeles
After enduring a barrage of criticism for taking a controversial photo of herself holding what looks like Donald Trump's severed head, Kathy Griffin held a press conference Friday to apologize for the image and clarify her intent. Griffin and attorney Lisa Bloom explained that they see the criticism as the president's sexist bullying over a harmless bad joke. "I don't think I will have a career after this. I think he — I'm going to be honest, he broke me," Griffin said, tearing up. "I apologized because that was the right thing to do, and I meant it. And then I saw the tide turning and I saw what they were doing … they're trying to spin this and make it about Barron. Obviously that was never my intent. I would never want to hurt anyone, much less a child." Griffin explained that she and celebrity photographer Tyler Shields pair up to take goofy and occasionally controversial photos every few years, and that the bloodied Trump image was nothing more than an attempt at satire.
The fallout has resulted in Griffin's firing from CNN and canceled shows and appearances; Griffin also says she's being investigated by the Secret Service over the incident. When asked whether she feels that the president is trying to ruin her career, Griffin called Trump's response and the social-media backlash sexist. "It's all over Twitter, but it's coming directly from the president of the United States to a 56-year-old female comedian who has no studio backing her, no network backing her, I don't have a big franchise movie coming out. He picked me, don't you get it? I'm the easiest target: D-list comedian Kathy Griffin." Watch the full presser below.