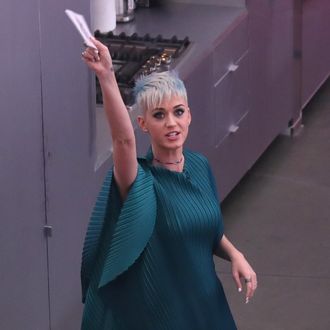 It's for you.
Photo: Neilson Barnard/Getty Images
Katy Perry is going to great lengths to promote her new album, Witness, by way of this weekend's no-holds-barred livestream. So far, she's talked about a past drinking problem, suicidal thoughts, and her desire to end her feud with Taylor Swift. However, it might be hard to top Sunday's segment with James Corden, who asked the pop star to rank three of her exes' performance in bed.
In order from worst to best, Diplo scored first place, with Orlando Bloom clocking in at second and John Mayer coming in last, which means Mayer was the best lover of the three? It's not a great ranking system, but that's okay. It's been a long weekend on the livestream. Perry added, "They're all amazing lovers, and I would have sex with all of them when I get out of this place!" Hey, why wait? Maybe Orlando could bring his paddleboard. "If I had Bloom's penis, I would never be clothed," Corden joked.
As for one almost-ex, Josh Groban is "the one who got away." She told Corden, "People are like, who's the one who got away? That's Groban. He's one of my good friends. I love him so much. He's the best."