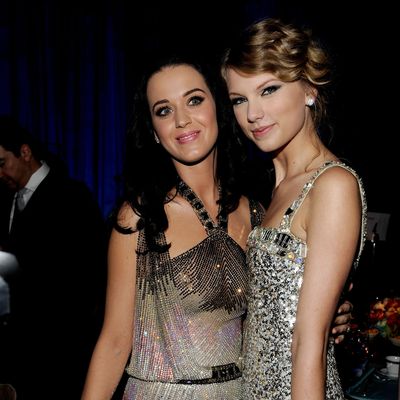 Way back when.
Photo: 2010 Getty Images
Katy Perry is getting a lot of stuff off her chest in her weekend-long livestream. After Friday's intensely personal therapy sesh, she went on to discuss her ongoing beef with Taylor Swift during a conversation with Arianna Huffington.
I'm ready to let it go. Absolutely, 100 percent. I forgive her, and I'm sorry for anything I ever did, and I hope the same from her, and I think it's actually … I think it's time.

There are bigger fish to fry, and there are bigger problems in the world. I love her and I want the best for her, and I think she's a fantastic songwriter, and like, I think that if we both, her and I, can be representatives of strong women that come together despite their differences, I think the whole world is going to go, like, 'Yeah, we can do this.'

Maybe I don't agree with everything she does, and maybe she doesn't agree with everything I do, but like, I just … I really, truly, want to come together, and in a place of love and forgiveness, and understanding and compassion.
Perry added, "God bless her on her journey. I want to operate in a positive, kind space. I want to be an example of kindness, compassion, love, and I forgive and forget." She added, "That wasn't easy for me. I think everybody knows that wasn't easy for me. But it's fine. I want to let it go. I really want the best for every person."
We'll probably have to wait until Taylor Swift begins promoting her upcoming album to see if everything is just "Bad Blood" under the bridge.