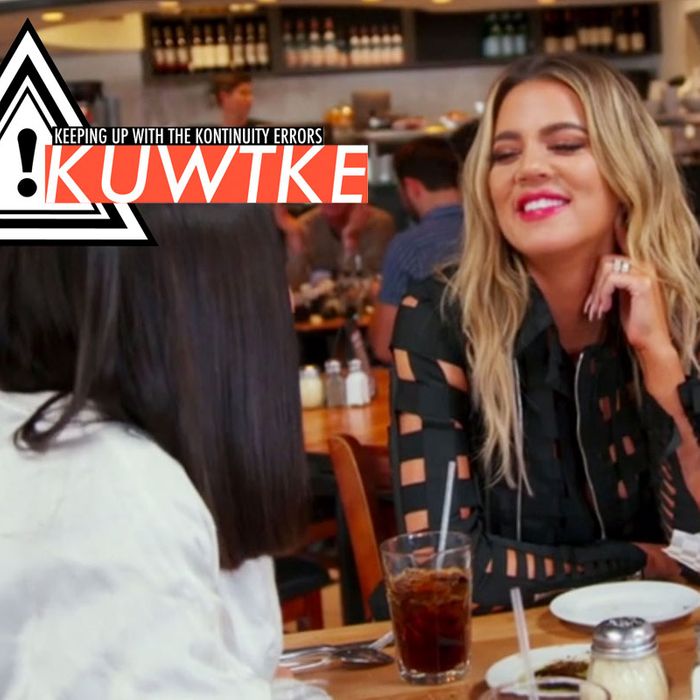 Photo: Courtesy of E! Entertainment
On the season finale of Keeping Up With the Kardashian's 13th season, our A plot was Kim's continued quest to have a third child, our B plot was Khloé's fertility, our C plot was Rob's 30th birthday, and our D plot was Kourtney moving on from Scott.
It's been a great run, Dolls. For the final time this season: #LEGGO.
Scene 1:
On a winter's day in Calabasas, Kimberly Noel West takes nude photos in her home for her smartphone application. A shocked Kourtney Kardashian walks in, and upon seeing her sister in the buff she ponders the differences between Kim's app and her own. Kourtney tells the room that she's showing her fans the best recipes for gluten-free and dairy-free chocolate-chip cookies, while Kim is showing them the #DatAss. Kim jokes that she has a very "thotful" app, and the room laughs because she is the queen of comedy after all. Soon Kim decides to turn up the heat on their shoot, and requests to be oiled up. Kim's team slides oil up and down her body before placing her on a table in the West family's foyer. After the oiled poses, Kim gets up and realizes that she's stained the stone table she was lying on and freaks out. Apparently, Kanye will "literally kill" her if he sees any stains. She tries and tries to remove the stain with water, which just makes things worse. Finally, she tosses some salt and ice on it. This scene was filmed on December 8, 2016.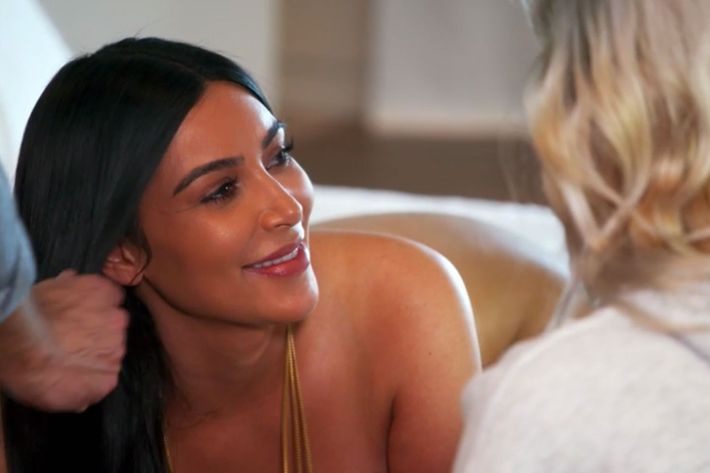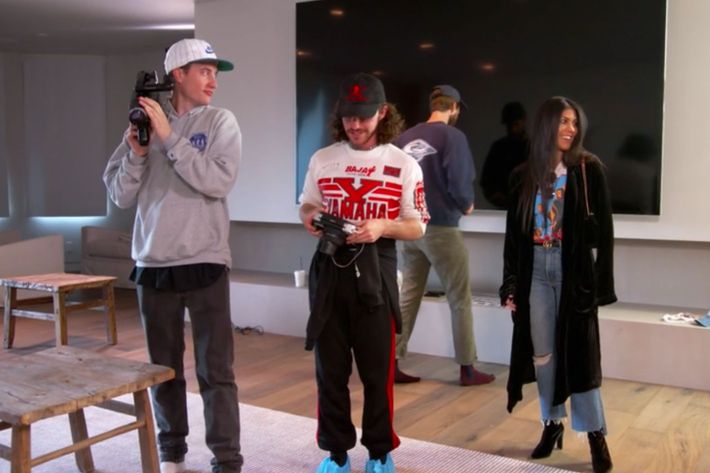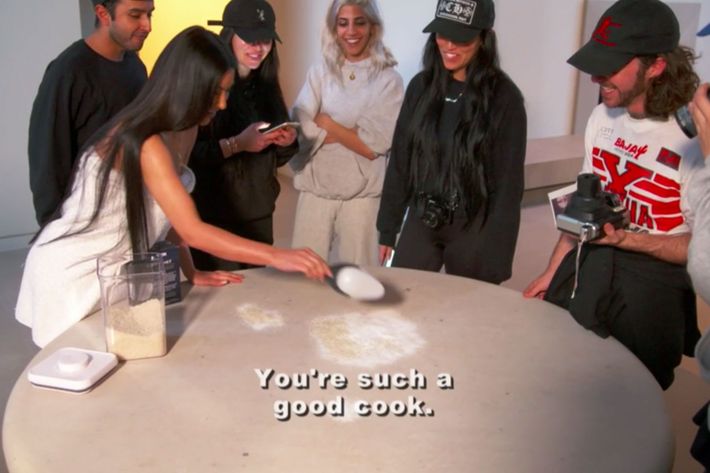 Scene 2:
Kris entertains her mother MJ, all four of her Kardashian kids, and a select group of grandchildren at her home. When Rob walks in with baby Dream everyone fights to hold her, but Kourtney wins out after claiming to have never held the child. Noticing that this is a rare moment where most of her children are together and in good spirits, Kris takes a picture of the family.
After the photo op, Kim and Khloé head to the kitchen where Kim asks Khloé about being a surrogate for her and Kanye's third child. As payment, Kim is even willing to give Khloé one of her two remaining embryos to keep as her own (but only after successfully carrying the final Kimye offspring). Khloé laughs at the thought and reminds Kim that she would need to ask her boyfriend, Tristan Thompson, about carrying a child that's not either of theirs. This scene was filmed on February 9, 2017.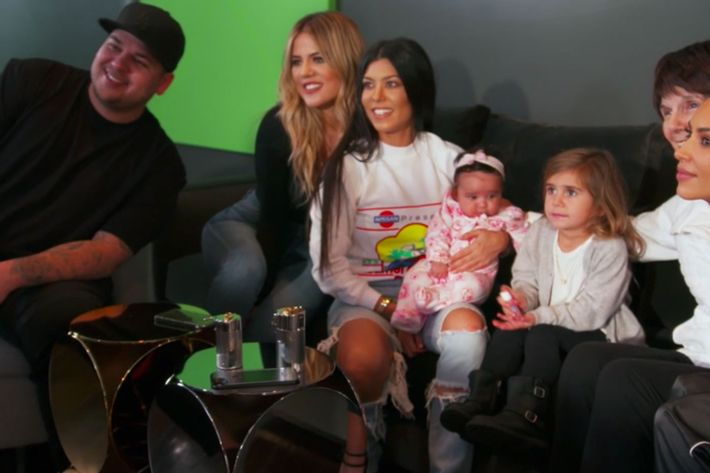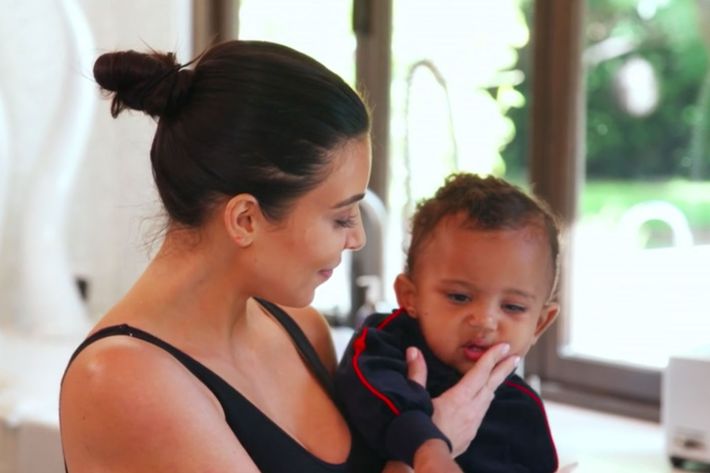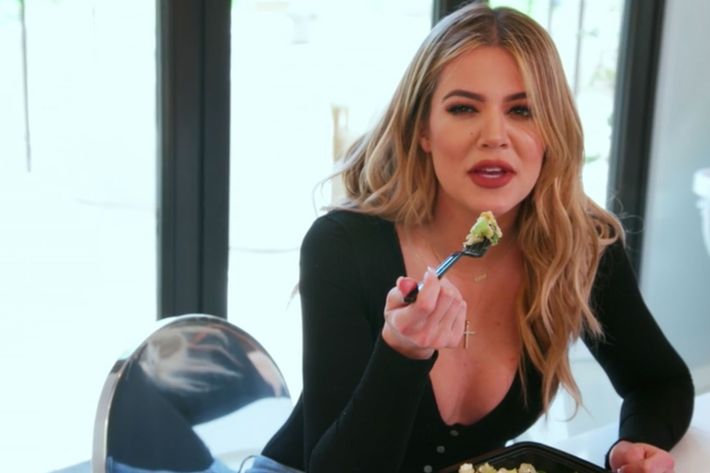 Scene 4:
Kim West and Khloé Kardashian roam around California in Khloé's car. Khloé tells her sister that she's been working out a lot recently and has lost 5.5 pounds in a matter of days. Kim counts her sister as lucky, but shifts the conversation back to using Khloé as a surrogate. This puts Khloé in shock because she thought the conversation between the two of them had always just been in a joking way, and isn't sure if she's ready to seriously commit to being a surrogate for her sister. She tells Kim that she'd have to "simmer" with the thought because carrying someone else's child is a "huge decision" that she's unsure she can even ponder right now. Still, Khloé doesn't want to be selfish, and if she can be of use to her sister she wants to do just that. Kim understands Khloé's concerns and tells her to just think about it and do whatever she thinks is best. She tells Khloé "no pressure," though one might think the question comes with quite a bit of pressure. This scene was filmed on March 10, 2017.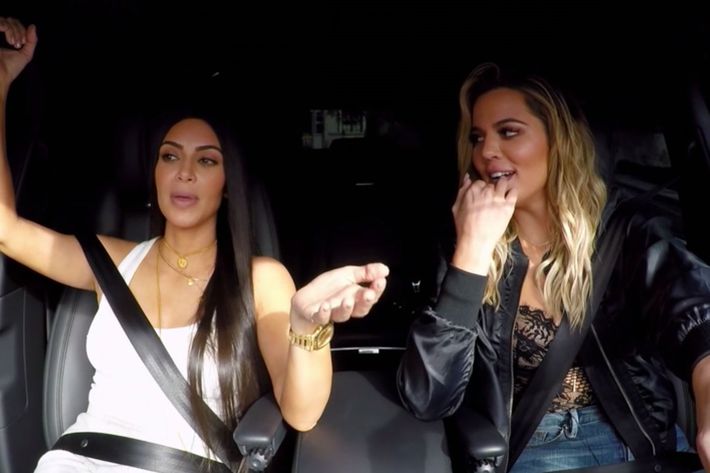 Scene 6:
In the name of sisterly bonding, Kourtney, Kim, and Khloé get lasers applied to their bodies. Kourtney and Kim enjoy neck tightening, while Khloé gets her legs tightened and has more work done on the removal of her lower-back tattoo. The sisters really enjoy this particular treatment center because they're willing to do multiple procedures at once, which saves tons of time. While the sisters get lasered, Kourtney invites her sisters to a pinball competition at her friend's husband's new restaurant. Without hearing the hint of a date or time, Kim firmly declines. Khloé is up to it, however. This scene was filmed on February 28, 2017.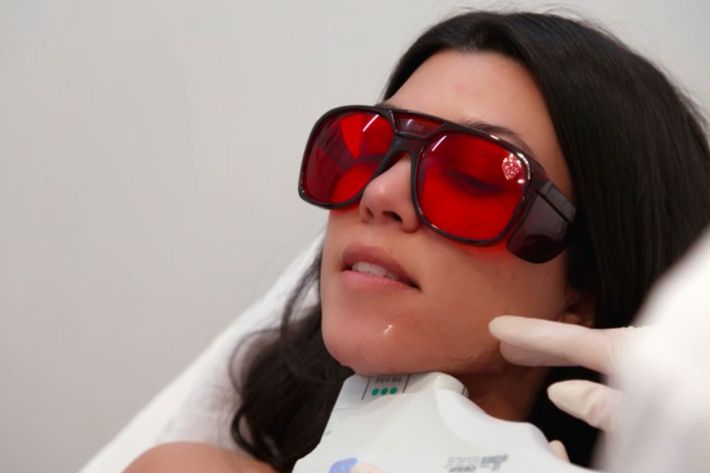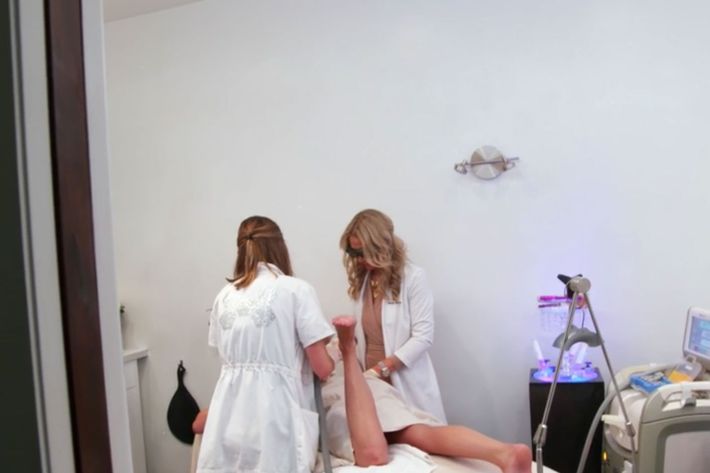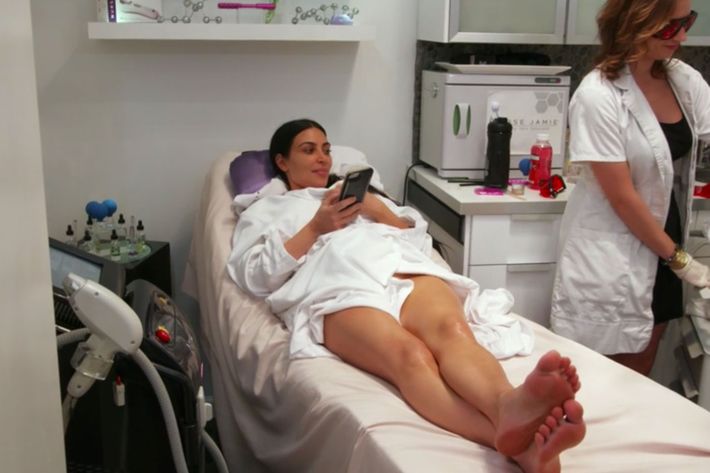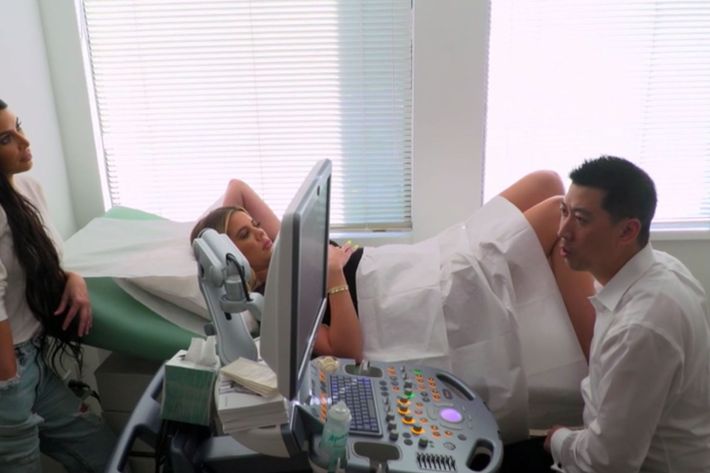 Scene 7:
Khloé's put in a bit more thought about being Kim and Kanye's surrogate, and she's agreed to see Kim's fertility doctor, Dr. Huang, just to get checked out. During that appointment, Khloé reveals to Dr. Huang that she "fake tried" to get pregnant while she was married to Lamar. By the sounds of it, Khloé wasn't taking her birth control, but she also wasn't mentally trying to get pregnant with her then-husband's child. If this is truly the case — if the "I don't want a baby right now" mind-set were an effective contraceptive — then there would be a lot fewer children in the world. After her chat with Kim's doctor, Khloé heads to get an ultrasound. What the doctor finds isn't ideal: Khloé's ovaries, apparently, are aging faster than she is. The news is alarming, and the appointment shifts from helping Kim have a baby to making sure Khloé can have babies of her own. The doctor recommends that Khloé take a break from her birth control, and suggests that Khloé think about freezing her eggs. Khloé agrees to take a break from birth control, but isn't quite ready to put her eggs on ice. This scene was filmed on March 1, 2017.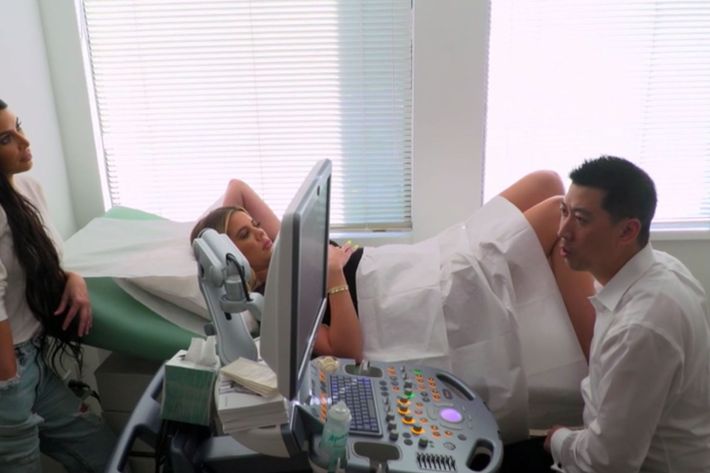 Scene 8:
The following night, Khloé goes to dinner with Kourtney, Everybody's Favorite Best Friend (EFBF) Malika, and EFBF Malika's (formerly identical) twin sister Khadijah. Khloé tells the ladies about her fertility issue and is pretty somber. Kourtney, who appeared to have been listening, apparently was not: She interrupts Khloé to comment on her "serious" nails. This completely derails the conversation, and the topic shifts to Kourtney's new life as a single lady. Kourtney credits Scott's behavior in Costa Rica for her change of heart about trying to pursue a relationship with him, and is more committed than ever to moving on. What she's seeking now is "fulfillment," which is what she thought she was working toward with Scott. She thinks she's starting to get out there in the dating world, but isn't entirely comfortable with it yet. This scene was filmed on March 2, 2017.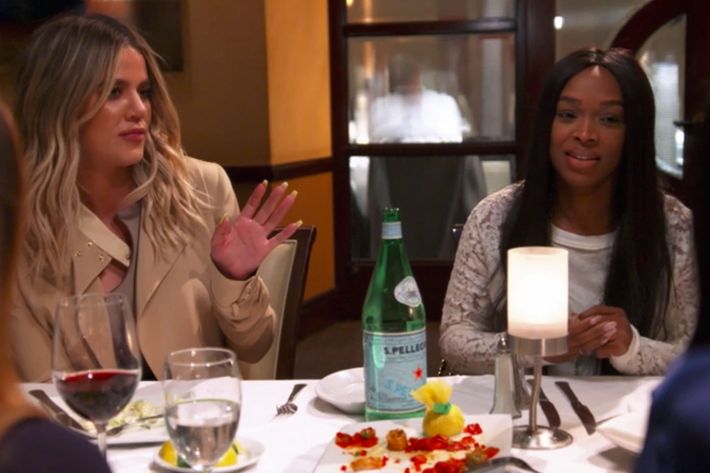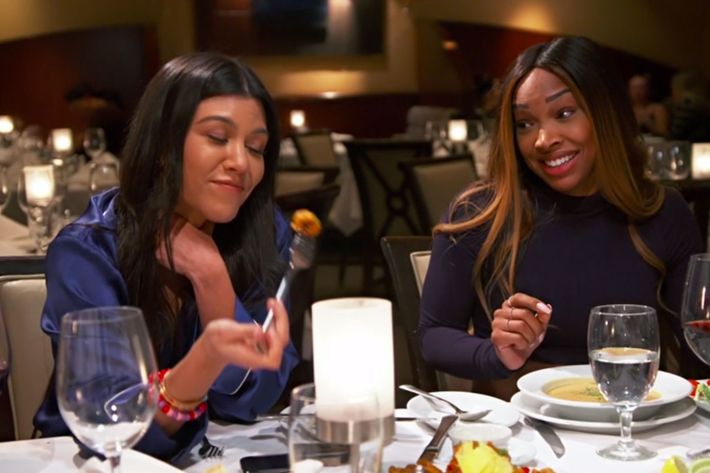 Scene 10/Scene 11:
Khloé, EFBF Malika, EFBF Malika's sister Khadijah, and the Greatest Assistant of All Time Steph Shep head to their pinball competition with Kourtney. Kourtney is wearing a hat specifically designed for binge drinking, but she asks the group if they want to go to church after the turn-up. No one else feels comfortable going to church after drinking, but Kourtney says she has no problem with it. In the car, Khloé asks Kourtney to promise the group that she'll flirt with at least one guy since they're doing this for her. Kourtney doesn't see how that's a fair trade, and tries to avoid any more talk about her chatting up a random civilian at a dive bar.
When they reach the bar, the ladies sign their team in (they're called "the Pinball Pussies"). No one in their group really knows how to play, but they do try to get Kourtney to talk to guys. She fails at making conversation, but must have done something right because the winning team gifts their trophy to her. In a shocking twist, Mason is there to see his mother's team, the Pinball Pussies, accept defeat but receive a trophy because of fame. This scene was filmed on March 29, 2017.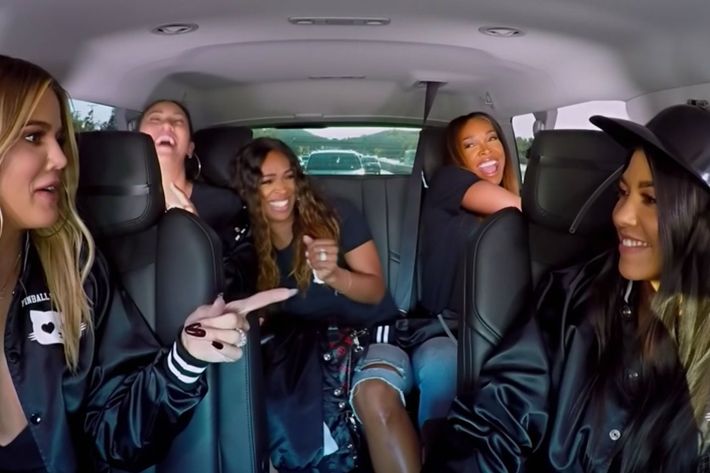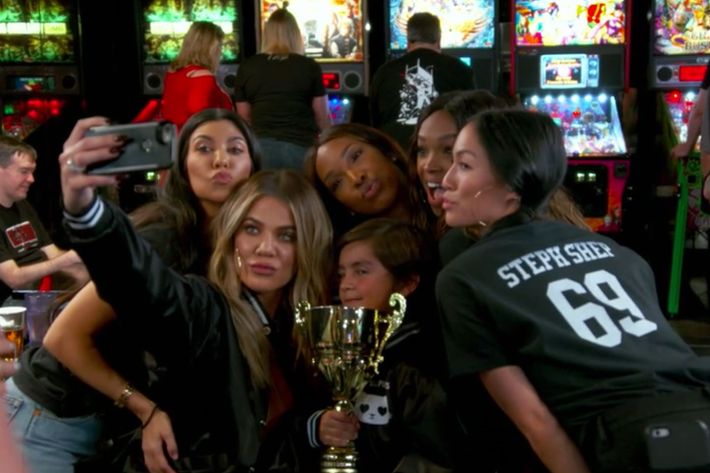 Scene 13:
Because they don't get enough quality time with one another, Kourtney, Khloé, and Kim (who looks like she just escaped a dunk tank due to her "wet" glam) grab lunch together. Kourtney, who looks like she actually came from dry land, reads her sisters a text from Scott, who was unhappy with language she was using on an episode of Keeping Up With the Kardashians. Apparently Kourtney mentioned sex, which Scott thought that was untoward for a Christian mother of three. The girls laugh, possibly mentally listing everything he's done that he shouldn't be seen doing as a human.
Despite Kourtney currently dealing with a petty ex, the sisters admit that they've signed her up for a dating app called Farmers Only, since she once said that she wanted to live on a farm. Kourtney is genuinely shocked that they would do something like that, and doesn't seem pleased when Khloé and Kim laugh over the profiles of potential suitors. Kourtney's not only upset about her sisters signing her up for an app without her consent — she's also confused as to why they think she needs help. The eldest Kardashian sister adds that she "slithers" around L.A. like a "snake," and prefers to keep her adult endeavors low-key. With that, her sisters agree to back off. This scene was filmed on April 20, 2017.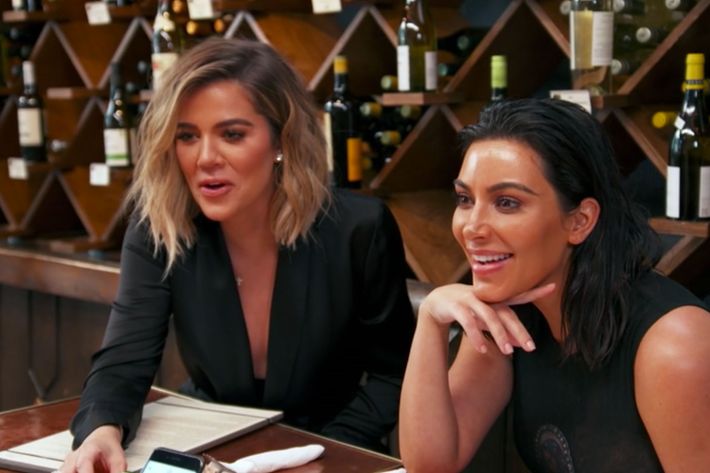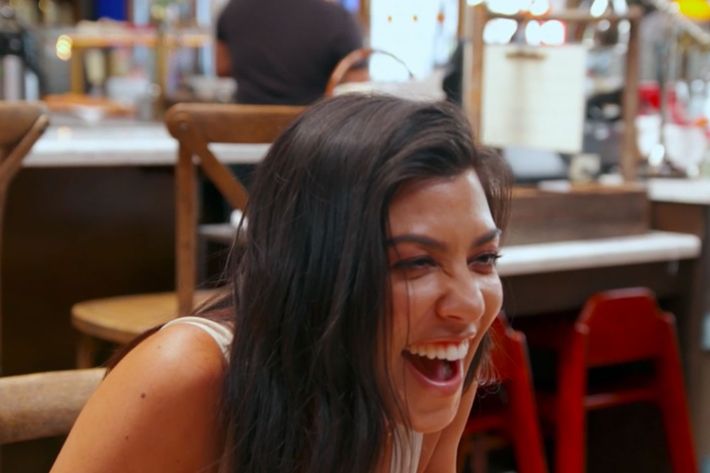 Scene 14:
For Rob's 30th birthday, Kris Jenner has organized a private party at the Cinépolis movie theatre in L.A. His birthday is on Saint Patrick's Day, so of course everything is green and on theme. The party is low-key, with just family, friends, and Scam Artist Jamel. Unfortunately, Kim and Kendall couldn't make it, but Kylie was able to take a break from not being a part of this season to film a quick cameo. This scene was filmed on March 17, 2017.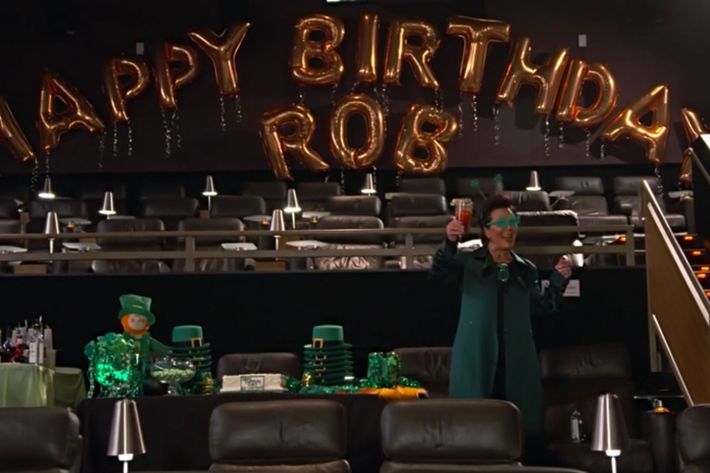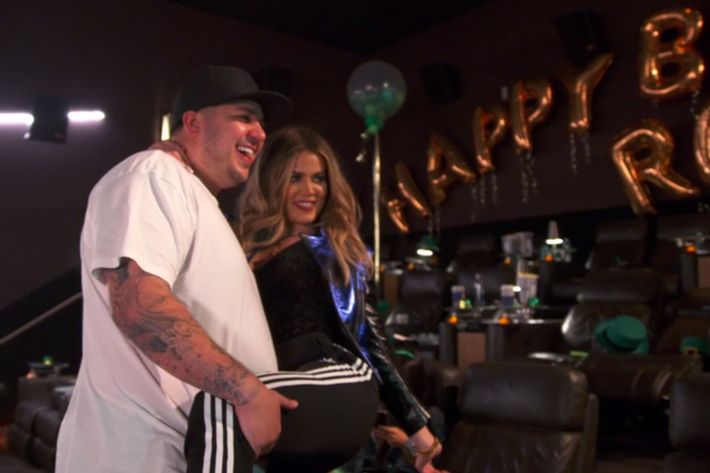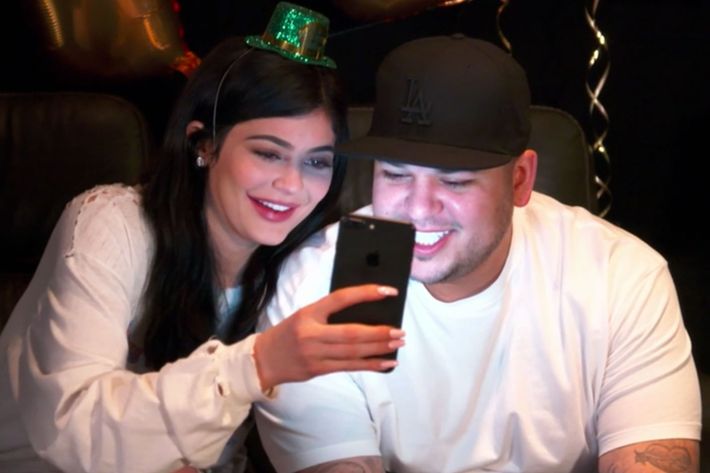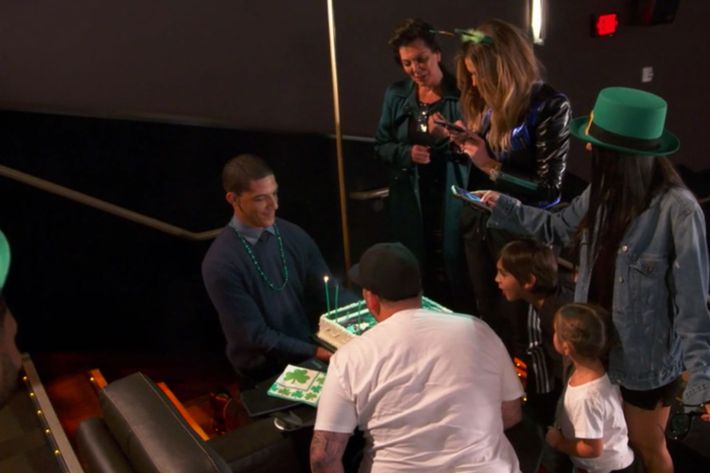 Scene 17:
In the final scene of the season, Khloé and Kim have lunch. Kim first brags about being environmentally friendly by not having Kylie's Lip Kit team reprint the 1.4 million Lip Kit caps that had an error on them; Khloé tells Kim that Leo DiCaprio would be proud. The real reason that the two sisters are out to lunch, though, is for Khloé to tell Kim her good news from Dr. Huang. After being off birth control, Khloé's follicles nearly tripled, which means she shouldn't have any issues conceiving. She also tells Kim that Dr. Huang still recommended that she freeze her eggs, just in case. Still, Khloé isn't sure if she wants to get pregnant for herself or Kim right now, but knows that she does want to start a family with Tristan in the near future. Tristan, however, wants kids right now, and thinks expanding their family could also mean expanding Khloé's brand with a Good American maternity line. Kim's happy that her sister has found happiness, and knows that things will happen in the Lord's time, for Khloé and the rest of their family.
After a quick montage of the family's success this year, the 13th season of Keeping Up With the Kardashians comes to an end. The final scene of the season was filmed on March 31, 2017.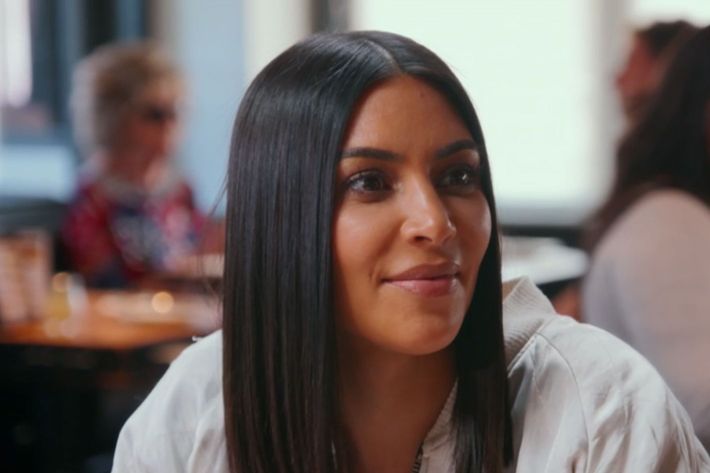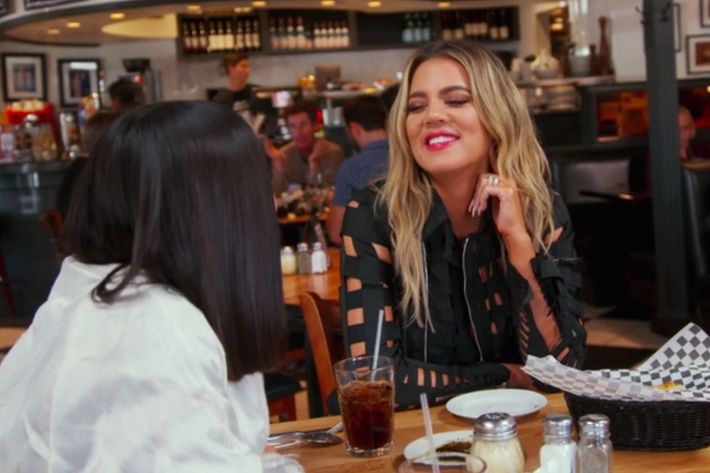 That's all Kris Jenner wrote for season 13 of Keeping Up With Kylie's Former Family — I can't wait to give you more #KUWTKE in season 14. Until then, Dolls! #FOLLICLES