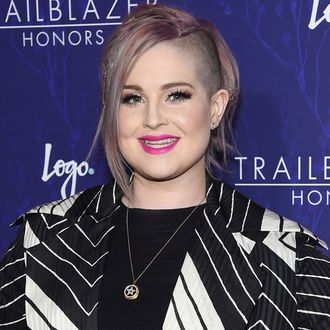 Kelly Osbourne.
Photo: Jamie McCarthy/Getty Images
Kelly Osbourne and Starbucks are now at odds. Over the weekend, as Osbourne walked the streets of NYC for Pride, nature called. Unfortunately, Osbourne was without a toilet. When she stepped into a nearby Starbucks to relieve herself — the location on the corner of West 27th Street and Sixth Avenue — the employees wouldn't let her use their restroom. The details are sparse on the why — did she not agree to purchase something, or was this one of those locations with a toilet only for employees? No matter — when Osbourne wasn't allowed access to their facilities, she hashtag pissed [her] own pants, she tweeted. A shoe also fell victim to the golden stream, according to her brief account of the snafu:
Starbucks has yet to respond to Osbourne's complaint, yet the official @Starbucks account does appear to follow her on Twitter.
Update 12 p.m.: The plot thickens! Starbucks has apologized to Osbourne for being unable to accommodate her bladder. A spokesperson for the coffee shop released the following statement to Vulture: "We are working to follow up with Ms. Osbourne to clarify any confusion. There simply is no restroom in this store, and inquiring customers are typically directed to a store a few blocks away. We sincerely apologize for any misunderstanding and hope to welcome Ms. Osbourne back for a beverage on us very soon!" Congrats, Kelly!