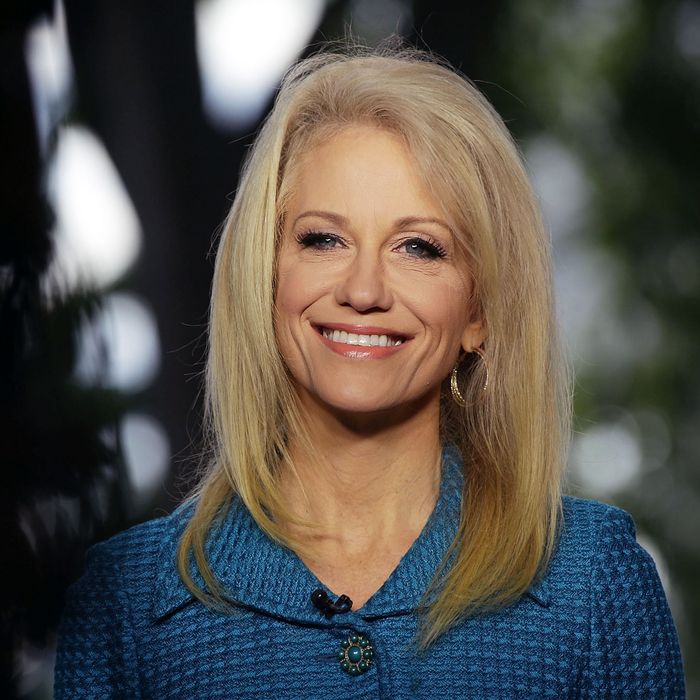 Dream big, Kellyanne.
Photo: 2017 Getty Images
It looks like Kellyanne Conway's house-hunting trials are finally over. This week, the presidential adviser will reportedly move into her $7.8 million mansion in Washington, D.C.'s Massachusetts Avenue Heights neighborhood. And when she does, she has big plans. According to Mansion Global, her wildest ambition is to become a Washington power hostess.
"I intend to dive into social hosting," she told the magazine, which added that her nearly 11,500-square-foot home, complete with catering kitchen, staff headquarters, three extra bedrooms, a pool, and a wet bar, will make Conway and her husband "well equipped to host dinner parties and other soirees." She's already planning "power walks" with Commerce Secretary Wilbur Ross's wife, who's a neighbor, and she plans to have another influential neighbor — Treasury Secretary Steven Mnuchin — over, too.
Conway also plans to bless British ambassador Sir Kim Darroch with the presence of her two Welsh corgis, as the British embassy is a block away. But first and foremost, she wants to make her new home "a safe, happy place for teens and tweens to congregate." Because she's not like a regular mom — she's a cool mom. *Wink.*