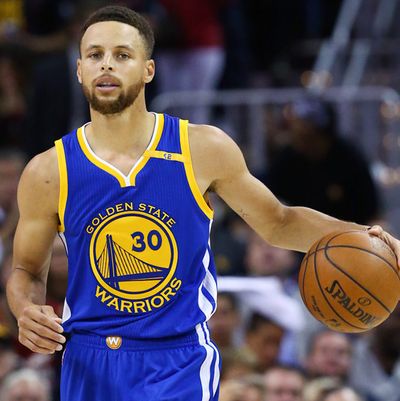 Steph Curry (left), Kevin Durant (right).
Photo: Getty Images
After the Golden State Warriors won Game 3 of the NBA Finals on Wednesday, the moms of Warriors players Kevin Durant and Steph Curry were understandably excited. A video of the pair, taken at the Quicken Loans Arena after the Warriors beat the Cleveland Cavaliers 118-113, shows them embracing and yelling at each other with sheer enthusiasm.
As TMZ points out, Wanda Durant, whose son Kevin was recently heckled by none other than Rihanna, is seen in the video screaming to Sonya Curry, "They tried to give it to 'em but they wouldn't take it." The moms then gave each other a high-five, and Wanda added, "That's what happens. They wouldn't take it," as they walked along and hugged equally enthused fans.