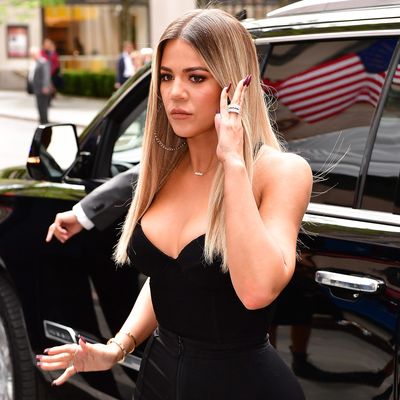 Khloé Kardashian.
Photo: James Devaney/GC Images
On Thursday, Khloé Kardashian posted a series of cryptic tweets, asking her followers what they would do if they found out a friend was stealing from them, which prompted many to wonder whether the reality star had been swindled (and if so, by whom). Now, TMZ has provided some insight into what exactly Kardashian may have been referring to, as she reportedly believes an unnamed friend stole a "small fortune" from her.
According to TMZ, Kardashian believes the friend in question charged "tens of thousands of dollars in designer clothes" to her credit card, even though the clothes never ended up in Kardashian's closet. Additionally she suspects that "high-end designers sent her all sorts of stuff but the friend never turned it over to her."
TMZ doesn't include the friend's name, but hints that it's someone Kardashian once considered to be "part of her family." Last month, "Page Six" reported that Kardashian wanted to sue her former stylist, Monica Rose, but it's unclear if Rose is the friend referred to in this TMZ report.
Kardashian hasn't filed a lawsuit or police report over the incident yet, but "sources close to the situation" told TMZ that she's currently "mulling over a lawsuit" and has been talking to lawyers about the situation. However, friends are apparently urging Kardashian not to sue for fear that it would ruin the friend's career, TMZ notes.