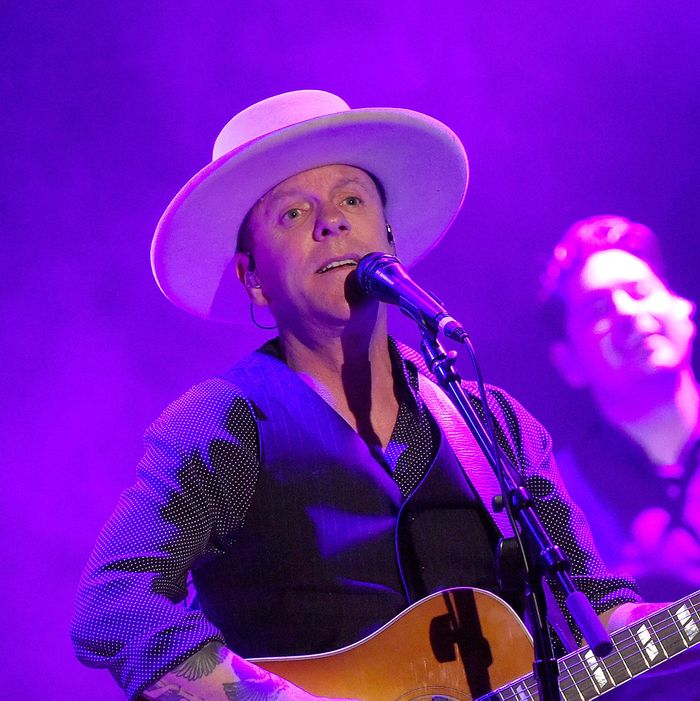 Kiefer Sutherland.
Photo: 2017 Getty Images
What brings someone to a Kiefer Sutherland concert? For brand-new American citizen Crystal, it was the opportunity to celebrate her country with the POTUS she chose, not the guy she got stuck with. "I started watching Designated Survivor and 24 and I got addicted to it, then I started listening to his music," explains Crystal, a Chinese immigrant who just received her American passport the day we meet ("So it's not my fault Trump is president," she adds).
She's here with her personal trainer, Christie, a fellow Beliefer, who made them matching shirts that say "Tom Kirkman Is My President" in honor of the occasion. "I mentioned Designated Survivor in one of our sessions and she showed me her that Kiefer was the background on her phone," says Christie. The pair bonded through that, listening to Sutherland in their training sessions and using him as an entry point to discuss America more generally. "She started asking me about American cultural things like rodeo because of him."
On this particular May night there are many women (and a good number of men) at the Bowery Ballroom to see Kiefer Sutherland perform songs from his 2016 country album, Down in A Hole. Most are north of 30 or so, and most, like me, are here because they feel some enduring nostalgic attachment to the man onstage: We spent many formative hours watching him go through hell and back to save the country, first as sentient can of terrorist-whoop-ass Jack Bauer on 24, and more recently as steady-handed President Tom Kirkman on Designated Survivor. I'm surprised at the turnout, but perhaps I shouldn't be. There has always been something appealingly earnest about Kiefer's brand of stoic, long-suffering (albeit morally compromised) heroism. In 2017 — in an America where all our most trusted institutions seem to have turned to quicksand — it's hard to think of someone whose persona says "dependable" quite like Kiefer Sutherland. For the fans who showed up tonight, a little bit of Kiefer is exactly what the doctor ordered.
"I'll be the first to tell you that I have very little in common with someone like Jack Bauer," Sutherland informs me when I meet him backstage before the show. He is wearing a fitted white long-sleeve, jeans, and what appears to be a hemp bracelet with a pendant of a bug in amber. (I saw him referred to as "President Dadbod" in a review of Designated Survivor, which I feel obliged to rebut: Kief is still keeping it tight.) His gravelly speaking voice, so effective for barking orders at terrorists, proves similarly well-suited to his brand of music. It gives songs the rich, textured quality of aged mahogany or sun-worn leather.
Does he mind that people come to his shows expecting Jack Bauer with a guitar? Gosh no, he's just happy we're here. "I've always likened it to a NASCAR race. I'm more than aware that a lot of people are coming to see a car wreck," he rasps, clasping his hands between his knees. "And it's my job and the band's job to not only finish the race, but win it. So I'm just so grateful that anybody comes at all. I don't care why."After spending half an hour in his company, I realize Sutherland does have one notable thing in common with the hypercompetent patriots he plays onscreen: Even when he's doing something otherwise unacceptable — like violating the Geneva Convention or singing covers of popular country music artists — you can't help but root for him.
Kiefer says that he sees acting and music as partaking in the same fundamental impulse, which is to tell stories, "whether that's onstage or on a film set or in a bar." He unclasps the a silver case that he has been shining on his jeans and lights up a hand-rolled cigarette, taking a few drags before dousing it in a plastic cup full of water. "So, there are some Paul Simon songs that are just beautiful lyrics. He can really write a beautiful song around a metaphor."
"I love Paul Simon!" I say.
Kiefer nods pensively. "Yes, and that's not what I do at all. I'm at the center of the song, saying: 'This is the experience that I had,' and it goes from point A to point B." (It's an apt description: The opening of the video for my favorite Kiefer bop, "Not Enough Whiskey," is literally just Sutherland describing what he's doing round the house. "Draw the shades," he sings, then draws the shades. "Lock the door," he sings, then locks the door.)
Given the Americana tendencies of Sutherland's side-hustles (riding rodeo, singing country) and his fame portraying avatars of American patriotism, it can be startling to realize that in his demeanor, his politeness, and even his aboots, he comes across very Canadian. (Kiefer is a Canadian citizen and spent much of his peripatetic childhood in Toronto.) Not only are his parents, Shirley Douglas and Donald Sutherland, Canadian acting royalty; his grandfather Tommy Douglas was a pioneering progressive politician in Canada from the 1930s through the 1960s, responsible for introducing the first single-payer universal health-care system in the continent and once voted "Greatest Canadian" on a popular CBC television show. "I'm Canadian to the marrow of my bones," Kiefer says with pride. I learn that he is disappointed by the divisive political climate in the U.S., and proud of Justin Trudeau (whose dad, former PM Pierre Trudeau, was friends with his grandpa).

It strikes me that (criminal record aside) Kief is the kind of celebrity, like the Rock, who could probably parlay the onscreen trust he's amassed into a real-life political candidacy. This is something he has absolutely no interest in. When I joke that he'd get a lot of votes if he ever ran for office, he nods: "And that would be wrong."
Is Kiefer Sutherland a good country singer? I have no idea, honestly, and I'm not sure it matters. From the moment he struts onstage, cowboy hat on, and lifts his glass of whiskey in the air, the audience is along for the ride. There are a few hecklers (at one point, I hear someone yell, "Damnit, Chloe!") but mostly, people really seem to be enjoying themselves. "Absolutely nothing prepared me for being able to play these songs I care about for an audience like y'all tonight, and I thank you from the bottom of my heart. Thank you, thank you, thank you," he says, to roaring applause.
I was worried that Kiefer's onscreen charisma wouldn't carry over to the stage, but I realize quickly that this was a dumb thing to think. Kiefer could extract a confession from a piece of plastic siding; he can handle the crowd at the the Bowery Ballroom. Throughout the evening, Kief intersperses his ditties with ruminations: He jokes about his drinking (most of his songs are about drinking) and reflects on his low points ("I've never been to prison before but I've been to jail a few times, the first thing you check at the door is your dignity"). He tells a story about his dad driving him to school when he was a kid and playing Bob Dylan out of an 8-track player. He introduces a song about heartbreak — speculated to be about his tumultuous breakup with Julia Roberts — by saying, "The one pleasure I get from singing this song is I don't really give a shit about her anymore." (And the crowd goes wild!) He talks about a friend who passed away, and counsels us: "If anyone out there is suffering from the loss of a loved one, the only thing I can tell you is you've gotta share it with your friends and your family, cause it's not something you can get through on your own." He doesn't want us to get bored hearing all his original songs, so he does a Tom Petty cover and a Gordon Lightfoot cover and a Merle Haggard cover and a Bob Dylan cover.
After the concert, I stick around to meet the Beliefers. Carissa, 28, is leaning up against a pole. "I have loved Jack Bauer since I was like 14 years old, massive Jack Bauer fan, and Kiefer and Tom Kirkman. SO much, so much," she gushes. "Girl, I'm drunk. But I LOVED it. So good, oh my god. I hate country music but I loved it, I looooved this concert."
Nancy, a 50-year-old teacher who likes Sutherland's acting but loves his music, describes meeting Sutherland at his concert in Niagara Falls as a highlight of her life. "I [told him], I'm going to be 50 in like six months, so meeting you is my bucket list, and he's like: 'You're going to be 50? You wear it well.' I stayed calm, but then when he walked away I grabbed my husband, and he was like, 'I'm never going to hear the end of this.'" Nancy, like everyone I speak to, raves about the Sutherland experience. "He's just generally nice, he's nice to the fans. I'm friends on Facebook with his drummer and two of the band members. Everyone else in the band friended me on Facebook."
Another woman sits at the bar, Kiefer baseball cap on her head, Kiefer T-shirt slung over her shoulder. She describes the man much like someone in a pharmaceutical ad talks about a miracle drug: "Let me tell you, Kiefer Sutherland has done amazing things for me," she says, pulling a crumpled backstage pass out of her wallet from a previous concert. Five years ago Linda was going through a dark time in her life, when she met Kiefer at a play he was doing on Broadway. "He spent probably a half hour with me. He held onto me and told me, 'Don't worry, life is going to be better for you, I've been in dark times and I know what it's like,'" she recalls. "People kept coming by to talk to me, but he kept saying: 'Not now.' It was just, wow, this is a man with very deep passion. He wasn't saying this as an actor. He saw somebody in pain and he wanted to reach out and meet a difference." Since then, Linda turned her life around; she got into stand-up comedy and entered an MBA program. She recently graduated from college; when she met Kiefer again at his concert last year, brought her graduation cap to show him.
"He is one of those silent entities. People don't know what he does, people don't know he has a band," says Kelly, a middle-aged blonde with a silver cross necklace. She's seeing Sutherland for a second time, after attending last year's concert in Teaneck, New Jersey. I ask her if this year's concert was an improvement. "I don't know if he can improve. How can you improve perfection?" she tells me. "He's my POTUS."